Suzhou (PRC), Wroclaw (PL) — E-Mobility components and complete drive system manufacturer, Bafang, has opened its first factory outside China in the new Panattoni Park industrial zone in Poland.
With major international companies like Amazon, Schenker, LG Chem and Lapp Cables in the neighborhood, adjacent to two major highways to Germany and the Czech Republic, the new location offers excellent logistics, supplier and traffic infrastructure.
More than 200 people attended the opening ceremony including members from the international e-bike industry, local administration of the City of Wroclaw and Chamber of Commerce as well as members of the Chinese embassy in Poland. The factory building currently offers a total floorspace of about 6000sqm, with production making up 5200 sqm and offices another 800sqm.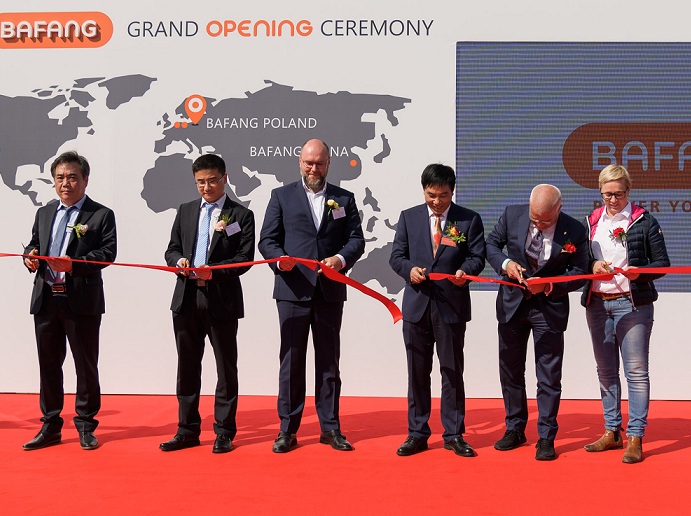 The total investment of the first phase is estimated to be $16 million and will employ around 50 staff at the beginning. This includes a dedicated service team, training center and parts warehouse to provide timely, efficient and accurate technical support and spare parts delivery to European customers.
Two assembly lines are in place and will cater for the production of the most important mid-drive systems, M400, M420 and M300. For the first year, 150,000 units are planned, within 3 years a yearly capacity of 600,000 is forecasted. The assembly of hub motors will be decided for the future.
Controllers and displays will be assembled in a special soldering department. All products will go through extensive quality control and testing at the premises. Currently, a network of local suppliers is being installed to further reduce shipments from Asia.
Speaking at the event, CEO Qinghua Wang, Chairman and Managing Director, said: "We are very excited to be investing here in Poland. This day signifies the beginning of a long relationship between us and the communities of Kobierzyce, Wroclaw and the Lower Silesia region. We are greatly appreciative of all the support we've received from the community to make this multi-million-dollar investment become a reality."
Poland's central location in Europe, its proximity to key markets, major OE and branded bicycle manufacturers plus its strong employment base were key drivers in Bafang's decision to choose Wroclaw as its first outside-China production location.
Bafang is committed to offering a full range of drivetrain system solutions. Thus, this is the first step to localize motor and electronic parts assembly. The next step will see a future investment for Bafang's own battery program. Until then, batteries will still be shipped from China and Taiwan factories. It will be decided in due course whether cooperative production or own assembly is the more efficient and faster way to ensure full system availability ex Wroclaw.