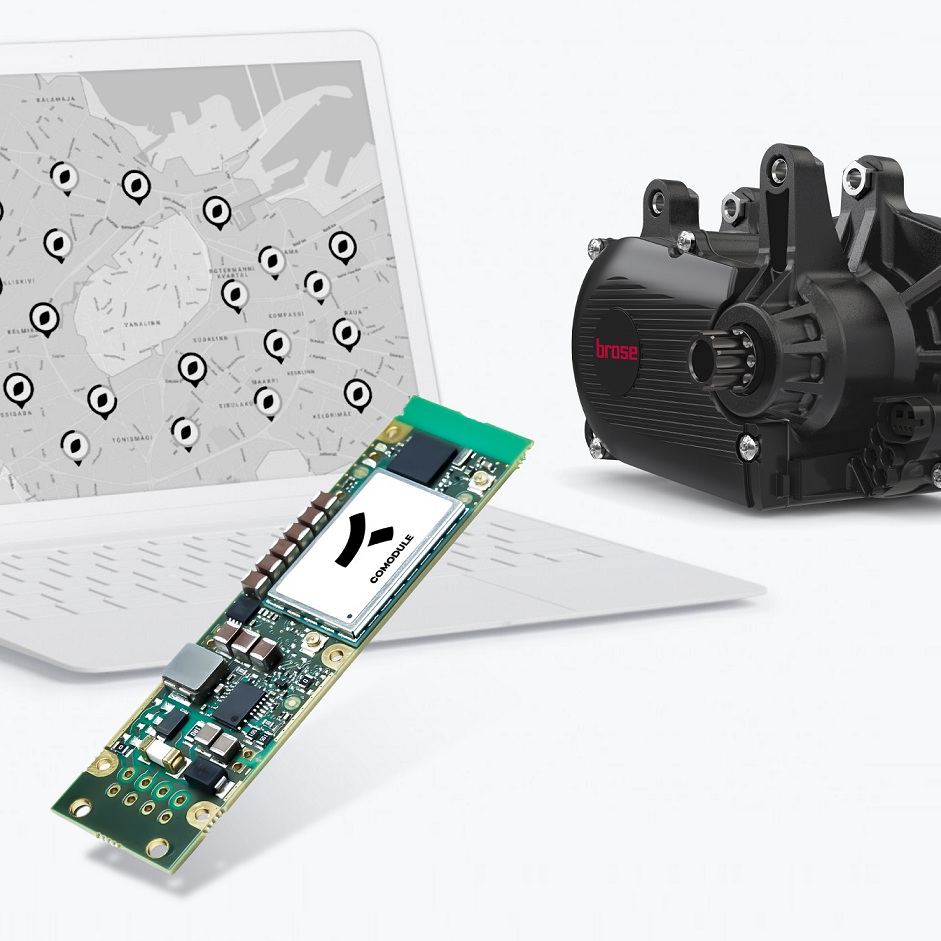 Automotive supplier and e-bike drive manufacturer Brose and connectivity expert Comodule have teamed up to present the Brose Connected Drive, a coordinated, modular plug-and-play solution for e-bike sharing. It combines the Brose Drive C with a connectivity module and was specifically developed to meet the needs of fleet operators: maintenance, service and organization can be handled remotely via a decentralized, automated system. By pairing high-quality drive technology with an open cloud platform, both partners offer a simple, customizable solution for the future market for micro-mobility.
Connectivity solutions are often used in sharing providers' fleet operations. But they are costly to develop and maintain. Brose Connected Drive reduces this expenditure with perfectly coordinated components that are easy to install thanks to plug-and-play capability. The drive is targeted towards e-bike fleet operators like sharing providers, large corporations or municipal utilities that want to offer their customers affordable urban electromobility. "Brose Connected Drive offers fleet operators reliable system components with intuitively operable digital features from the COMODULE platform – like remote access, remote maintenance and software updates," explains Horst Schuster, Director Sales and Marketing Brose Antriebstechnik.
Digital interface with cellular technology
The Comodule connectivity module in the bicycle frame is linked to the Brose Drive C and features a standardized digital application programming interface (API) to connect fleet operators to their e-bikes. This enables them to quickly integrate e-bikes into established fleet management systems while offering options for customization. "The reliable, location-independent real time connection to the e-bikes is a deciding factor in professional fleet management. This is why the bikes are equipped with their own SIM cards for mobile Internet," explains Sven Bernhardt, Head of Sales at Brose's development partner Comodule.
Fleet operators can access a platform to view real-time data on the status of their bikes regardless of their location – parameters include position, charging status, charging cycles or error codes. Updating firmware is easy and convenient thanks to remote access capability. A geofencing feature ensures that the rental process only takes place within a predefined area and can individually limit the speed of the bikes in urban areas, for instance. Fleet operators can also make other adjustments to motor control – to enhance responsiveness or the assistance level – and respond flexibly to local requirements.
At the heart of the solution is the Brose Drive C in the aluminum or magnesium variant. "The technology has already been proven in hundreds of thousands of e-bikes, making it the ideal choice for the demanding requirements of bicycle operators," Horst Schuster emphasizes. Its low power consumption and the harmonious riding experience that is typical of Brose products enable the Brose Drive C to meet these high demands.