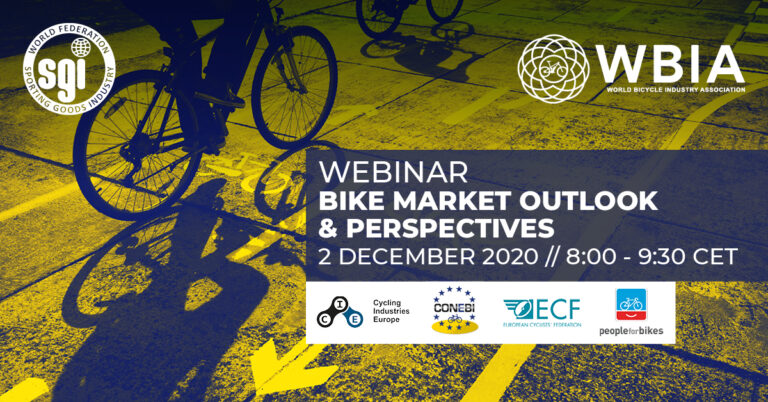 The World Bicycle Industry Association (WBIA) and the World Sporting Goods Industry Federation (WFSGI) will co-host a webinar on December 2 with the theme of "Bike Market Outlook & Perspectives". This event has won much support from international organizations, including CIE, ECF, CONEBI, and PeopleForBikes.
The COVID-19 pandemic has led to a sharp increase in bicycle consumer demand and usage, which has imposed huge restrictions on the supply chain. International electric bicycles and bicycle manufacturers are the first to bear the brunt. Industry leaders will provide insights on many aspects in this webinar, including current supply constraints, forward-looking trends, forecasts of future demand, and preparations for the normal future. At the same time, they will also share the vision of structural and sustainable growth of the bicycle industry.
WBIA's official announcement in the webinar pointed out, "As the COVID-19 crisis continues to evolve rapidly, the bicycle industry is facing new challenges. The pandemic has caused an immense spark in the bicycle purchases and usage. We are experiencing a cycling boom. This webinar is devoted to industry leaders' insights on current supply source limitations,  forward looking trends, forecasting the future needs, and preparing for the next normal. The pandemic and lockdown situations have made the usage of bicycles more friendly for transportation, health fitness and recreation. There has been a political catalyst in many countries accelerating infrastructure development usage incentives, and financial support around using and repairing bicycles. We are experiencing a demand that is far outstripping supply. This is causing huge supply chain disruptions and lost customers."
WFSGI President and CEO, Robbert de Kock and WBIA Chairman, Erhard Buchel will co-chair the seminar with leading experts in the industry. 
The list of speakers is as follows:
‧ECF Intellectual Property and Data Collection Director, Holger Haubold.
‧Specialized Vice President, Bob Margevicius (on behalf of PeopleforBikes).
‧KMC Chain President, Robert Wu.
Yingjin ‧KMC Chain Sales Director, Kevin Chen.
‧CIE CEO, Kevin Mayne.
‧Manuel Marsilio, General Manager of CONEBI.
Industry participants are welcome to register on the WBIA website.