Pat Cunnane, an industry veteran who began his career at 12 years old working in his local bike shop, has been named as Messingschlager USA's new CEO.
His achievements include being at the helm, as CEO, of Advanced Sports Enterprises, overseeing the period where their annual revenue grew from USD $7 million to over USD $100 million. Most recently, he was with Yuba Bicycles, as both President and Chief Operating Officer - as well as being a consultant for many international businesses.
Cunnane also has a seat on the Board of Directors for PeopleForBikes; he's been a bicycle advocate since the 1970s. Cunnane says that he's "thrilled to be working with Messingschlager USA" and that "Nyle and the team have created a great base to build upon."
Cunnane won't be a stranger to people at the office having previously worked with the then named 'Cycle Force Group' founder, Nyle Nims; they worked together 40 years ago at Ross Bicycle Inc. He is also well-known to Nims' son, Matthew, VP of Sales and Marketing. Matthew optimistically comments on the company's future : "I first met Pat in 1988 when I joined my father at the Interbike East show in Atlantic City. He has been a mentor ever since. We could not be more excited to have him join the team."
Nyle Nims, the elder, adds: "Pat's leadership skills and years of industry knowledge check all the boxes for the role of CEO at Messingschlager USA and the bonus of having known and worked with Pat over the years gives me personal satisfaction that we are on the right track in an industry we both love to work in."
Messingschlager GmbH acquired Cycle Force Group and its subsidiaries at the end of 2021 after more than a decade of partnership. The Cycle Force division provides services such as fulfilment, warehouse, and bicycle assemble, where as the North America Cycles division focuses on specialty retail.
Messingschlager Managing Director, Dennis Schöemburg, shares the Nims' excitement about what Cunnane has to offer, he says : "It has been our philosophy at Messingschlager over decades to partner with brands and help them grow and succeed in the market. Pat has demonstrated this likewise throughout his remarkable career in the USA and that makes him the perfect match for us to successfully build our new US entity with European brands like KTM Fahrrad GmbH (KTM brand bicycle sales) and others to come."
Messinschlager GmbH lays claim to the title of having the largest stock of P&A in Europe. They have been in business for nearly 100 years, and since, their counterpart in the USA has been established. In 2018, Messingschlager became an exclusive OEM distributor for Brose Electric Motor. They have also recently acquired U.S distribution rights to KTM Fahrrad GmbH, dealing with KTM bicycles sales and are set to being distributing in early Spring, 2023. They also distribute Panaracer, Head Bikes, Joey, and Messingschlager's suite of P&A brands including KMC, Velo, Trailgator and their own brand M-Wave.
Messingschlager GmbH & Co. KG (a part of Hama® Group), headquartered in Baunach, near Bamberg, Germany, and founded in 1924, is one of the world's largest importers of bicycle accessories, supplying bicycle wholesalers and original equipment manufacturers in more than 70 countries.  They have over 30 brands in its range and employ around 150 people.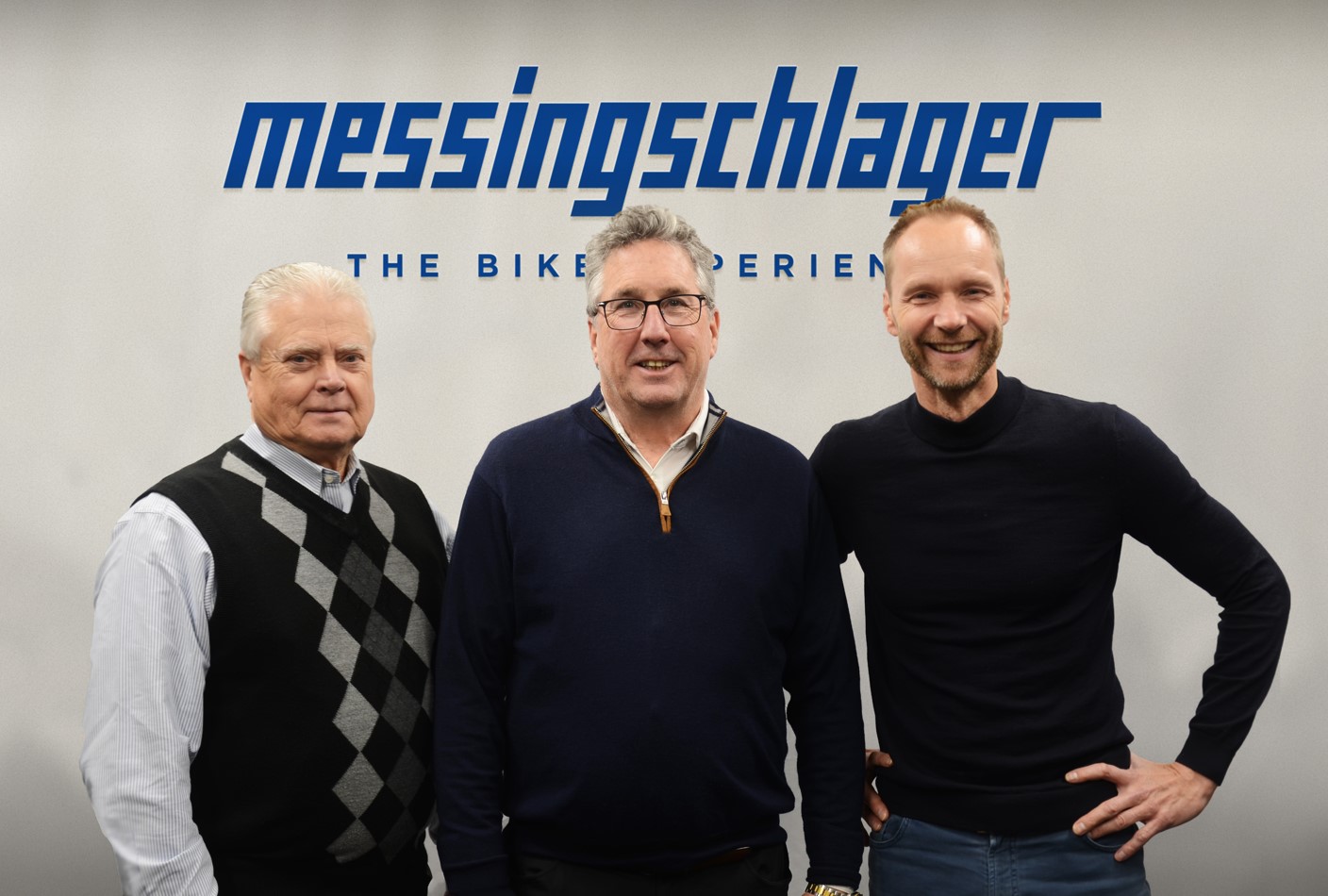 ▲From left to right.: Nyle Nims, Director of Sales and Business Development North America Cycles, Pat Cunnane, CEO Messingschlager USA, Dennis Schömburg, CEO Messingschlager GmbH & Co. KG