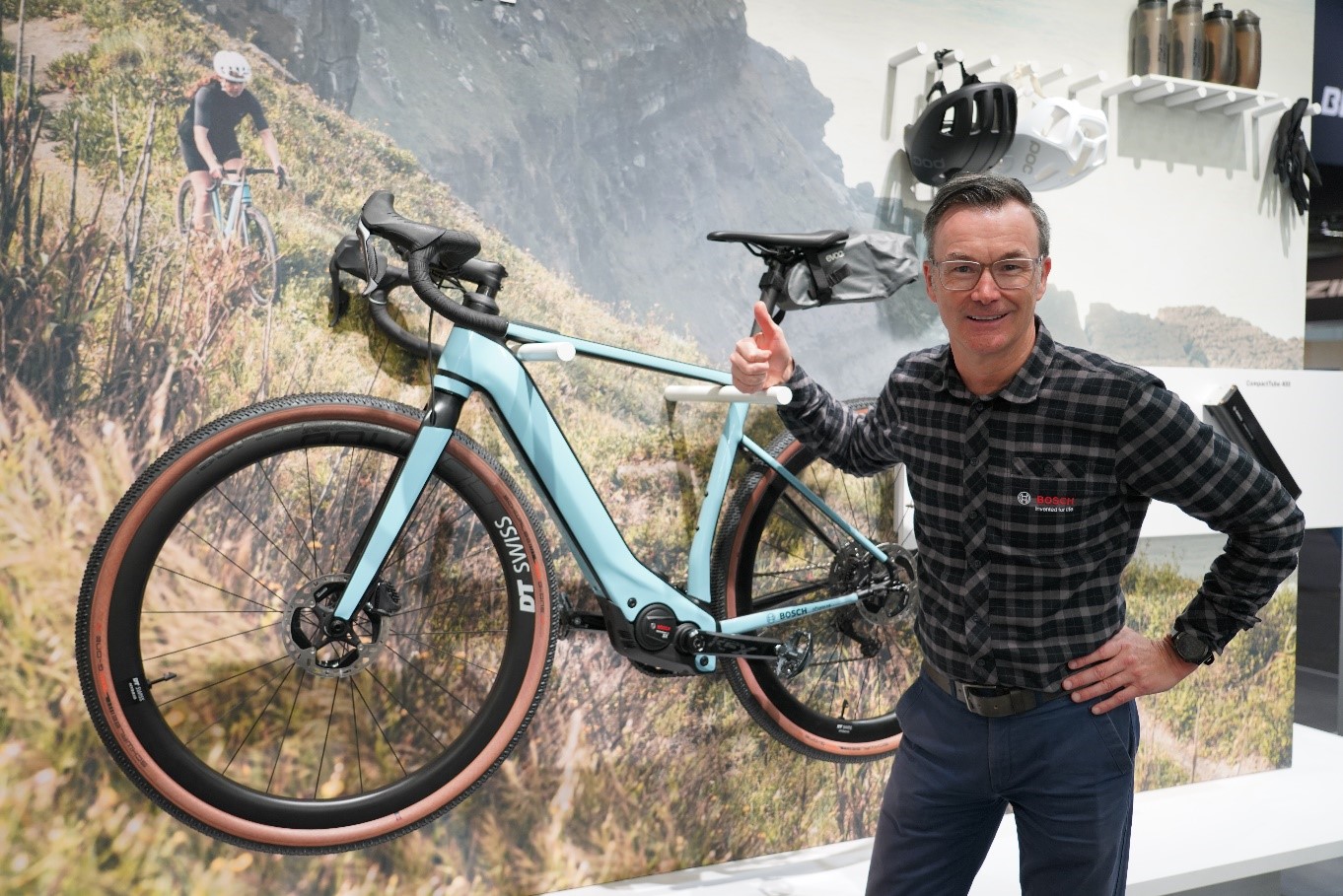 Bosch eBike Systems held their 'Press Launch MY24' on June 19 at Grosser Feldberg, a hilly suburb of Frankfurt. They promised lighter and quieter drives, fully networked color displays, beneficial apps, improved safety, and slimmer batteries as some of the numerous innovations they have recently been working on.
Whether in the city or the countryside, Bosch's new products and digital features enable riders to enjoy "maximum flow" in all riding situations while focusing on safety, intelligence, and personalization.
We caught up, once again, with CEO Claus Fleischer at Eurobike 2023 to learn about upcoming releases, innovations, and the direction the company is heading toward.
Performance Line SX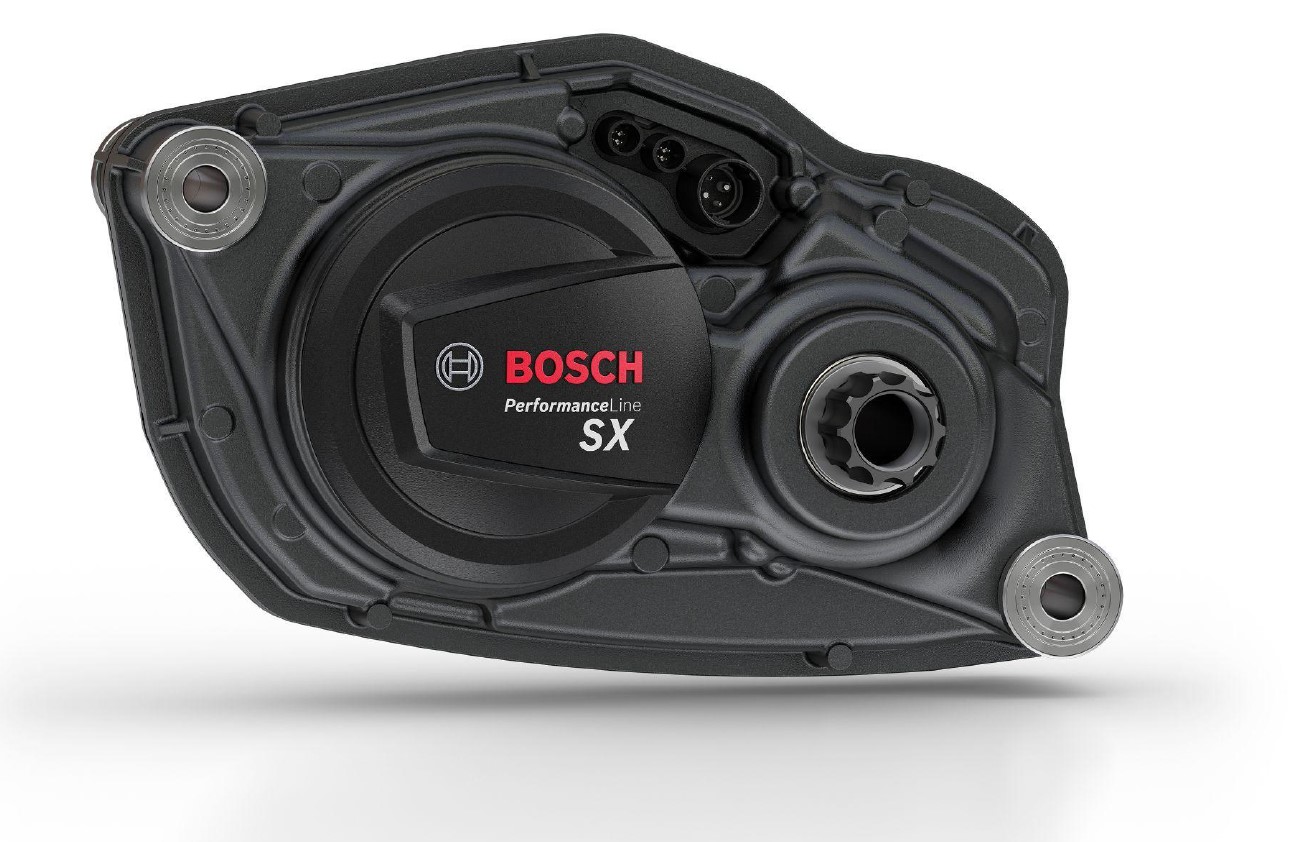 ▲The new Performance Line SX Bosch eBike Systems sets new standards for sporty riding with lightweight eMTBs, eGravel bikes, and eUrban bikes.
In the next model year, Bosch eBike Systems release Performance Line SX for minimalist eGravel bikes, stylish eUrban bikes, and lightweight eMountain Bikes "ensuring even more comfort and long-lasting riding fun".
Lightweight e-bikes are in vogue, be it, on the trail, or for fast training laps with better handling and agility. They excel in the city with their sleek look and are easily carried and stored.
"Now that most types of bicycle have been electrified, the individual categories are becoming even more diverse. With the new Performance Line SX, we are primarily targeting sporty riders, for whom a low total weight is important for riding fast whilst experiencing a natural flow," explained Mr. Fleischer.
"Our goal was to maintain the typical Bosch quality, riding performance, and reliability and transfer these to light, agile bikes. With the Performance Line SX, state-of-the-art e-bike designs and maximum riding fun can be optimally combined."
The new Performance Line SX drive unit has been specially developed for light eMTBs, eGravel bikes, and eUrban bikes, combining high performance with low weight, weighing only 2kg, yet producing up to 55 Nm, making it the Bosch drive with the highest power density.
Bosch says the Performance Line SX helps riders to progress dynamically and efficiently in urban traffic naturally with the agility of a conventional bike, but with powerful support as soon as higher speeds are required, making rapid acceleration effortless.
With quiet and natural support, the Performance Line SX combines the riding sensation of a conventional bicycle with the advantages of an e-bike. A "Sprint" riding mode that is suitable for sporty rides and for speedy and safe travel in urban areas is included, helping riders quickly reach and maintain a high speed.
Even above 25 km/h, e-bikes equipped with the SX are particularly smooth and easy to ride, and the pedal resistance has been reduced by more than 50% compared to previous Bosch drive units.
With light eMTBs, riders benefit from the advantages of the Performance Line SX, especially on trails with frequent technical sections and tight bends. A peak power of up to 600Wh can be generated at a high cadence, supporting riders on steep uphill sections, and providing a natural riding sensation - the eBike Flow app will provide further customizable 'EMTD' riding modes.
The first models with the Performance Line SX are expected to be available on the market from Autumn 2023.
The Active Line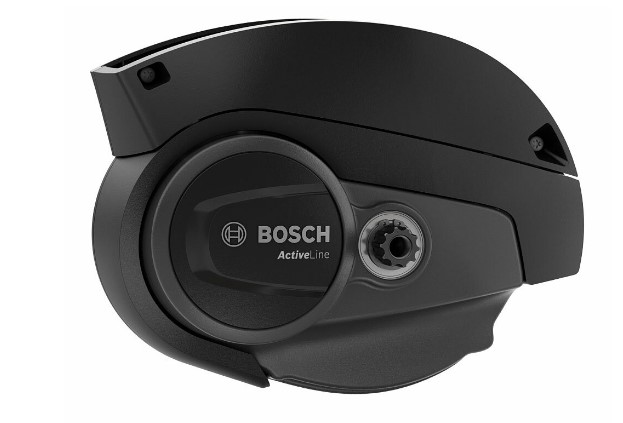 The Active Line and Active Line Plus drive units will also join the smart system portfolio for eCity and eTrekking bikes from Summer 2023. As the quietest drive units in the Bosch eBike Systems portfolio, they are ideal for leisurely rides. With a sensitive sensor concept, the new drive units are highly responsive to riding behavior.
While the Active Line is suitable for city trips. Bosch also recommends the more powerful Active Line Plus for lengthy rides beyond city boundaries.
eShift offers swift gear changes
Bosch has been developing integrated shifting systems and "eShift" is their latest offering. At Eurobike 2023 Bosch presented its integration for the smart system.
Riding comfort is enhanced by the electric eShift gear-shifting solution. It makes changing gears easier and more comfortable. Bikers can simply pedal and select the desired gear, and the system will change gears at the optimum moment.
From Autumn 2023, eShift will be available for e-bikes with smart systems and hub gear systems, initially available for e-bikes with Rohloff, 3x3, and Enviolo shifting systems.
Batteries
Whether for sports use, commuting to the office, or long rides, the new batteries for the smart system will help riders find the right battery for any requirement - all smaller than a size of a water bottle.
The new CompactTube 400, for lightweight e-bikes, weighs only about two kilograms (the lightest in the Bosch e-bike portfolio) and delivers 400Wh, providing enough energy for multiple-use demands with the Performance Line SX. For longer rides, the PowerMore 250 range extender increases the range by more than 60% by 250Wh.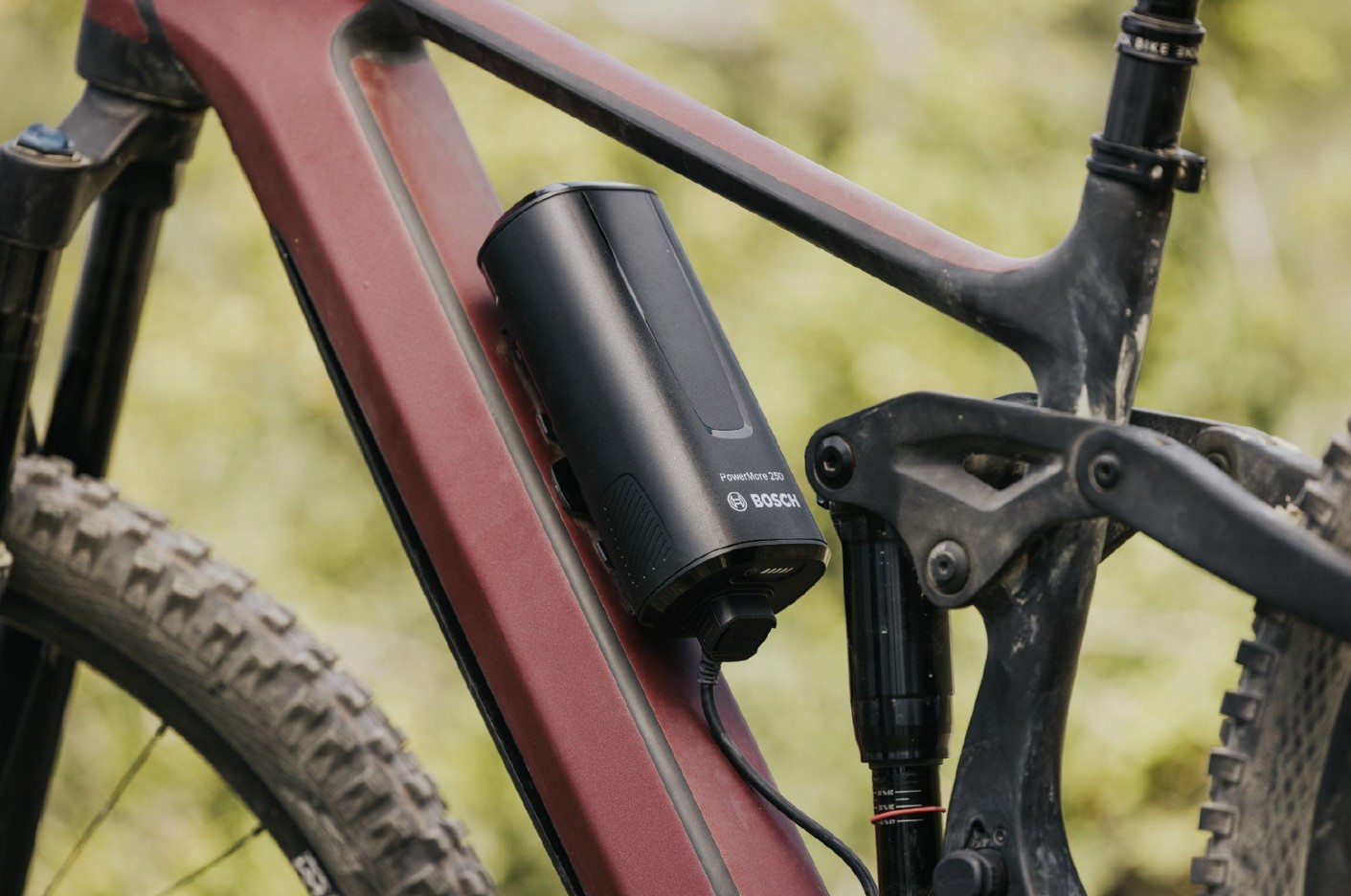 ▲ For a lengthy ride, the PowerMore 250 increases the range by 250Wh.
Other additions are the new PowerPack 400 Frame, the smallest and lightest frame battery from Bosch eBike Systems providing 400Wh, and the PowerPack 400 Rack and PowerPack 500 rack batteries that come with anti-theft protection.
All batteries in the smart system will become DualBattery-capable using Bosch's 'Dualbatt'. Batteries can be combined to achieve even greater ranges providing greater flexibility for e-bike riders, whether they require additional energy, or seek to keep the weight of their e-bike down, for example.
Giving batteries a post-life purpose
Bosch eBike Systems aims to further increase the capacity of battery cells while at the same time minimizing the proportion of valuable raw materials they contain, promoting the conservation of resources with their suppliers.
Since 2013, it's been possible to reduce the cobalt content in battery cells by around 65%. Bosch aims to further reduce the cobalt content while increasing the capacities of the battery cells.
Regarding battery repairs, E-bike drive units from Bosch are technically complex products that cannot be repaired by the majority of users. Specialist dealers carry out maintenance and minor repairs to drive units. If a major fault is detected, Bosch will collect the motor from the dealer and decide whether it can be repaired on a case-by-case basis.
Once an e-bike battery has reached the end of its lifetime, it must be disposed of appropriately. Bosch eBike Systems supports new and sustainable recycling methods and, in all sales countries where it is legally possible, Bosch "absorbs the cost" of recycling.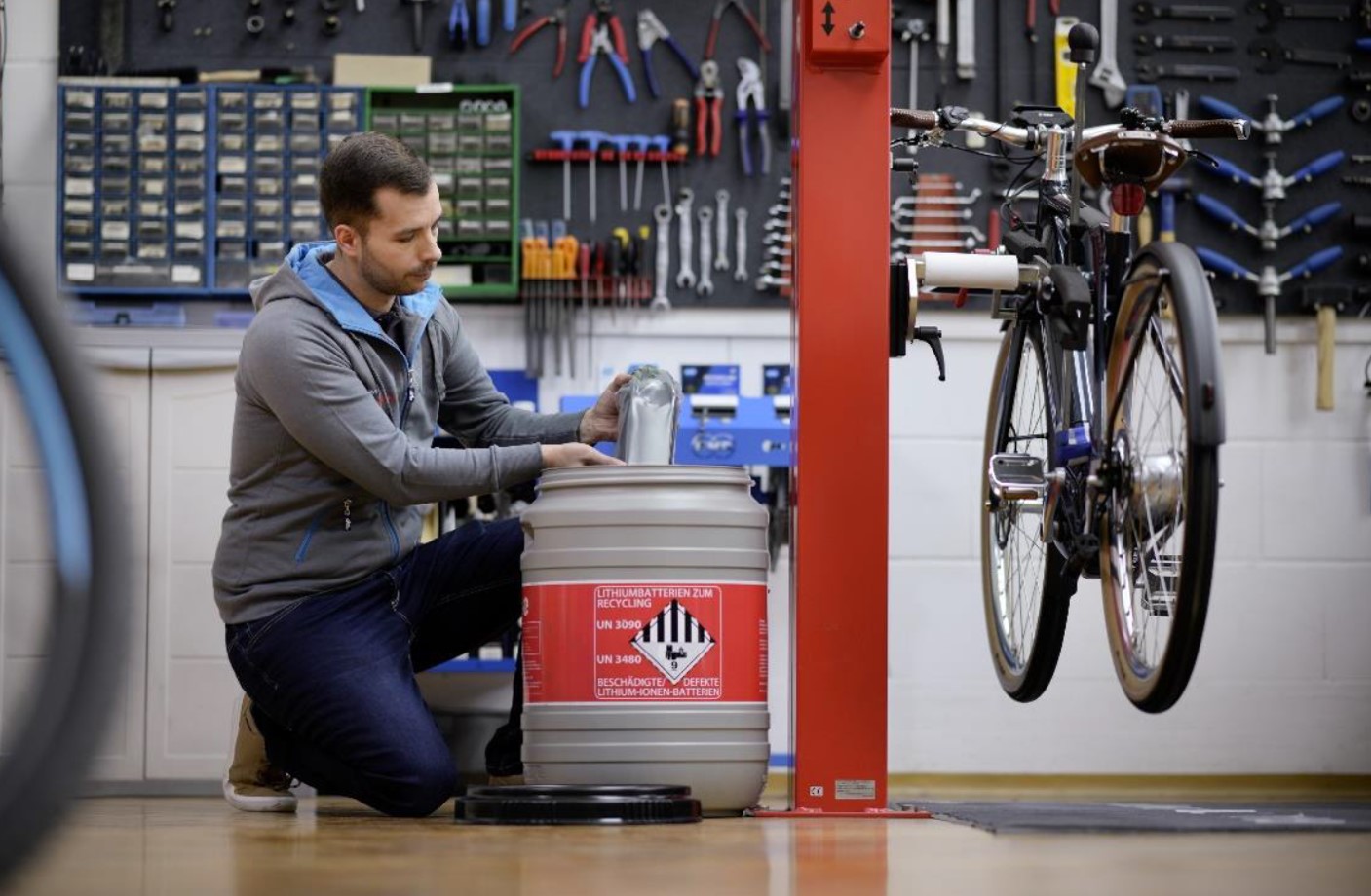 ▲ Once an e-bike battery has reached the end of its lifetime, it must be disposed of appropriately.
Mr. Fleischer said, "If you take a bicycle and its related equipment, everything has its own recyclable content, whether it's aluminum or magnesium, we ask our suppliers to be greener, we have batteries that can be recycled with specialist companies, we are part of the collection system, each country has a system.
"The process is already paid for by the customer when they buy the e-bike package, and we make sure they know that. The e-bike is relatively so young on the market, but we will see a high amount of recycled products in the future, and we have to prepare."
Connected color control units
With the Purion 200, Bosch presents a compact control unit with a clear color display. Thanks to the high resolution and integrated ambient light sensor, important information such as the exact battery charge percentage, riding mode, time, and total distance can be read with ease when riding in any light condition.
The Purion 200 can be combined with a second display if required, so riders could display the cadence or speeds on the Purion 200, for example, while the navigation screen could be shown on the second display, providing even greater flexibility, all with an ergonomic operation.
Another new addition to the display family is the Kiox 500. A 2.8-inch color diagonal screen that is about 40 percent larger than the Kiox 300. Audio signals tell users during navigation if they deviate from the planned route or when they arrive at their destination.
In the future, e-bikers will be able to customize the display on the Kiox 500 and also on the Kiox 300 via the eBike Flow app and be able to determine the order and content of the screens.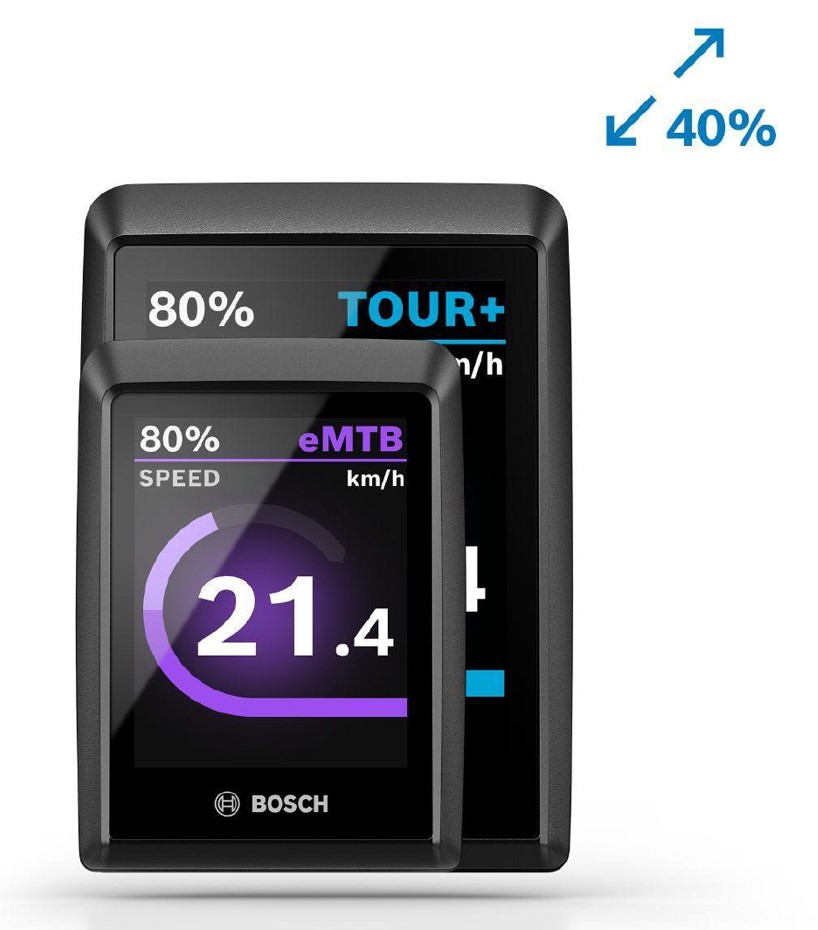 ▲The Kiox 500 has a color display about 40 percent larger than the Kiox 300.
Smart app for a unique personal riding experience
Bosch eBike Systems has a new upgraded premium subscription "Flow+" that provides extra connectivity and security. The increased connectivity of physical components with digital features allows e-bike riders to adapt the e-bike experience to their personal needs.
"Connected Biking plays a key role in the future of the e-bike," explained Claus Fleischer, "more comfort, more safety, and more customizable features; riders can expand their experience with the Flow+ app."
Bosch eBike Systems is introducing the Flow+ premium subscription with the 2024 model year. Initially, this includes the premium service eBike Alarm.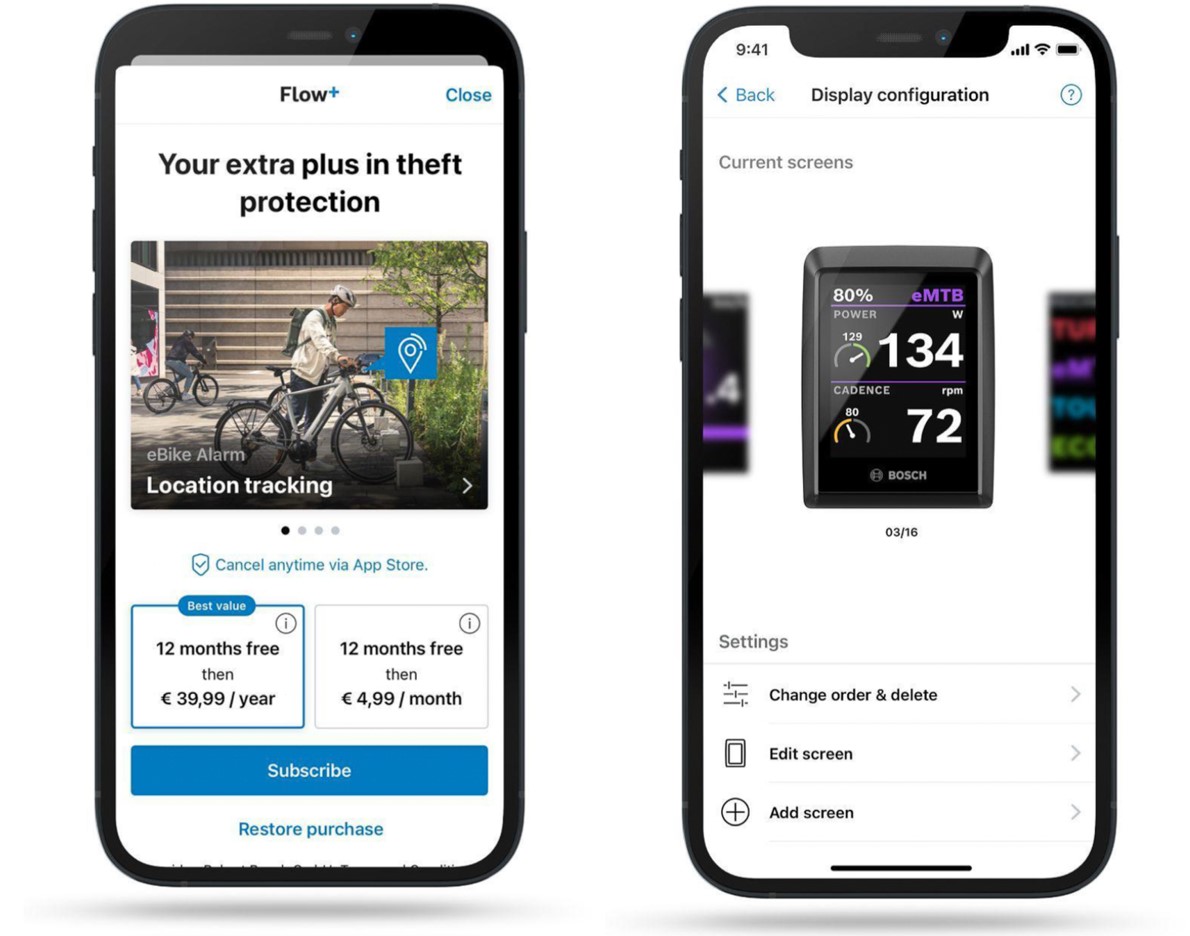 ▲ With the Flow app, e-bike riders will be able to select the content and order of the display screens.
Safety solutions
Bosch now offers a choice of lighter and smaller ABS brake systems, with both Magura and Tektro working alongside them. Claus Fleischer said, "We are firmly convinced that eBike ABS will become established on all eBike types in the long term and will become standard on high-quality eBikes. Alongside Magura, we are now working with another renowned brake manufacturer, Tektro, who are particularly concerned about the safety of eBikers. We are looking forward to working together."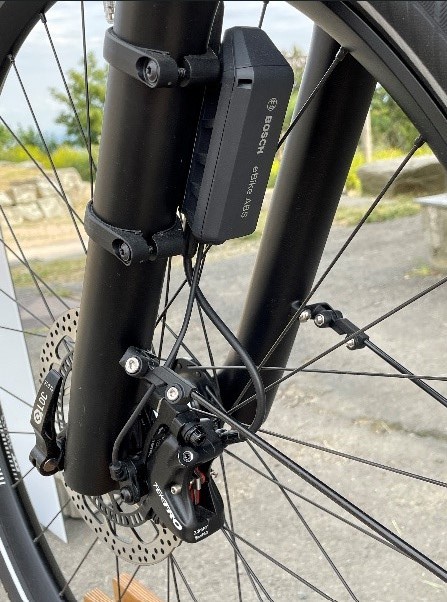 With connected e-bikes, there is great potential for safety improvement. Digital solutions and services look to ensure greater safety when riding.
Bosch's vision is to create a virtual safety shield around e-bikers. In cityscapes, connectivity between the rider, infrastructure, and other vehicles promises to improve road safety. Allowing e-bikes to connect to their environments will give riders an early warning of any danger. This would significantly reduce blind spot danger, reducing accidents when turning.
Vehicle-2-Everything (V2X) technologies focus on cars, but not yet on vulnerable road users, such as cyclists. "Our goal is to integrate the e-bike into the V2X ecosystem and make e-bikers digitally visible. However, this cannot be done by one company alone - which is why we are bringing together the relevant players of different industries to work together towards this goal," Fleischer added.