The world's leading bicycle markets have changed enormously over the past few years. Sales of conventional bicycles have been slumping, while sales of e-bikes have been growing at a double-digit annual rate. With the diversification of e-bike types, e-MTBs and e-city bikes are finding favor with the public and young cyclists. The supply of e-bikes is often insufficient to meet demand, and e-bike sales in the US market are gradually rising.
One of the hottest topics in China during 2017 was shared bicycles. Shared bicycles first appeared during 2016, and reached a peak during the first half of 2017; over 30 brands of shared bicycles were seen in Chinese cities when they were at their zenith. Shared bicycles have quickly become important short distance means of short-distance transportation for residents and students in China's first and second-line cities. Dock-less shared bicycles owe their existence to the Internet. But while shared bicycles are a focus of attention in China and several European countries, problems such as unsightly disorderly bicycle parking, vandalizing and destroying the bikes, and taking them as one's own property have appeared. This has attracted criticism in various cities, and many Chinese cities have even stopped permitting operators to increase their number of shared bicycles. Furthermore, with demand for shared bicycles tapering off, the time has come for reshuffling and consolidation in the bike-sharing industry. Production of shared bicycles dropped sharply in August 2017, and many OEM producers failed to receive major payments from their customers. Afterwards, numerous bike sharing companies were driven from the market due to competition. Mobike, Ofo, and even some OEM plants are making vigorous efforts to export bike sharing models to European and American cities, some in cooperation with local governments and some in cooperation with their existing overseas partner firms. But regardless, shared bicycles have almost completely replaced ordinary low-price (under RMB 1,000) bicycles in China, which has made the situation even worse for the country's already-depressed bicycle market. The Chinese bicycle industry has started referring to Mobike and Ofo as "big monsters," because these players from outside the industry have disrupted and transformed the ecology of the Chinese bicycle market, setting it back 5-8 years. The leading bike sharing brands as of April 2018 are Mobike, Ofo, which has obtained financing from the Alibaba Group, Hello Bike, and DiDi, which has introduced its own Qingjie bicycle brand.
Taiwan's cycle industry exported 2.37 million bicycles in 2017, which set a new low after falling below 3 million units (2.95 million units) for the first time in recent memory during 2016. But while exports fell by 19.65% compared with 2016, and export value also fell by 10.45%, average unit price increased from US$502.4 in 2016 to US$559.9 in 2017, which was an increase of 11.44%. The EU, US, and Japan are still the three largest markets for Taiwan's bicycle exports.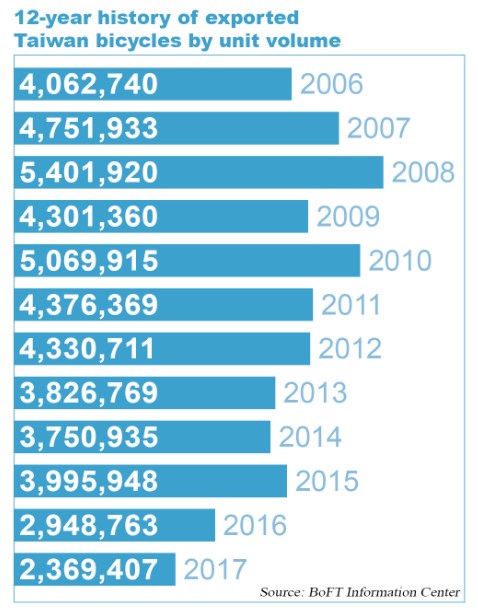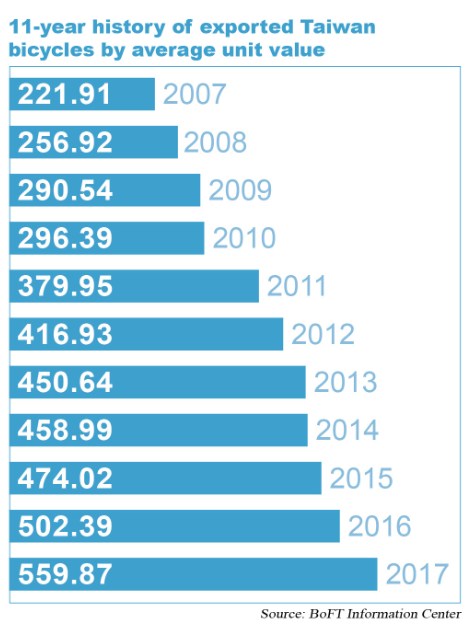 Taiwan exported 1.28 million bicycles to the EU in 2017, which represented a drop of 20.86% compared with 2016, while the average unit price increased by 8.85%, rising from US$376.0 to US$409.3. Britain was still the largest European recipient of made-in-Taiwan bicycles, and was followed by Netherlands, Germany, Sweden, and Belgium. Of these five countries, bicycles exported to Belgium had the highest average unit price (US$896.39), followed by those exported to the Netherlands (US$740.03); and the unit prices of bicycles exported to these two countries rose by 28.74% and 37.20% compared with 2016.
The US imported 473,000 bicycles from Taiwan in 2017—a drop of 10.37%—but the rise in the average unit price of 12.99% gave some consolation (from US$718.1 in 2016 to US$809.7 in 2017), and Taiwan's bicycle exports to the US eked out a meager 1.01% increase. In the biggest fall among major markets, Taiwan's bicycle exports to Japan plummeted by 31.5% from 187,000 in 2016 to 128,00 in 2017.
In the European Union, e-bike sales are still going strong, and many companies are reporting big profits from this major trend. As a result, while sales of traditional bicycles have slid downhill during the last few years, sales of e-MTBs, e-city bike, and e-trekking models have surged. Originally a niche product, Taiwan's cycle industry sadly failed to grasp the e-bike opportunity ten years ago, and lost the chance to gain an advantage. More fortunately, the industry has been working furiously for 5-6 years to catch up, and most bicycle manufacturers now depend on e-bike sales to stabilize their revenues. Because of this, and because e-bikes' unit prices are 3-5 times those of bicycles, e-bikes have become a major developmental target for Taiwan's cycle industry.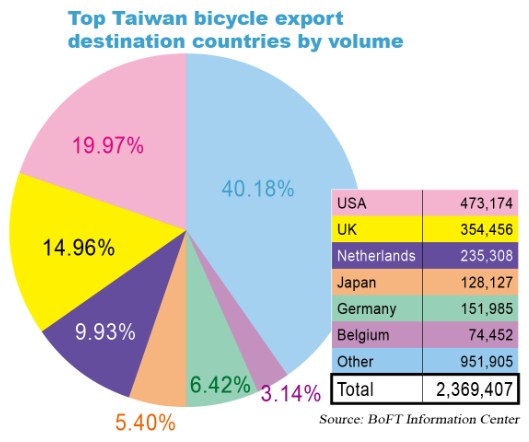 In 2017, Taiwan's e-bike exports totaled 181,353 units, which represented a whopping 37.69% increase over the 131,708 units exported in 2016. The average unit price of exported e-bikes also increased by a very substantial 28.3% (increasing from US$1,063 in 2016 to US$1,364 in 2017. The EU was once again the largest market for Taiwan's e-bikes in 2017. e-bike exports to the EU totaled 129,870 units in 2017, and this was an increase of 33.8%. The average unit price also increased by an excellent 37.1%, rising from US$960 in 2016 to US$1,315 in 2017. The EU accounted for 69.3% of Taiwan's total e-bike exports in 2017. Three major countries—the Netherlands, Germany, and Italy—accounted for 56,960 units, 34,538 units, and 11,263 units respectively. The US also accounted for a very significant share of Taiwan's e-bike exports in 2017, and imported 27,190 units from Taiwan during the year; this figure represented an increase of 63.2% compared with 2016. On the other hand, the average unit price fell by 7.74%, dropping from US$1,525 in 2016 to US$1,407 in 2017.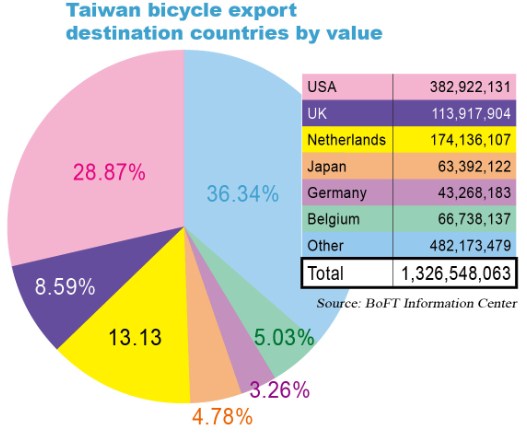 The turbulent investment bubble and matter of public concern that was bike sharing in China last year caused widespread harm and distress throughout the cycle industry. Although Mobike and Ofo also took active steps to expand their European markets, like Italy and Britain, in 2017, as well as such other overseas markets as the US, Japan, and Singapore, etc. However, differences in culture and values, as well as other habitual problems—vandalism and destruction of bikes also occurred in Europe… the disorderly parking of bicycles is scarcely seen in Taiwan—these expansion drives have made limited progress. In contrast, thanks to Giant's astute planning and careful management, Taiwan's YouBike public bicycle system has maintained good order. This system has stations at fixed locations where the bikes can be rented or returned, and has become quite popular with the public. When Singapore's Obike moved into the Taiwan market last year, disorderly, randomly parked bicycles gave the city a trashy appearance, and induced the city government to crack down on them. Another company—Vbike—lost some business because of the Obike affair, and withdrew from the Taiwan market in April.
Looking back on the last few years, Taiwan has faced problems including a recession in Europe, America, and Japan, the shift to a "one fixed day off and one flexible rest day" weekend day off system, and labor shortages. Chinese firms have recently stepped up efforts to lure away Taiwanese talent with high wages, and Singapore has also recruited personnel in Taiwan in recent years. As a result, Taiwan's outstanding human resources have gradually drained away. The EU is similarly encountering the problem of labor shortages. Due to such factors as the 0% duty advantage held by Cambodia and Vietnam, rising raw material prices, and the ongoing appreciation of the NT dollar, most bicycle and parts manufacturers are feeling the pinch, and profits are down by a large margin. Taiwanese firms that have established plants in China have also taken painful blows from China's rising costs, environmental protection problems, labor shortages, and depressed markets.
Bicycle firms in both Taiwan and China currently face significant headwinds. It is up to the industry to show determination and think up ways to escape its situation. A number of Taiwanese firms have established plants in Vietnam during the most recent 1-2 years, but this was mostly a matter of necessity for the companies involved. While the European Union has encouraged production within the EU, few companies from Taiwan have made the leap to Europe. Those who have not have been mostly deterred by the cultural differences, complex and different laws and regulations, and lack of international management manpower. Cross-Strait relations have been tense lately, which has heaped inconvenience and stress on Taiwanese firms with Chinese factories. Finally, the steadily growing e-commerce market is forcing Taiwan's cycle industry to deal with such challenges as integration of their on-line and off-line business.