Brose is launching its fifth e-bike drive and entering the city bike segment. The Drive C delivers harmonic support over a wide cadence range.
Specifically designed to meet the needs of city e-bikers, the Drive C delivers continuous, smooth power over a cadence range of 20 to 70 pedal rotations per minute. Whether pedaling slow or fast, the drive delivers a powerful 50 newton meters of torque. With its support of up to 280 percent, the Drive C almost triples the rider input. The drive smooths out any inconsistent rider input, which results in a harmonic riding feeling.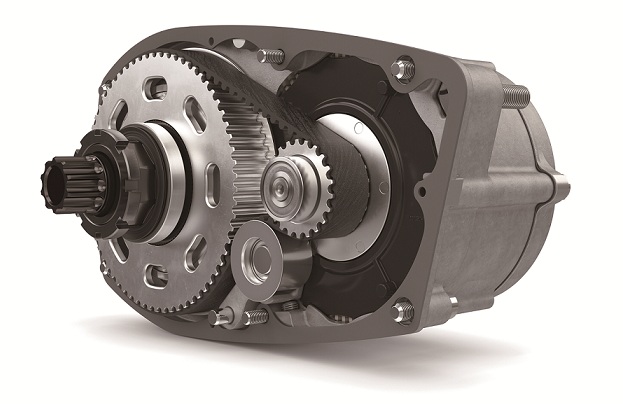 Design freedom for attractive city bikes
The Drive C maintains the same dimensions as the other aluminum drives of the Brose Drive product family. It can be mounted to the frame in any position over a range of 360 degrees in relation to the bottom bracket. This allows a high degree of design freedom for e-bike manufacturers. As such, the Drive C represents interesting value for money, with 100 percent Brose quality.
Quiet as a whisper
A prominent feature of all Brose drives and therefore also of the Drive C is that they run so quietly–even on peaceful city side streets. An internal carbon-reinforced belt made by Gates concealed in the housing reduces the noise and prevents vibrations from being transmitted to the pedal.
Thanks to the Brose dual freewheel technology, the drive decouples completely once the battery is exhausted. E-bikers continue cycling naturally as on a regular bike. Another convenient feature is the pushing support, which can be activated manually and operates up to a speed of six kilometers per hour.
Flawless urban companion
The hardware, sensor system and control unit of the Drive C are precisely matched. This drive transforms city-bikes into a modern means of urban transportation. Thanks to the smooth response and harmonic support, e-bikers can manage daily rides confidently and effortlessly: from work to a café, from the museum to the shopping center, from the nursery back home or to the park. With the introduction of this drive for city-bikes, Brose continues to recognize the individual requirements of various types of e-bikers. The product family Brose Drive also features the sporty Drive S Mag and Drive S Alu for mountain bikes, the Drive TF for S-Pedelecs that assists riders up to 45 kilometers per hour, and the highly efficient Drive T for long distance touring.