Montréal, Canada - Dorel Industries Inc. has announced financial results for the third quarter and nine months ended September 30, 2019. Third-quarter revenue for the Group was US$685.7 million, up 2.3% from US$670.4 million.
Dorel Sports segment had a total revenue of over US$250 million in Q3 up 14.2% from US$219 million revenue in the same period of the previous year.
"Dorel Sports' sales were very strong despite some orders being pushed back to the fourth quarter. Margins in mass were affected by tariffs, but revenue grew double digits for the first time in five years. Our bikes are selling well across all channels." stated Dorel President & CEO, Martin Schwartz.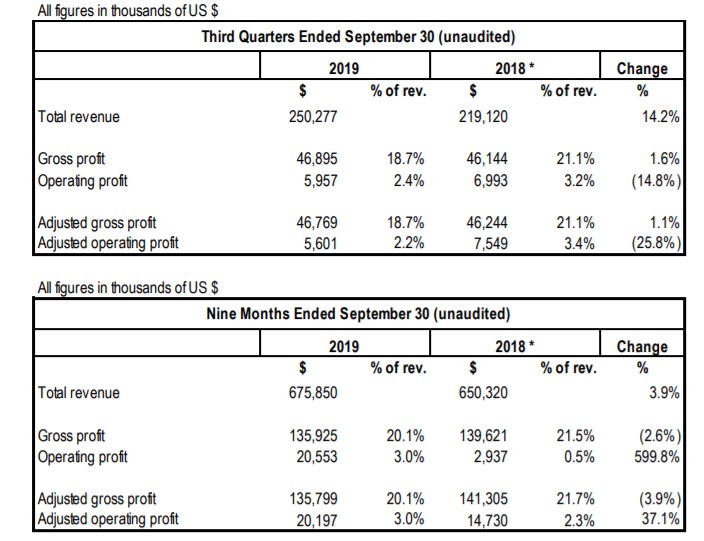 Nine-month revenue increased US$25.5 million, or 3.9%, to US$675.9 million. According to a press release, CSG's third-quarter growth was driven by continued excitement and increased sales of the model-year '20 lineup. CSG margins remained strong as a result of increased in-line, full margin sales and solid retail POS levels continue to trend upwards. Year-to-date CSG's independent bike dealer (IBD) business continued to outpace the rest of the industry. Growth in Europe was primarily driven by the e-bike category which doubled sales with e-mountain bike launches such as the Moterra and Habit Neo. Caloi delivered strong double-digit revenue growth with increased volume due to success with Brazil's Yellow Bike Sharing program and a better mix. Caloi is also experiencing improved results from increased Cannondale brand marketing efforts. POS levels were solid at Pacific Cycle, however, the division was negatively impacted by margin compression. In addition, key retailers delayed holiday pipeline shipments to the current fourth quarter. Operating profit for the quarter was US$6.0 million compared to US$7.0 million a year ago. Adjusted operating profit was US$5.6 million compared to US$7.5 million last year. The Pacific Cycle issues described above plus related additional warehouse storage were solely responsible for the decreased operating profit. Nine-month operating profit was US$20.6 million compared to US$2.9 million in 2018. Adjusted operating profit was US$20.2 million versus US$14.7 million.