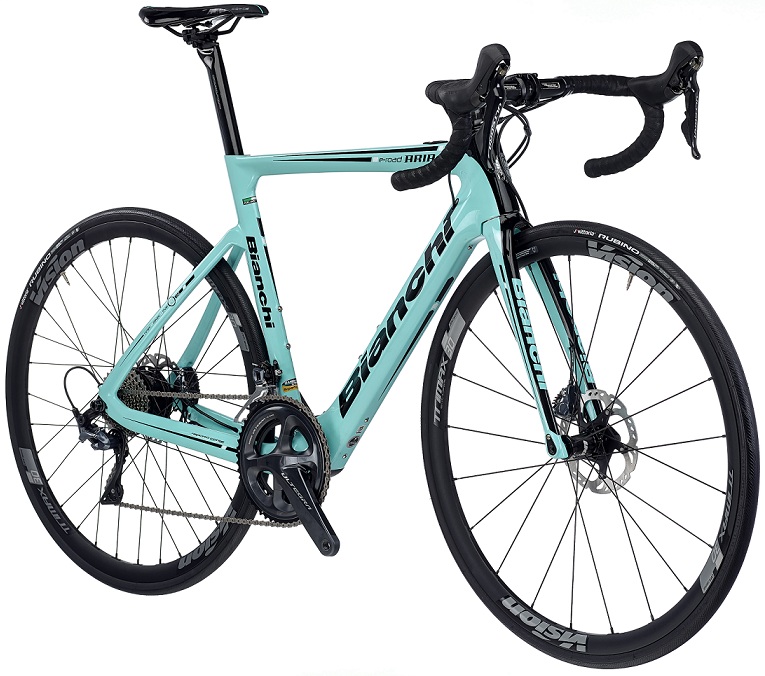 Bianchi has expanded and deepened its high-end e-bike range by launching the new Aria e-Road at Eurobike 2018. Aria e-Road aero carbon bike, engineered with Bianchi's Inner Power Drive system, is designed to meet the demands of genuine road riders, have the look and feel of traditional, and be a bike of pure high-performance with powerful electrical assistance in the background – only when needed.
Inner Power Drive
The heart of the Aria e-road's drive system lies in Bianchi's specifically developed new Inner Power Drive (IPD) system, using Ebikemotion's powerful X35 V.2 pedal assist technology. At 3.5kg for the entire system (rear hub motor, 250W battery, iWOC One and all wiring), the X35 V.2 e-power system is the smallest and lightest full-power pedal assist motor available. It is the perfect solution for riders with a desire to take on long and demanding rides, selecting the extra power and speed of a trained professional only when it is needed: the assistance acts as an additional, on-demand asset, never overshadowing the human-powered endeavor and sensation of road riding.
The X35V.2 M1 36V/250W rear hub motor is extremely powerful, producing 40Nm of torque at the rear wheel, offering optimum powered assistance at speeds between 15 and 25km/h. Nestled between the rear cassette sprockets and the rear disc brake rotor, the motor is virtually hidden.
The X35 V.2 M1 motor is powered by a slim, 40mm wide 250W battery, positioned inside the downtube of the Aria e-Road frame.
A weatherproof charge-port is located discreetly in the upper surface of the down tube, near the junction with the seat tube, for a simple plug and charge operation via any household mains electricity supply.
Sleek Looks
Bianchi engineers integrated the iWOC One flush-fit power and battery level controls unobtrusively into the Aria e-Road's aero top tube. The Ebikemotion mobile app allows the rider to easily integrate multiple data functions into the ride experience, covering key motor function, battery status, power control, as well as GPS ride direction and tracking. A specific fitness function, linked to rider performance via heart rate bend, allows to control automatically the assist level of the motor unit by selecting a maximum HR frequency, to maintain in the desired exercise zone.
All electronic wiring is internal, completing the Aria e-Road's aero aesthetic. The fully-integrated minimalist electric motor and battery provides a sleek and stylish aero look that can be ridden without any electrical power assistance.