The National Association of City Transportation Officials (NACTO), an association of 60 cities in North America, has released a study of nationwide bike share rides in the United States showing over 35 million bike share trips were taken in 2017—25% more than in 2016.
NACTO's latest bike share ridership report, 'Bike Share in the U.S.: 2017', shows that over 123 million trips have been taken on a bike share bike in the US' since 2010, when the first modern bike share systems in the country were established. This year's data also includes the first comprehensive nationwide estimate of U.S. dockless bike-share trips.
Key findings from NACTO's 2017 bike share ridership data:
Bike share ridership continues to increase: 35 million bike share trips were taken in 2017, an increase of 25% from 2016. The San Francisco Bay Area relaunched its bike share program with ten times the number of bikes it previously had; likewise, Honolulu launched a bike share system, Biki, that quickly became the eighth-most heavily used bike share system in the U.S.

Many new companies are entering the market: The number of bike share equipment providers operating in the U.S. dramatically increased, from three major companies in 2016 to over 10 in 2017. The volatility of bike share providers has also increased, with at least one major company declaring bankruptcy the same year that it launched in the U.S.

Dockless bike share entered the market in 2017, making up 44% of all bike share bikes on the ground in cities, but only 4% of all rides: Dockless bike share has undoubtedly been the biggest disruptive force in the bike share industry, quickly nearly doubling the bike share footprint (as measured by bikes on the ground) in less than a year. However, dockless bike share systems have not, to date, been heavily used by riders.

More systems have subsidized low income passes: More cities across the U.S. have worked to make bike share more affordable to a wide cross-section of people, and have measurably increased the types of people served by bike share. 32% of station-based bike share systems had an income-based discount program in 2017, compared to 24% of systems in 2016.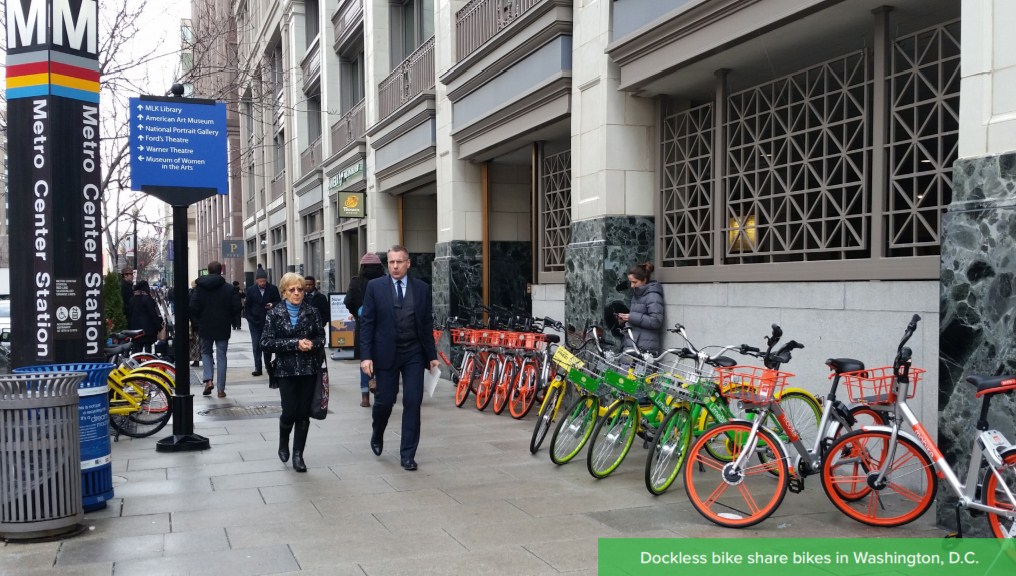 Photo courtesy of NACTO
The report also explores how bike share is used, with differences in time-of-day use patterns between docked and dockless programs.
"In just a few years, bike share has proven successful in an ever-widening collection of cities," said Linda Bailey, NACTO Executive Director. "Cities continue to build streets that provide safe places to ride, and people are responding by biking by the millions – to get to work, school, and for personal business. Bike share is increasingly an integral part of the day-to-day transportation mix, and we see no end in sight to this flourishing new mobility option."
"Bike share's strong ridership is a reflection of careful planning and coordination between cities and bike share program operators," said Kate Fillin-Yeh, NACTO Director of Strategy. "Thoughtful city leadership means that bike share is expanding in and to more cities. As cities focus increasingly on equitable access—system reliability, affordability, safe places to ride— ridership is growing and becoming more reflective of city racial and socio-economic demographics."
"Bike share is more than just putting bikes on streets," said Mike Carroll, P.E., Deputy Managing Director, Philadelphia Office of Transportation and Infrastructure Systems. "We are very proud that our approach to Indego has yielded a national model for equity in bike share. We all know that expanding mobility for diverse populations is important, but it is also profound how effective bike share can be in leveraging community-based civic engagement."
"From working closely with community members on planning for the system, to removing barriers to access such as cost and payment options, MoGo has strived to build a system that serves a wide range of people and needs in Detroit," said Lisa Nuszkowski, Executive Director, MoGo Detroit Bike Share. "And our efforts are paying off – not only did MoGo log more than 100,000 rides in our first few months of operations, but we're attracting riders of all types, from people using MoGo to stay fit to those using it to get to jobs, school, and other necessities."
"All eyes are on Seattle as we pilot free-floating bike share," said Joel Miller, Bike Share Program Manager, Seattle Department of Transportation. "With robust data requirements, we're learning how innovative ideas can help us provide expanded mobility options for all and we're excited to incorporate those ideas into the next phase of the program."
For the full report, visit nacto.org/bike-share-statistics-2017