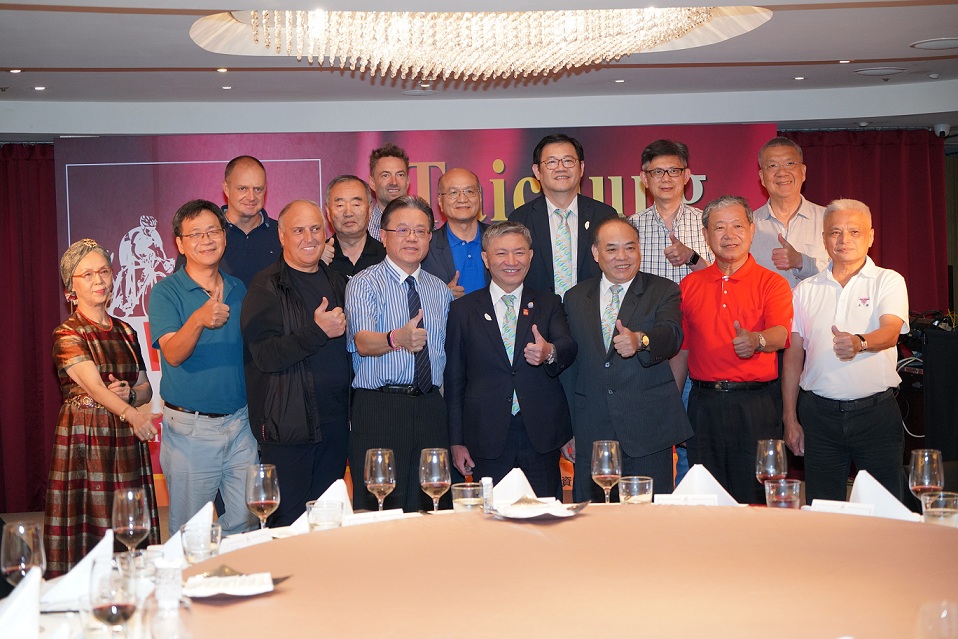 On the first evening of this year's Taichung Bike Week (TBW), September 26, Taichung City Government welcomed visitors and exhibitors to Taichung Bike Week at a dinner held in the Banquet Room of the Landis Taichung Hotel.
The buffet-style dinner was attended by over 200 people, mostly from the domestic and foreign bicycle industry. Representatives of Taichung City Government included: Taichung City Government Deputy Mayor, Morgan Chang; Taichung City Government Economic Development Bureau Senior Executive Officer, Charlie Chiang; IDIPC Director, David Tsai and IDIPC Deputy Directors, Vincent Wu, Steven Tsai and Spenser Hsu.
At the dinner, TBA Chairman & Merida President, Michael Tseng thanked everyone for attending as well as showing his appreciation for Taichung City Government's support of Taichung Bike Week. He noted the importance of e-bikes in the market today, and wished everyone prosperous business at the show as well as in the coming year.
IDIPC Director, David Tsai spoke to say that with 80% of Taiwan's bike industry based in the area, it is very important to Taichung and vice versa. He also hoped that Taiwan's competitive edge in the bicycle industry can improve even more in the future.
Taichung City Government Deputy Mayor, Morgan Chang made a short speech in which he welcomed visitors to both Taichung Bike Week and the city of Taichung on behalf of the Mayor. He stressed the importance of the bicycle as a means of transportation, leisure and maintaining a healthy lifestyle. He wished everyone success in their endeavors in Taichung this week.
Among the many bicycle industry VIPs in attendance were: TBA Chairman and Merida President, Michael Tseng; Kenda Group President, Yang Ying-Ming; SR Suntour President, Daisuke Kobayashi; Marwi President, Partick Pai; Ming Cycle General Manager, Albert Chen; Decathlon Purchasing Director, Didier Morelle; Ideal Bike Vice President, James Chang and FSA Global Vice President of Sales and Marketing, Claudio Marra.