At the start of the summer, Bosch Ebike Systems announced its latest updates and new products for Model Year 2021. Products getting new features include the Nyon & Kiox on-board computers and the Performance Line CX drive system. Bosch is also presenting a new safety service - Help Connect, as well as a concept design e-bike.
New Nyon on-board computer
The 3.2-inch high-resolution colour display new Nyon on-board computer receieves new features giving riders intuitive touchscreen operation, navigation with notifications and range information and more connectivity functions to enhance their riding experience.
"You share the on-board computer with others, exchange exciting routes with friends and show them exactly where you are. E-bikers today want smart, digital solutions that increase riding enjoyment on their e-bikes. And with Nyon, you will have the ideal on-board computer for your personal connected e-biking experience," explains Claus Fleischer, CEO of Bosch eBike Systems. "The connected functions of Nyon also include the 'Lock' premium function for digital additional theft protection. And even more connectivity functions that enrich the cycling experience will follow in the future."
The new Nyon on-board computer is available for retrofitting from specialist dealers from autumn 2020 and is compatible with all drive systems from model year 2014 onwards.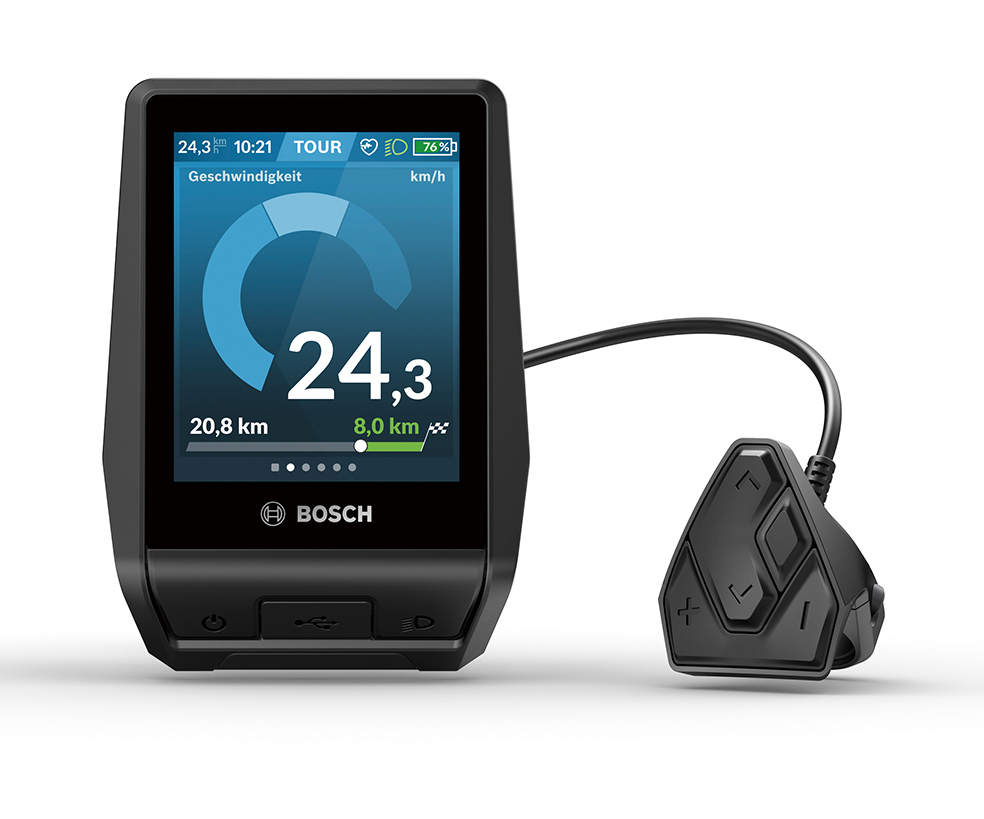 Bosch Performance Line CX gets new features
Developed for athletic applications, the Performance Line CX from Bosch is getting a comprehensive software update with features that bosch believes will make a significant difference when trail riding. Extra power comes from an increased maximum torque of up to 85 Nm. Extended Boost increases trail performance on difficult sections, while an advanced eMTB mode provides noticeably more sensitive start-up behaviour on rough surfaces. Software and sensors perfectly combine to optimise the output of the powerful and highly efficient CX drive unit – giving e-mountain bikers an unrivalled riding sensation.
Maximum torque is also being increased to 85 Nm for the Cargo Line, Cargo Line Speed and Performance Line Speed drive systems.
Kiox on-board computer now with navigation and customisable display
Kiox connects ambitious sporty e-bikers to the digital world via the 'eBike Connect' smartphone app, while also enabling them to navigate from A to B. For model year 2021, Bosch is extending the small, robust on-board computer to include a navigation function. In addition, e-bikers will also have the option of customising the ride data display.
"We use regular software updates to introduce new features for our on-board computers, while also continuing to optimise the way our products work. This is something familiar from smartphones and TVs. It is the same for our connected on-board computers. This is how we ensure that e-bikers will enjoy the connected experience for a long time to come," explains Claus Fleischer.
The new Kiox functions will be available as a software update from summer 2020 onwards and will be synchronised automatically. The on-board computer is available for retrofitting from specialist dealers from summer 2020 and is compatible with all product lines from model year 2014 onwards.
'Help Connect' a premium function to provide quick assistance in an emergency
Bosch is also presenting a service that can quickly provide assistance in the event of an accident. Help Connect is a premium function of the COBI.Bike app. The smartphone app uses an intelligent algorithm to recognise that the e-biker has fallen and how bad the accident was likely to have been. In the event of an accident, an emergency call is made via Help Connect. A trained service team on call around the clock is alerted, and immediately informs the emergency services. "Automatic emergency call systems are already familiar in cars, where they are now actually mandatory for new vehicle models. However, the system also makes sense for e-bikes too," explains Claus Fleischer. That's because cyclists often ride alone. If a rider has a fall on a remote route or trail, it can have serious consequences. "Help Connect accompanies e-bikers on their trips, not only giving them a sense of security, but also their friends and family."
Help Connect is available for iOS and Android devices. To be able to use the premium function, the smartphone on which the COBI.Bike App is installed must be connected to a mobile network. In addition, Help Connect is currently only available to users with German SIM cards. This SIM card enables users to communicate with the service team in German or English, even beyond Germany's borders in the following countries: Austria, Switzerland, France, Belgium, Netherlands, Luxembourg, Great Britain, Ireland, Italy and Spain.
Concept bike
To mark the 10th anniversary of  Bosch drive systems, the company is presenting a concept bike featuring the integration of its components in a way that provides the impetus for the e-bike design of the future.
The concept bike is designed as an Urban Sports Cruiser - its carbon frame with fully integrated front and rear suspension offers maximum comfort for city adventures, commuter trips and off-road trails. The Bosch drive system merges with the frame and handlebar to form one unit in this design concept. Also incorporated into the design are the Performance Line CX drive system, PowerTube 625 and the Bosch eBike ABS'. Side cooling channels in the frame produce the necessary "cooling effect" for the powerful, dynamic drive while riding.
The carbon handlebar unit also has a clean, linear design. The new fully connected Nyon on-board computer is  incorporated in the middle of the cockpit. Even the remote for the on-board computer and the two brake levers visually form a single unit with the black handlebar. The cables and hydraulic hoses of the brake system run inside the cockpit structure - so that nothing detracts from the design and the shape.
"Our aim in developing the 'eBike Design Vision' is to show what is already possible today when it comes to functional design integration and investigate where the journey might take us in the future", says Claus Fleischer, "Because e-bikes are becoming more confident - even in terms of design. While the e-bike was previously primarily about finding the optimum design for the individual components, the e-bike of the future will focus on vehicle design."