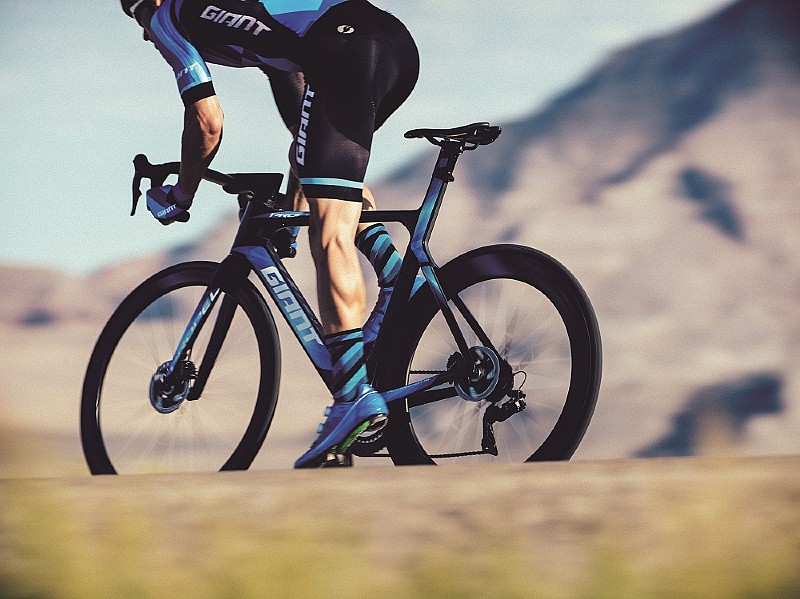 A culmination of a collective effort of pro racers and elite engineers, this new innovative propel achieves the perfect balance of areodynamic speed and efficiency.
Giant, established since 1972, leads the world's in manufacturing high quality bicycles and cycling gear. The company's ethos is based on its desire to provide both casual and elite riders with the quintessential riding experience. It achieves this by integrating innovative technology & design with excellent and creative craftsmanship. It continues this tradition with the introduction of its new Propel Disc range of aero bikes.
Giant has launched a new Propel Disc range of aero road bikes. This pioneering aero road bike comes with a number of superb features including integrated disc-brake design and brand new frame airfoils and shapes. It was the result of multi-year project which involved Giant engineers, Team Sunweb pro racers, and aerodynamics experts.
With this new product, new purpose-built Giant components have been introduced: an aero handlebar-and-stem unit equipped with internal cable routing, and aero WheelSystems optimized with different rim depths front and rear reducing drag while maintaining control or power transmission.
The new Propel Disc range aimed to create an elite racing aero road bike, without compromising weight, stiffness or overall race handling. While superior aerodynamic performance remained critical, the designers also focused heavily on making the bike more efficient and easier to control.
After three pain-staking years of experimentation and trials involving wind-tunnel testing, Computational Fluid Dynamics and different tube shapes the results were highly rewarding. The Propel Advanced SL Disc—The flagship model-- can boast of having the highest stiffness-to-weight ratio of any bike in its class. Based on the results of wind-tunnel tests, it also boasts a lower drag coefficient at a wider range of yaw angles compared to the former non-disc-brake model which preceded it.
The other two models are the Propel Advanced Pro Disc and the Propel Advanced Disc. The Propel Advanced Pro Disc has a handcrafted frame made from Advanced-grade composite material which results in a lightweight and stiff bike, which responds sharply while riding. The propel Advanced disc ensures reliable aero performance and features as one of the lightest frames in its class. Its new integrated disc brake technology includes Flat-mount calipers and thru-axles which ensures wheel stiffness and streamlined performance, while its Giant SLR 1 Aero WheelSystem has a 65mm rear rim depth and 42mm front rim providing the perfect combination of aero speed and control in crosswinds. The models all include wheels belonging to Giant's Tubeless System, and are integrated with new Gavia tubeless tires for increased rolling efficiency and reduced flat tire risks.
Giant's AeroSystem Shaping Technology inspires the main concept of this new product. The bike resulted from an approach where engineers envisaged the bike as a complete system as opposed to a collection of various components. This involved using CFD and wind-tunnel testing to experiment with numerous combinations of airfoils, tube junctions, wheels and components.
One of the key developments is the new truncated ellipse airfoil shape. This design lowers drag at a wider range of wind angles than the traditional "teardrop" frame tubing. Engineers also showed that a disc-brake design can perform better than rim-brake configuration in terms of improving aero performance.
With its new integrated disc brakes, the Propel Disc range meets the demands of Giant pro racers by using its new integrated disc brakes to provide improved braking and greater control in wet or dry conditions. The frame's flat disc-brake mounts and front and rear thru-axle configurations provides better stiffness and steering precision.
The new product also delivers on efficiency in terms of stiffness-to-weight ratio. The flagship Propel Advanced SL Disc model frameset beats out competitors such as Specialized Venge Disc and Trek Madone, being much lighter and stiffer.
An integrated Giant WheelSystem also features as one of the key innovations of the Propel Disc range. The rear wheel has a 65mm deep rear rim, while the front has a shallower 42mm rim for added control in crosswinds. The bike's aerodynamic performance is enhanced by these features which lessen both drag and the effects of crosswinds. This enables cyclists to accelerate faster in windy conditions, while enabling them to maneuver sharp corners with better precision. It also gives them a bike ready for even the most challenging racing conditions.