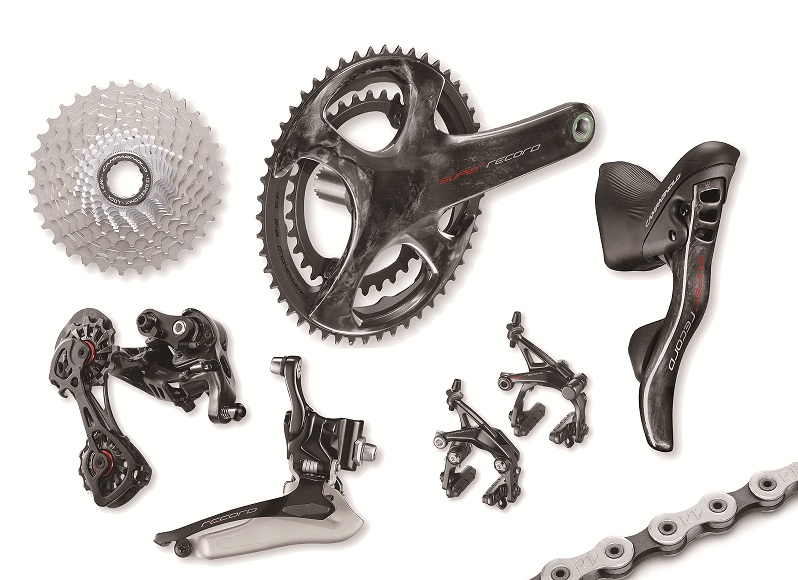 The Campagnolo movement to improve the cycling experience began nearly 85 years ago and the company has been adding precision components to bicycles ever since. The company's dedication to performance and innovation is continuing with its introduction of two new Movement 12 (M12) 12-speed groupsets. Presently, M12 components are available with mechanical shifting on Campagnolo's top-end Record and Super Record groupsets, with both rim and disc brake versions also being offered.
Controls
Visually the new groupsets take a bold new design approach with static ergonomic features such as a new hood design, an upgraded brake lever whose form derives from meticulous studies in hand movement and larger thumb shifting levers.
The rim brake version offers several positions in order to better accommodate differing hand sizes and preferences, while the disc brake version incorporates the AMS for fine-tuning of the brakes performance, and a reach adjustment system, which allows for not only personalized ergonomy but also custom performance. Both brake and upshifting levers are completely customizable to the rider's needs and preferences by using a simple hex wrench.
A larger downshift lever is also being introduced to ensure easier location of commands during even the most demanding and extreme efforts. The new commands maintain the Campagnolo tried and trusted One-Lever-One-Action layout and match with the widely-acclaimed Ultra-Shift internal mechanism. This allows for multiple downshifts of up to five gears and upshifts of up to three gears in one single movement. These features have been completely redesigned to interface perfectly with an all-new rear derailleur.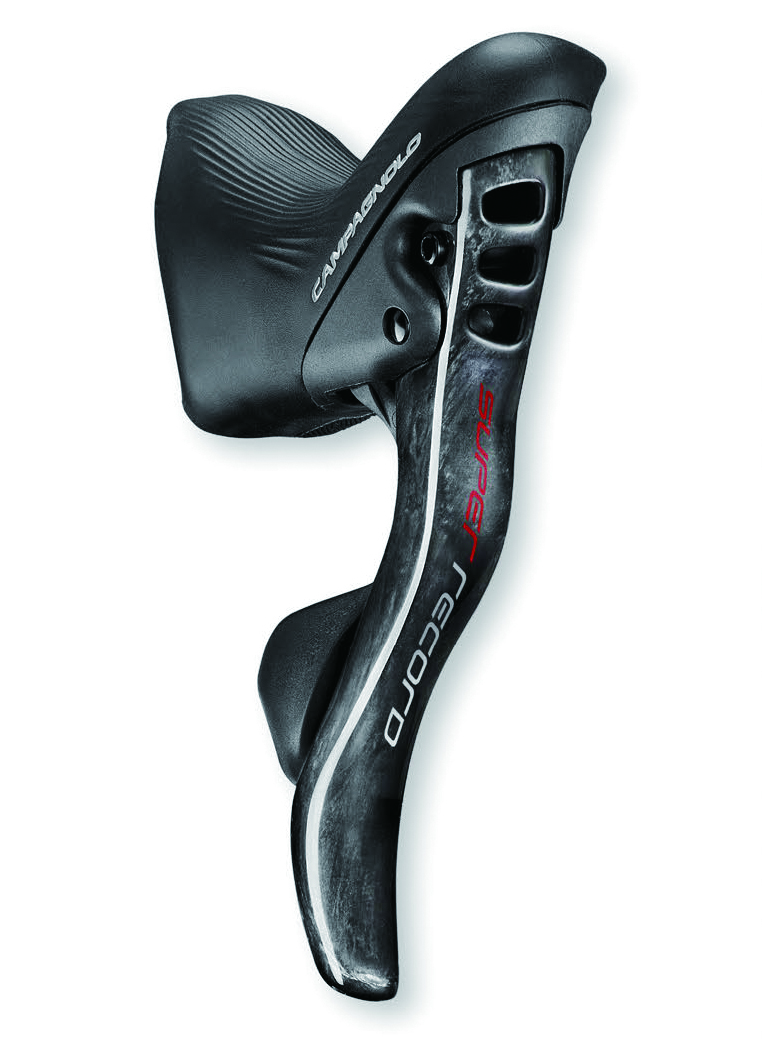 Transmission
According to Campagnolo, the high-performance rear derailleur carries out its duty flawlessly over 12 speeds but does so in the same spacing as required for 11, thus rendering it 100% compatible with current wheelsets and frame spacing.
To render this possible, a high performance and long-lasting chain was reduced in width without altering its reliability or longevity in the slightest. The individual cogs on the cassette and spacing between them was also slightly reduced and, just like the chain, maintain their long-lasting performance qualities. Thanks to additional gears in the transmission, only two cassettes will be necessary. 12 speeds allow for all gaps in metric development to be filled and as a result, a scale that increases by only one tooth at a time for the first 8 cogs. The rider can choose his or her preferred high-end gearing with a selection of with 11-29 or 11-32.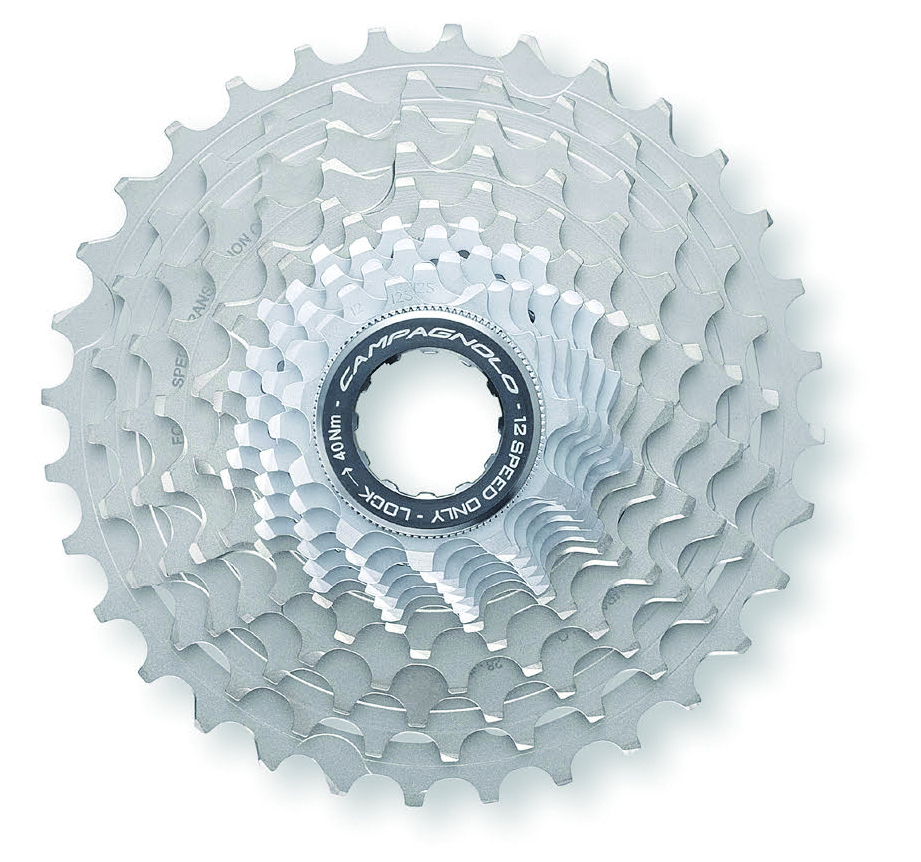 The "Cambio Campagnolo" in its newest version introduces advanced technologies such as 3D Embrace, new trajectory curve and an upper wheel pulley controlled by a gearwheel as opposed to a spring to offer the most precise shifting, best power transfer and groundbreaking performance ever seen on a mechanical rear derailleur.
The front derailleur also breaks new ground with technologies including an unlinked upper semi rod that eliminates free stroke, specific rod designs and thinner cage form adept at handling cross chaining to offer very versatile and performance oriented front shifting. Dedicated positions for each chainring also ensures safer and more efficient shifting and component longevity.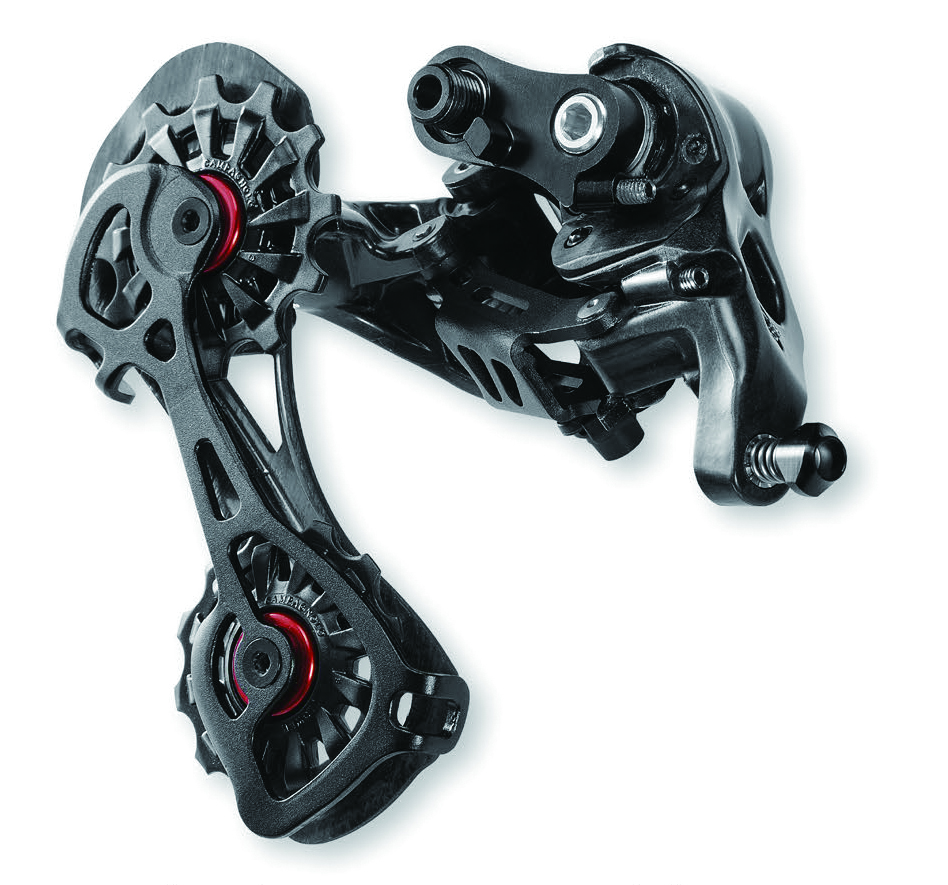 Crankset
The all-new cranksets in both Super Record and Record versions maintain the four-arm, 8-bolt spider design that rendered one crankset compatible with all chainring combinations. However, the new Movement 12 cranksets have been developed in such a way to be compatible across all platforms as well. One crankset for all applications is now available no matter whether the rider chooses compact or standard, rim or disc. Available in 4 lengths (165, 170, 172.5, 175 mm) carry over technologies such as chainring combination specific shift zones, hard anodization of chainrings and Ultra-Torque meet with the left crank closing system, innovative new aerodynamic form and more efficient chainring bracing methods.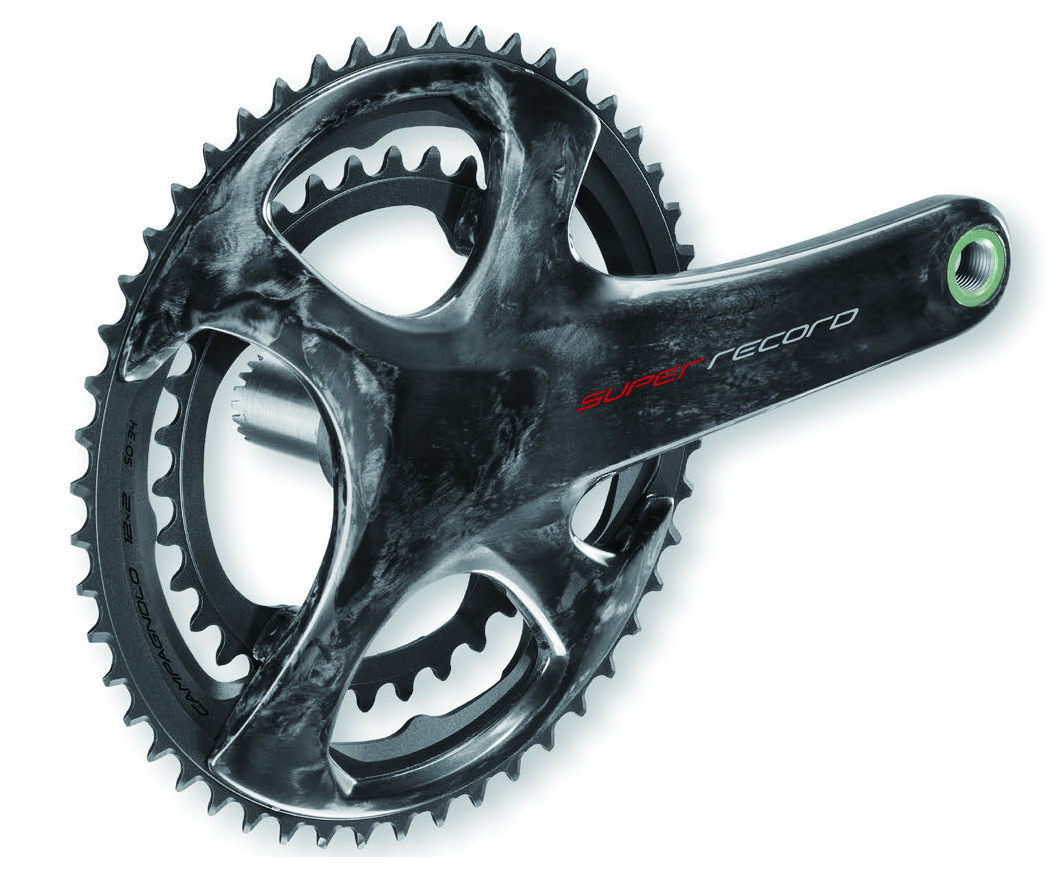 Brakes
The new Super Record and Record disc brake feature the technology brought forth in H11. The 22mm pistons utilizing a lightweight and thermal resistant phenolic resin construction, make for a direct connection between rider and surefooted stopping power. Made specifically for the flat mount standard, the caliper also features brake pads with anti-vibration chamfer to keep things silent and smooth, a special form to assist in wheel changes and both visual and audible wear indicators.
Obviously, the most critical part of braking performance occurs at the contact points and Campagnolo claim its pad / rotor interface is extremely performance oriented while not sacrificing anything in terms of reliability and safety. The organic resin pad compound is extremely resistant to heat and provides uniform and consistent braking performance despite varied temperature or climatic conditions.
Safety and reliability is further guaranteed thanks to the AFS (centerlock) compatible Campagnolo rotors with safely rounded external edges, which dissipate heat in a safe and uniform manner.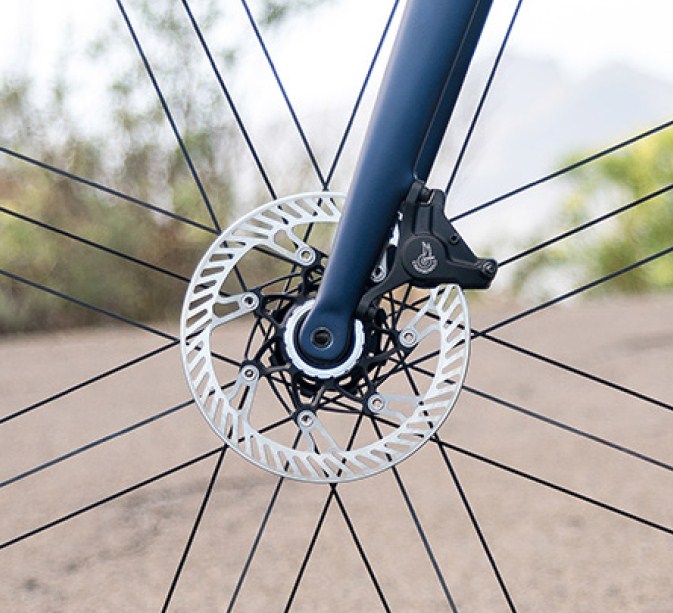 The rim brake versions feature dual-pivot caliper brakes that have been refined, and tire clearance has been increased to accept 28mm tires. Additionally, bearings replace the previously-used bushings in the pivots.