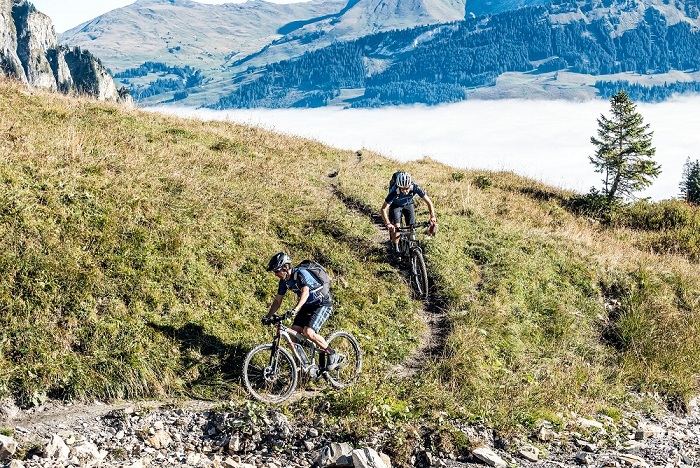 Photo courtesy of DT Swiss
Swiss bicycle industry association, VeloSuisse has released data on bicycle and e-bike sales in Switzerland during 2017. Interpreting data collected from domestic importers, wholesalers and specialty stores, VeloSuisse declared 2017 to be a good year for bike sales with a total of around 338,000 bikes and e-bikes sold. Compared with the previous year, this corresponds to a significant increase of 4.2%.
E-Bikes
Once again, the big winner was the e-bike, which had already achieved a hefty sales quantity increase of 14.1% from 2015 to 2016. This time the increase was even larger –16.3%. That corresponds to a new sales record of just under 90,000 units. In other words, every fourth bike sold in Switzerland already has an electric auxiliary drive - and the number is rising.
E-Mountain bikes, increased by more than a third for the second year in a row, with sales of almost 29,000 units—a 38.3% increase over the previous year.
VeloSuisse also noted that even in niches markets, e-bikes were giving new impetus. Around 400 cargo e-bikes were brought last year. The association felt this was gratifying because cargo bikes usually replace automobiles on city streets. In addition to major advances in handling, design and technology, funding programs such as carvelo2go were likely also responsible for the growth impetus.
Traditional bikes
The sales of pure muscle bicycles in the sports segment (without lights, mudguards and luggage carriers) increased for the first time in 2017, after several years of decline. The main reason for the growth was attributed by VeloSuisse to children's and youth bikes (with wheel sizes of 20 to 24 inches, including freestyle bikes) whose sales rose significantly by 22.7 percent. In the MTB segment, Sales of 26-inch and 27.5-inch bikes declined by 7% and 2.3%, respectively. However, bikes with 29-inch wheels increased slightly by 3.9%. Sales of road racing bikes remained stable.