Eurobike organizers have announced that is adding a new show to its family—ASEANBIKE, to be held in Bangkok, Thailand from 3-5 October, 2019. The show will be based at the Impact Exhibition and Convention Center and held in partnership with experienced Thai trade fair organizer N.C.C. Exhibition Organizer (NEO), that has over ten years of experience of organizing the "International Bangkok Bike" trade show in Thailand. Messe Friedrichshafen has designed this new event as a B2B2C platform for the South-East Asian market. "The Association of South-East Asian Nations (ASEAN) region is a promising future market as the number of production sites are continually expanding. In addition to the growing production of bicycles and components in the South-East Asian region, incomes and the standard of living are increasing, as is the demand for high-quality bikes. We see great potential here, both at sourcing and OEM levels, and as a future market for western brands," explains Stefan Reisinger, Head of Eurobike.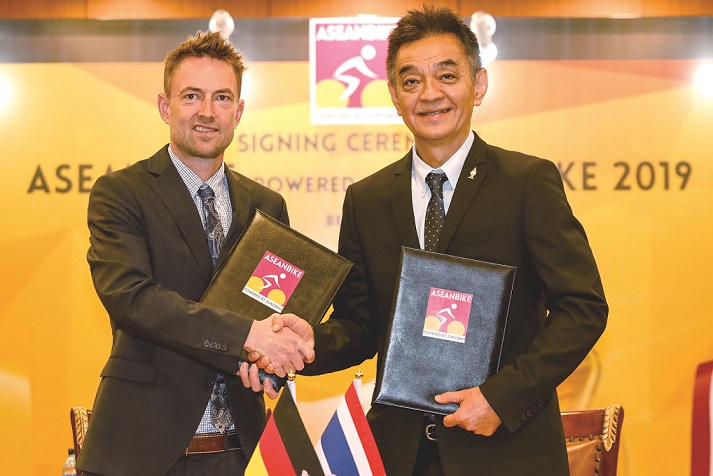 Stefan Reisinger, Head of Eurobike (left) and Mr. Sakchai Pattarapreechakul, President of N.C.C. Exhibition Organizer Co., Ltd (right).
ASEANBIKE is open to OEM manufacturers, brands, importers and distributors as well as retailers and service providers. It offers multiple exhibition and meeting options, from classic trade show booths to OE meetings, importer meetings and retailer meetings, right the way through to test/demo tracks, group rides and lots more. The October 2019 date was chosen specifically by both partners as the industry has a proven need for a central meeting point in the ASEAN market at this time.
Sakchai Pattarapreechakul, President N.C.C. Group says: "We are delighted to be working with Messe Friedrichshafen. With our joint expertise, we will be able to deliver a state-of-the-art and informative trade fair for the ASEAN bicycle market."
For more information, please visit: www.asean-bike.com and www.eurobike-show.com