Taipei, Taiwan – This year's Taipei International Cycle Show took place at the Nangang Exhibition Center in Taipei between 27 -30 March. Operating in combination with sporting goods show, Taispo, the events attracted 1,409 exhibitors occupying 4,720 booths.
Taiwan External Trade Development Council (TAITRA)—the show organizer, expanded the scale of the 'Electric Bicycle and Motor System Pavilion' and the 'Taipei Cycle+ Pavilion' at the Nangang Exhibition Hall 1. This move echoed industry developments from the vertical production chain to boost the new ecosystem. Leveraging industry development trends and the smart innovation application ecosystem as its main axis, the show exceeded last year's attendance by 4.65%, attracting nearly 7,000 international buyers, as of noon March 30.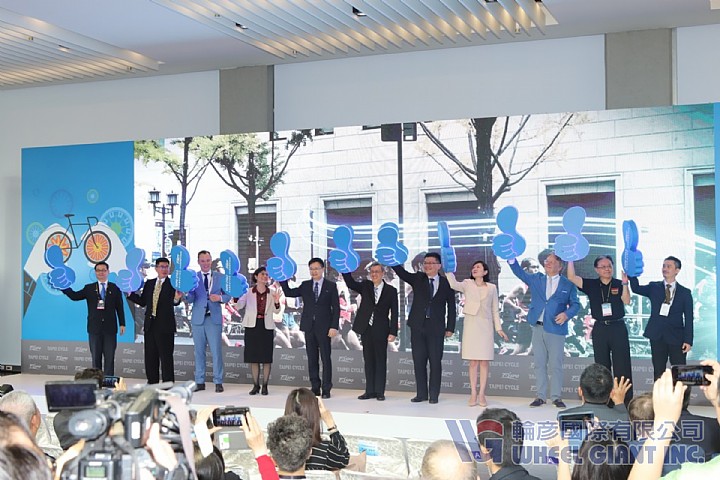 The world's leading tire manufacturer Good Year exhibited this year for the first time. They "consider Taipei Cycle as a platform for launching new development products in Asia. We appreciate the quality of the buyers and will continue to exhibit." The Italian classic bicycle brand De Rosa, which participated in the exhibition for the first time, was amazed by its unexpected results.
TaiSPO developed a new exhibition area this year – 'Intelligent Sports Theme Pavilion'. Makalot, a member of the Taiwan Smart Textile Association and exhibitor, remarked that "this year, many fitness manufacturers and event organizers from Thailand, Malaysia and South Korea looked for smart products. We are seeing fruitful results." South Korea's 'Daejeon Technopark' saw to the participation of new Korean entrepreneurs for the first time.
One day prior to the show on March 26, Taipei Cycle hosted Demo Day at the Huazhong campsite. Mountain bike, electric bicycles and folding bike brands such as Tern, Trek and Trigon, attracted a total of 535 local and international buyers.
Taipei Cycle 2020 will be held March 4-7 and TaiSPO 2020 will be held March 5-7. The concurrent exhibition will use both the entire Nangang Exhibition Halls and World Trade Center. TAITRA hopes to continue working with the industry to mark new territory. For detailed information, please visit www.taipeicycle.com.tw