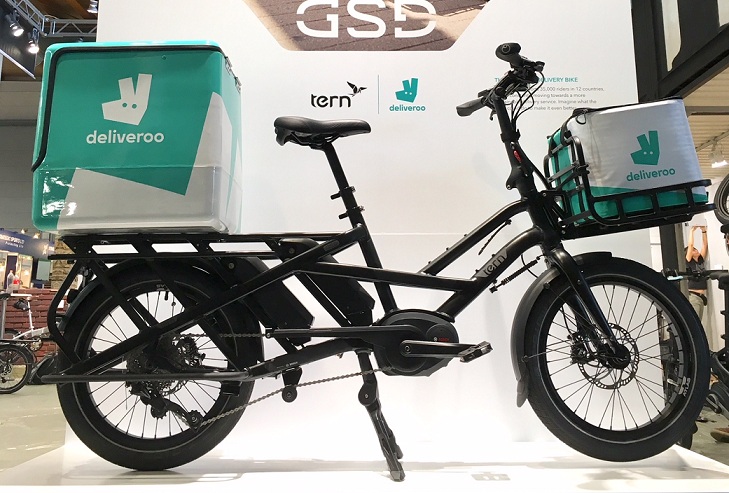 London, UK - Urban transportation specialist Tern, and award-winning delivery service Deliveroo, have announced plans for on-demand deliveries with the Tern GSD. Designed for heavy-duty applications, the Bosch-powered GSD is a compact utility e-bike capable of handling up to 400 lb of cargo.
"Deliveroo is delighted to be testing the GSD," a Deliveroo spokesman said. "E-bikes allow sustainable, low emission deliveries that are quiet and efficient when bringing amazing meals directly to customers' doors. The ability of the GSD to carry even more of people's favorite meals will make delivery even more efficient and open up new possibilities which we are excited to explore."
The Tern GSD is designed for large and heavy loads; it features a robust, specially-designed frame, cargo-specific components, and a powerful Bosch electric drive system. Yet, it is no longer than a standard bicycle, so it is easy to maneuver in city traffic. Deliveroo riders will be able to short-cut city traffic and parking fiascos riding right up to their delivery addresses.
"Deliveroo is a fast-moving innovator known for making sustainable choices and for always looking after their riders' safety and well-being," stated Terry Chen, Tern Marketing Director. "As the ultimate delivery bike, we expect the GSD will help Deliveroo achieve just that."