Headquartered in Borås on the Swedish west coast, Oxeon was founded in 2003 and launched a new carbon fabric—TeXtreme® Spread Tow fabrics. Since then the company has established itself as the market leader in Spread Tow reinforcements, and today holds several patents for both its technologies and unique materials. TeXtreme® Spread Tow carbon fabrics and carbon UD tapes are utilized by many different manufacturers of advanced aeronautical and industrial products, and can be found on F1 cars and America's Cup boats. This week, the company is showing the material to bicycle industry customers at TBW.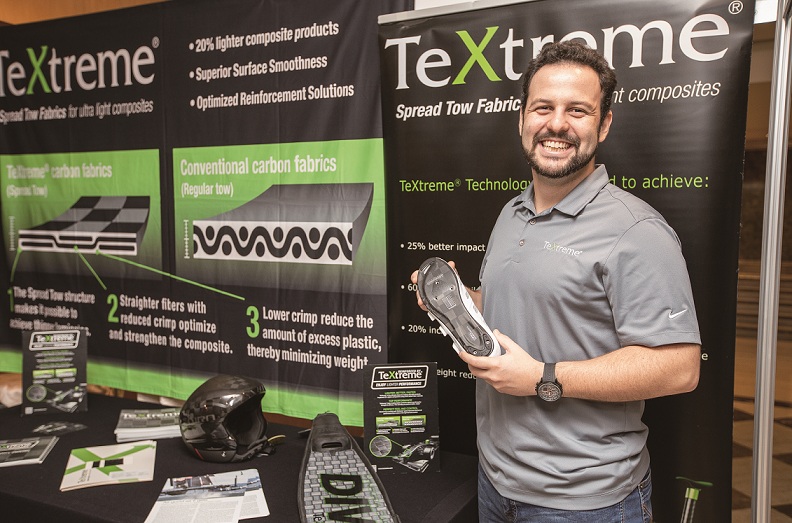 TeXtreme® Spread Tow carbon fiber fabrics use spread tow UD tapes to produce optimized reinforcements for ultralight composites. Spreading tows into very thin tapes and then weaving them into a fabric create mechanical performance and weight reductions that are unique compared to conventional woven reinforcements. In addition to carbon fiber fabrics, TeXtreme® is available in hybrid versions, such as Carbon/Innegra hybrid fabric, where carbon is co-mingled with other fibers. With fabrics starting at 43gsm, the company proudly claims that by using TeXtreme® fabrics, manufacturer's products can benefit from weight savings, increased stiffness, improved impact tolerance, superior surface smoothness with fewer pinholes, reduced labor costs and increased strength.
Furthermore, when manufacturers choose to work with TeXtreme® fabrics, Oxeon not only provides the material, the company also provides a full range of support services to help manufacturers with lay-up optimization, calculation and simulation analysis, custom tailored reinforcements, manufacturing support and marketing support.