e-Bike Solution
e-Bike Solution with unique Chain Mate is designed for superior chain and cog tooth running efficiency, and specially designed teeth for enhanced chain retention, the chainring roller seats between teeth are perfectly matched to chain rollers for exceptional component engagement. Benefits of this unparalleled power transmission are its efficiency and longer component lifespan. Shield Tech is a patented new riveting tech that utilizes a reinforced pin design, the pin surface is raised 10% and significantly increases pin power by 25%.
In addition to Chain Mate, e-Bike Solution offers chain retention which is enhanced via an optimized tooth design to hold the rollers in place, significantly preventing chain drop while also reducing friction associated with traditional narrow/wide designs. The tooth is vertically asymmetrical to avoid interference while at extreme chain angles to the rear cassette.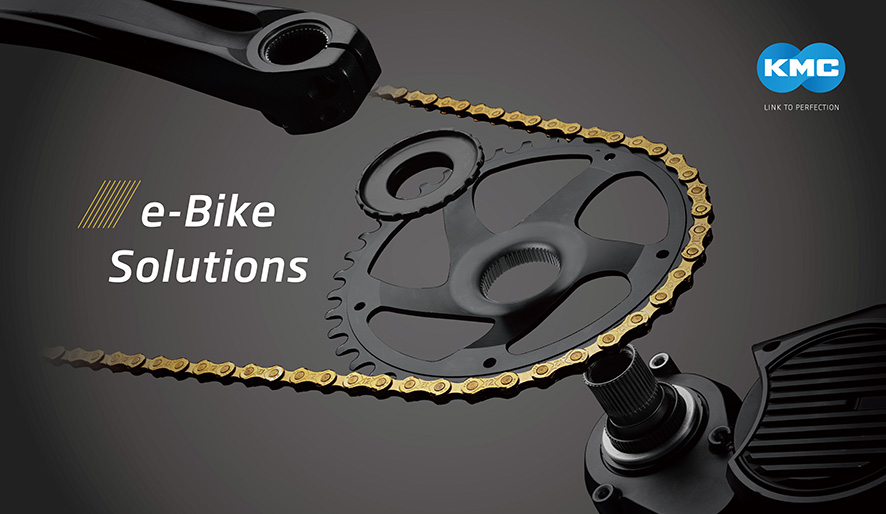 e-Cargo Chain
e-Cargo Chain has unparalleled high tensile strength, exceeding international tensile-strength standards to achieve a market-leading 1350kgf which is 30% higher than other KMC e-Bike chains and 50% higher than industry standards. Unique o-shaped inner and outer plates are strengthened by 13% and 20%, respectively. Wider and thicker plates allow for increased strength, stability, and provide anti-chain drop assurance.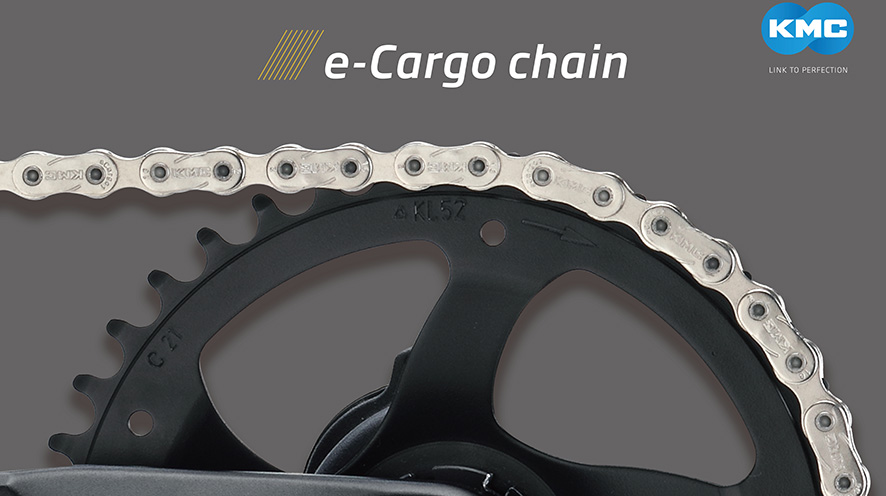 eGlide
eGlide is KMC's newest chain, combining technology from both their X-Series and e-Series chains. eGlide is optimally hardened through perfectly-tuned, heat-treated components and has their internal double X-Bridge between chain plates, both providing excellent durability, and smoother shifting performance.
eGlide maintains e-Series market-leading tensile strength, and uses KMC's Shield Tech to achieve industry-leading pin power for ultimate torsional strength. eGlide is compatible with Shimano Linkglide (LG) systems.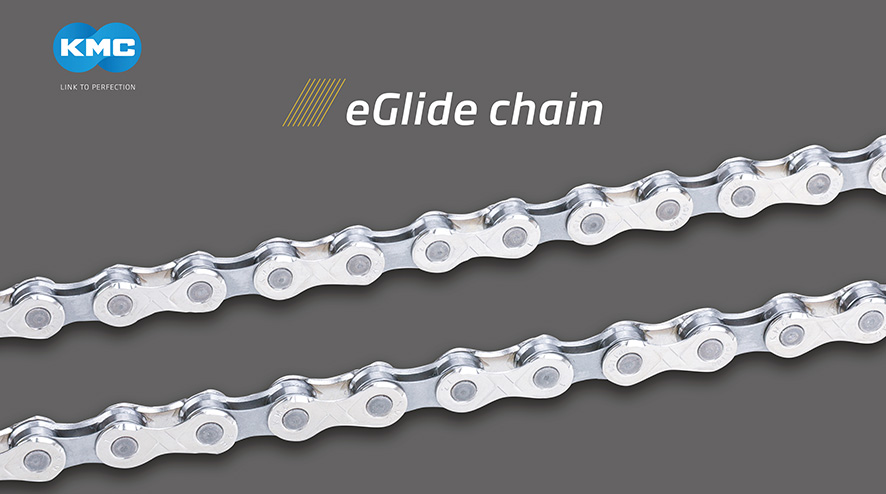 Tel: 886-6-2019103
Website: www.kmcchain.com