At Taipei Cycle 2023, ITM general manager Luigi Seghezzi was asked about what they brought to the 2023 show, what is currently in demand, how they look to improve their models and the current state of affairs stemming from the pandemic.
Mr. Seghezzi first went into the handlebars they were showcasing this year, both the integrated and semi-integrated models were on display, in particular, he proudly pointed out the ITM 50 integrated handlebar featuring a unique and elegant design that is capable of quick coupling for all types of computer cycle, and the X-One semi-integrated handlebar made with elegance and solidity finished in a carbon matt finish.
For those unfamiliar with the pros and cons of integrated versus semi-integrated handlebars Mr. Seghezzi delved a little deeper. "With all the new handlebars, you can have total integration or a semi-integrated design. With semi-integrate the cables are not totally inside, which makes it a little easier to disassemble the handlebar from the bicycle, when it's integrated it's a little more difficult, shops are not as happy, it's more technical to do the job, however; the look is cleaner."
Seghezzi was asked if there is more demand for semi or integrated products. "At the moment, people are already going back to semi-integrated, but of course, a consumer may look and say that the design is very clean, but could be the last to understand it easier to use daily or not." A hint towards consumers buying top-end products without understanding their demands for riding, whereas a simpler product could have been more beneficial for casual use, and easier to have maintenance work carried out on.
Handlebar designs have improved considerably of late, and with the e-bike boom, they are also looking at integrating computer systems into handlebars. Asked about the trend Mr. Seghezzi said, "We also have this e-bike version, with an integrated computer on board (that can be fitted to the top or bottom), for now, it's just an OEM system, not yet on the market, this is just for one customer. During Eurobike, we'll see a new one. We hope this will become a trend, we hope so. But first, it's something we need to improve and we need to see the consumer feedback. It's super well accepted, everyone is looking for it. We need to see the response from the e-bike motor constructors."
This has been a project ITM was considering 10 years ago, but it wasn't advanced enough and people were not yet ready for it. "We had it in carbon, and it was looking nice, but at the time there were not enough quality e-bike motors or bikes, and just simple computers," Seghezzi said.
Asked about chances since Covid-19 and on bike shows in general, Seghezzi said, "It's been totally different, it's a new world, not like before, two years of very strong production was unexpected." And on his thoughts on the shows, "I think when here opened in 2021 it was a little early, people were still afraid. I'm looking forward to going to Eurobike in Frankfurt, I think it will be better this time."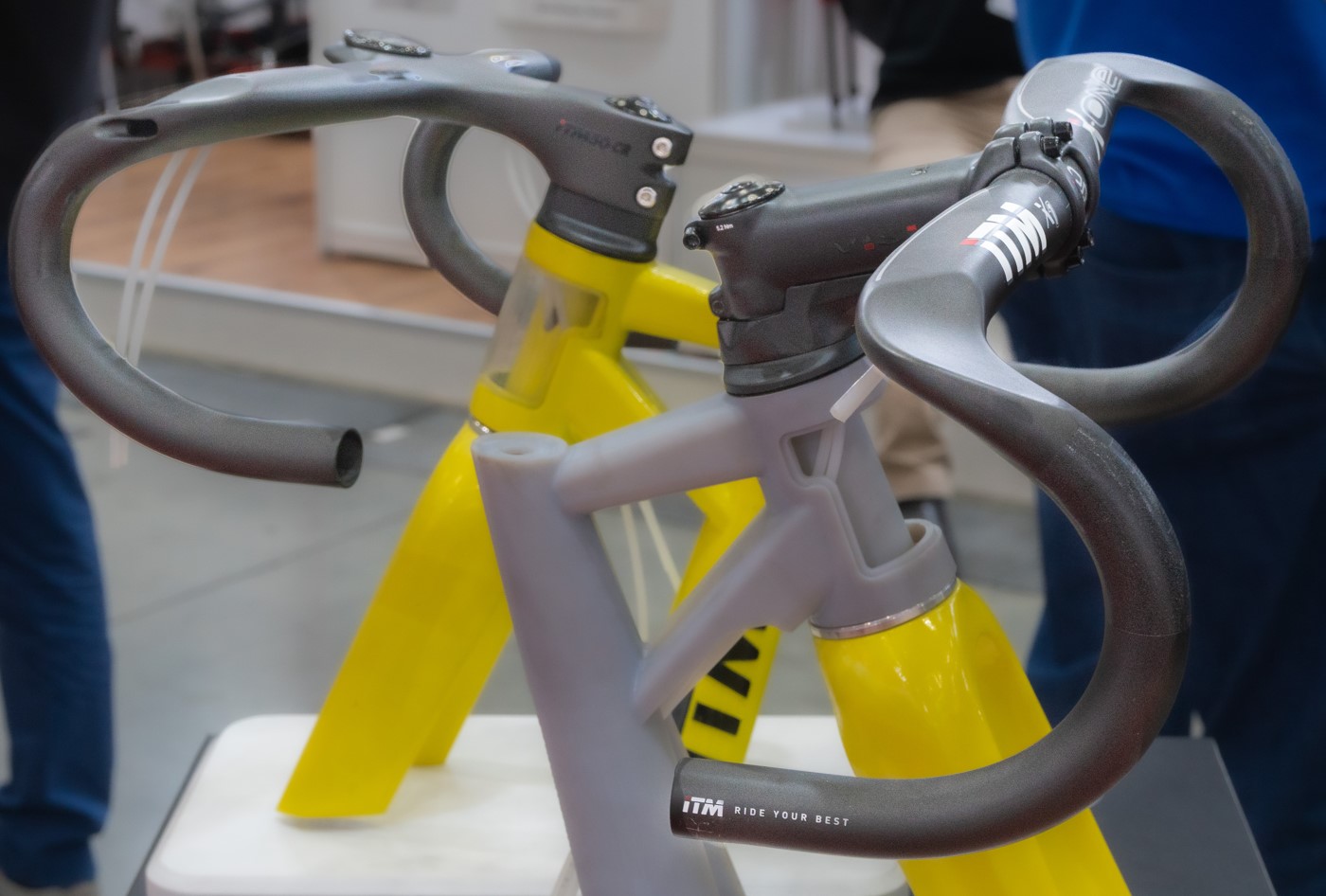 On the left is the ITM50 fully integrated handlebar, on the right the ITM X-ONE semi-integrated handlebar. (Photo : Ash Suter)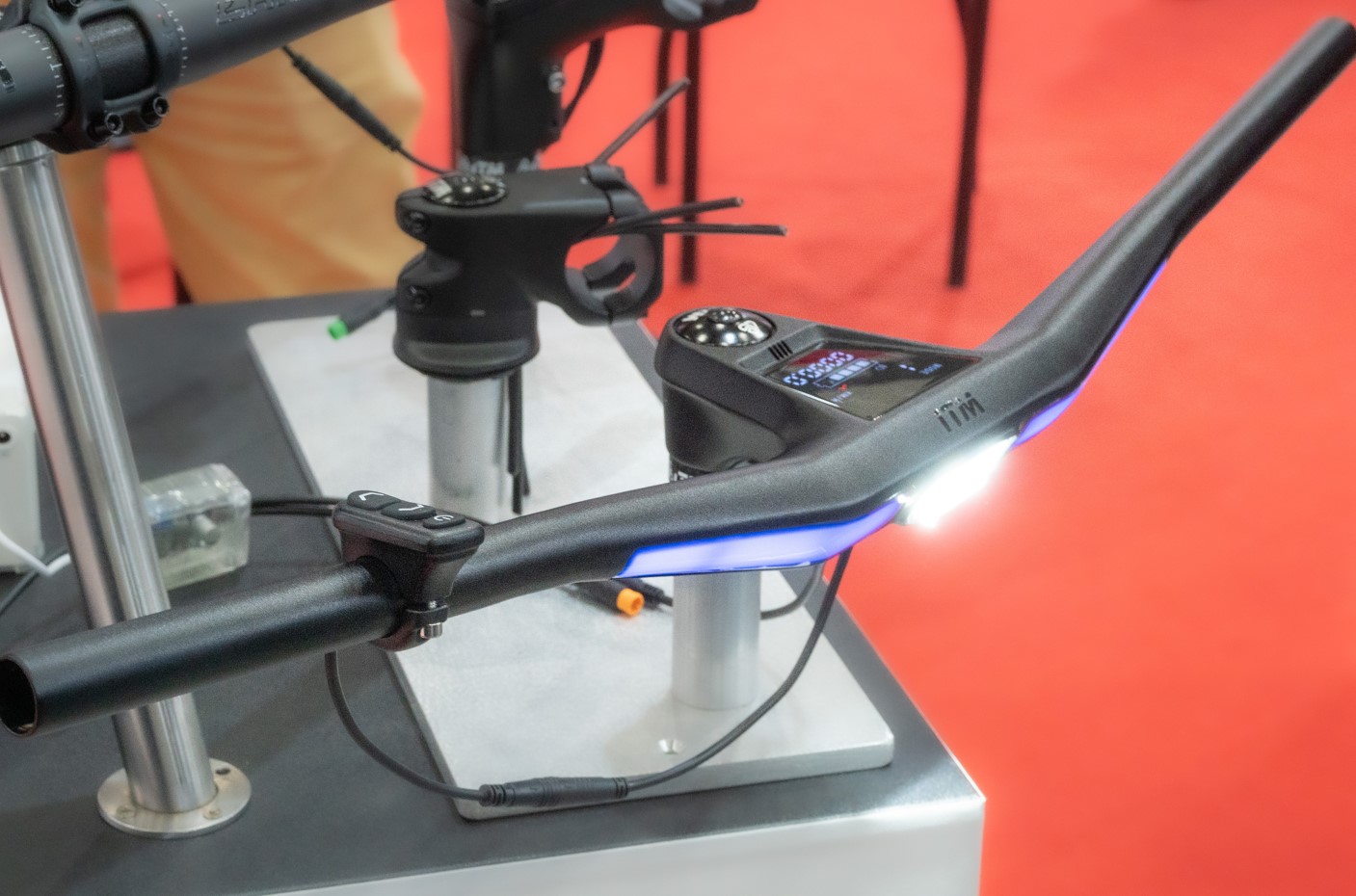 Front view of OEM built handlebar with integrated cycle computer, headlights, and external controls. (Photo : Ash Suter)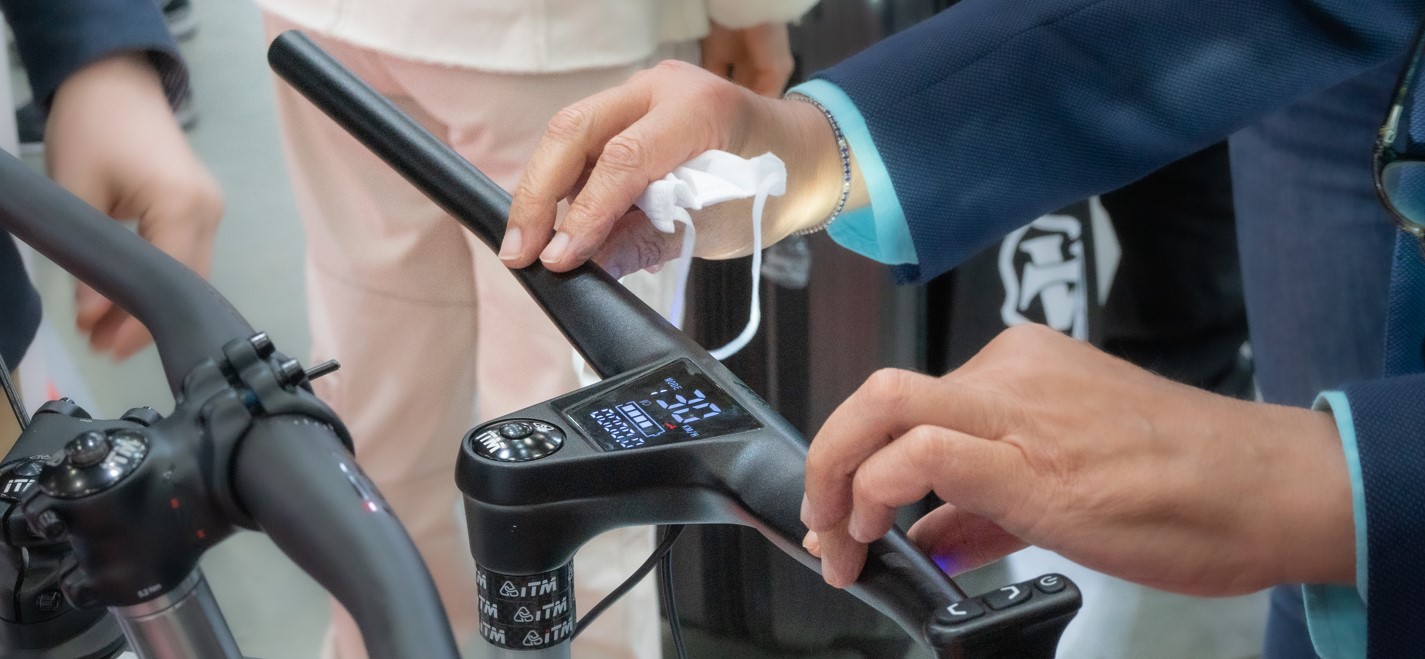 Luigi Seghezzi excitedly gets hands on showing the integrated computer design. ITM promise more for Eurobike 2023. (Photo : Ash Suter)