At Taipei Cycle 2023, Schwalbe displayed many new versions of their tires, particularly for their SUV range. Trends and demands have been changing in the industry and Schwalbe has been adapting to the times and has brought out a range to complement these changes. Thanks to Schwalbe product tour manager Stefan Franken for his time and information at Taipei Cycle 2023.
With the new trends in the bicycle market, Schwalbe has noted a demand for all-weather tires. They have seen a big demand for cycling tires whether it's for touring or SUVs or even race bikes for cycling the year round, there is now a need for a tire that can withstand any season from summer to winter, especially in Europe where there are so many different regions and climates.
Some European regions don't have a "real winter" and would just have a few days of ice and snow a year, so where a spiked tire would be used in such conditions, it would seem wasteful for just a short period of use. An all-weather tire can be a solution for everybody. This solution can allow people to cycle throughout the year without having to worry about their safety, by using the SUV or touring tires which are very grippy, the performance of these all-weather tires is not affected down to -10°C. The usual mono-compound loses a bit of grip from 7°C to 5°C, but Schwalbe's compound does not. The tread pattern is designed for on and off-roading giving the best grip and brake performance. Schwalbe provides these tires to race riders who cycle through the winter using their tires, and the feedback shows riders are very safe on these tires.
Schwalbe's newest compound was developed a few years ago, starting with a touring tire, launching with that kind of "gritty" look. They say their development of compounds has been improving every year, whilst doing the best they can to improve performance, rolling resistance, grip, and awareness.
Schwalbe's "Marathon" tires are among the best choices for customers who require long-lasting tires. You can buy them and mount them and be carefree for several years. The aforementioned SUV (sometimes called "All-Road") look has become trendier due to the influence of the look of MTBs that have been fitted with mudguards, kickstands, lights, and other similar aesthetic products.
The first real SUV tire Schwalbe launched was the "Johnny Watts" and the "Al Grounder" (Schwalbe has named their tires to be intentionally catchy and memorable). The Johnny Watts tire is a little more off-road orientated, a great choice for people who use an SUV or light mountain bike. The Al Grounder on the other hand is targeted for road cycling, but with the "pithy" look of that of off-road scrambler motorbikes, it can withstand light off-roading but is mainly for road cycling and the tires provide low rolling resistance. People want an "off-road look" but aren't going offroad as much, so they may not require an off-road tire, Schwalbe has found the perfectly balanced tire for such usage.
The "Smart Sam" is more of an MTB tire, but it's been used on SUVs for several years now, even though some riders would perhaps benefit from a different tire. Schwalbe also has some new touring tires in SUV and urban city bike sizes which can help save battery range on e-bikes.
Schwalbe's tires are designed to be long-lasting with good puncture protection using the best technology. In particular, the Marathon Plus tire is a family tire that they call "flatless", these tires are carefree from punctures and riders can rely on the protection, Schwalbe claims these tires can even be ridden over glass and other usual abrasive surfaces.
You may have expected the larger demand to have stemmed from the "Covid period", but actually Schwalbe says the popularity of cycling started just before the outbreak. "People wanted to commute more," they say.
Tyre manufacturer, Schwalbe increased its turnover to €335 million in 2022, a growth of more than 20% compared to the previous year. This sets a new record for Schwalbe as the brand celebrated its 50th anniversary in 2022. However, a decline in sales is expected for 2023.
In Frankfurt, at Eurobike 2023, Schwalbe is expected to announce a big reveal on something they've been working on for a few years relating to sustainability.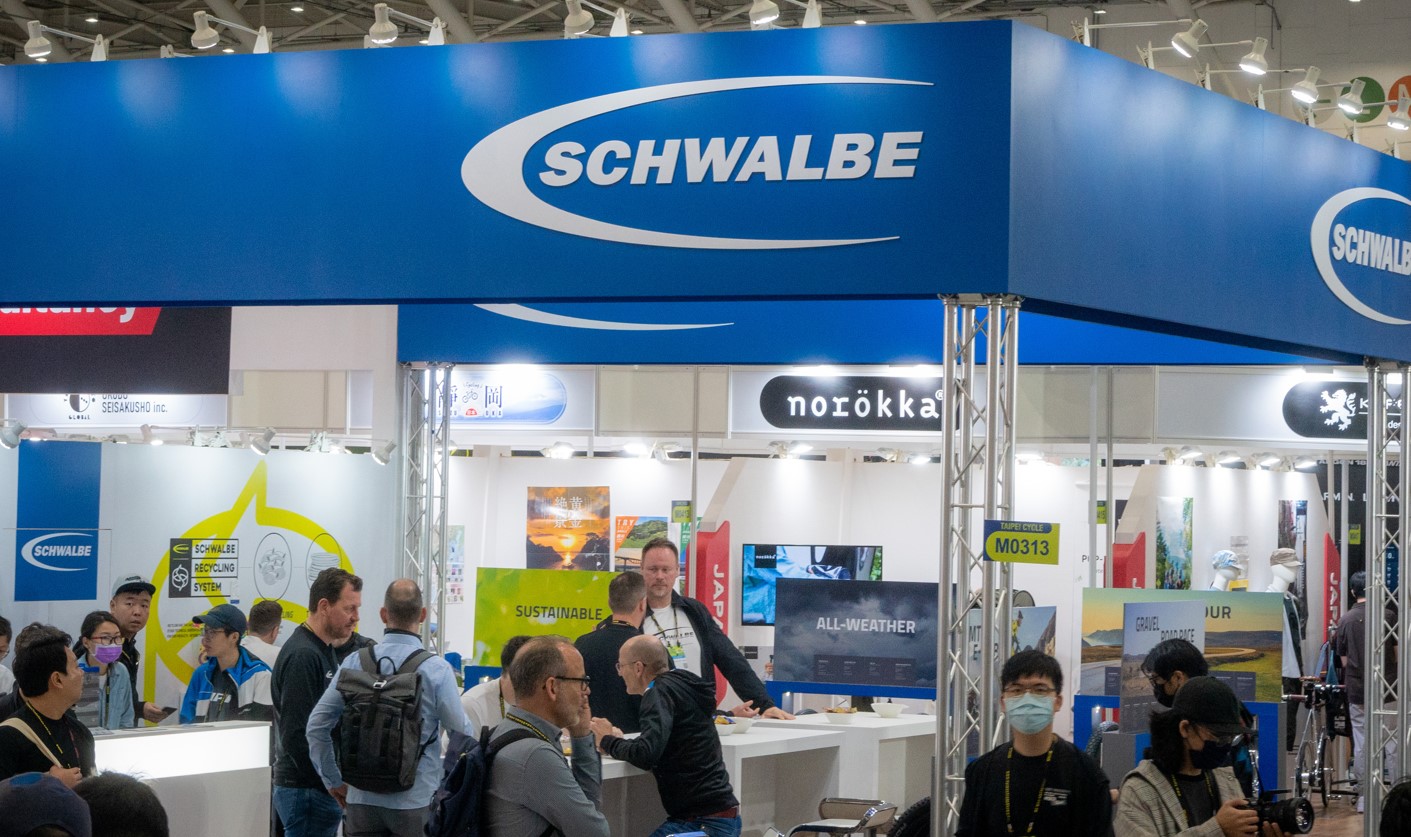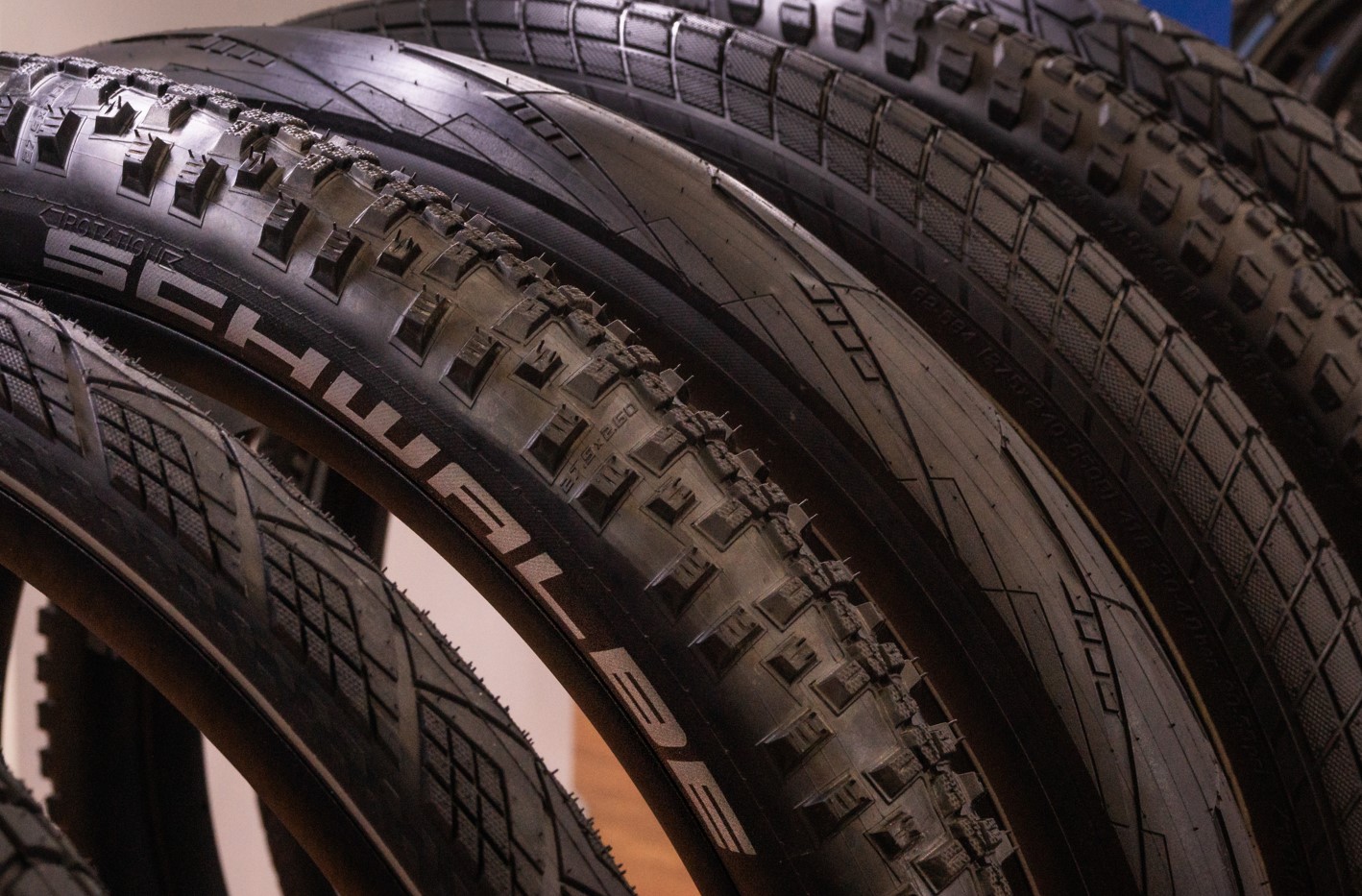 Schwalbe has many tread patterns to satisfy users of many terrains.