Speaking to Enrico Gastaldello, the CEO and sales director of Wilier Triestina, thoughts on the e-bike market's influence, supply chains and overstocking, bike design, and even the Asian market were shared.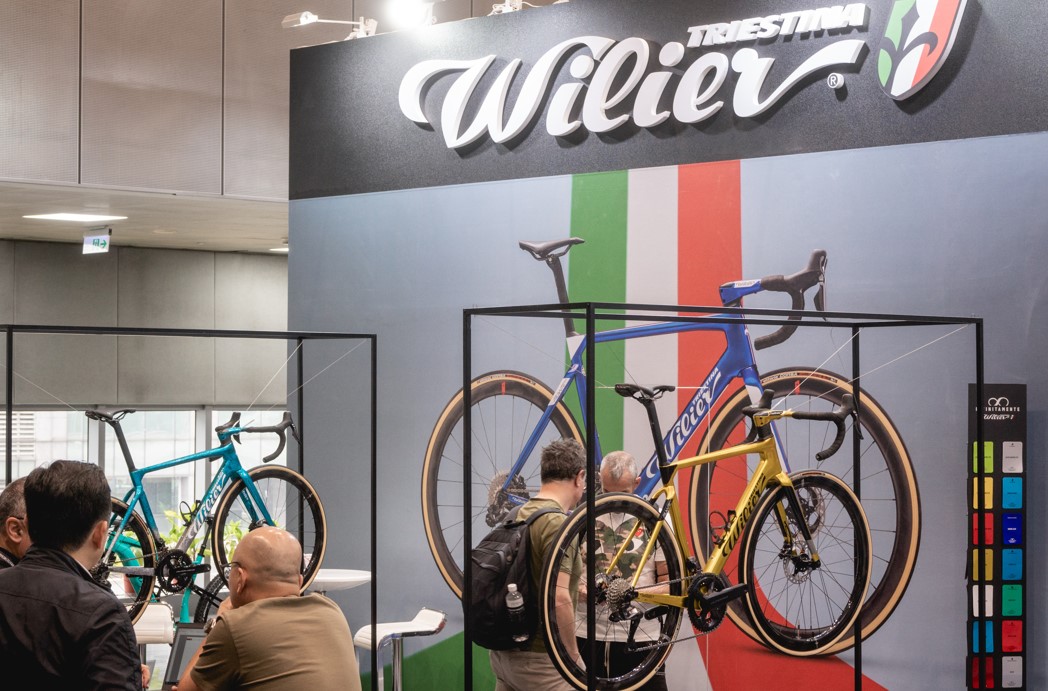 Wilier Triestina showed their premium bikes at Taipei Cycle 2023 (Photo : Ash Suter)


Firstly, Mr. Gastaldello proudly points out their premium bicycle the Filante SLR road bike, a high-end aerodynamic bike with a significantly improved stiffness-to-weight ratio. The bike on display at Taipei Cycle 2023 had the same livery as used by the "blue-blue" Astana Qazaqstan Team, one of the most successful cycling teams of recent times. "We provide Astana with two types of frame set, the Filante is more orientated for faster performance, and the other, the Zero, is super light which is better for climbing," said Mr.Gasteldello.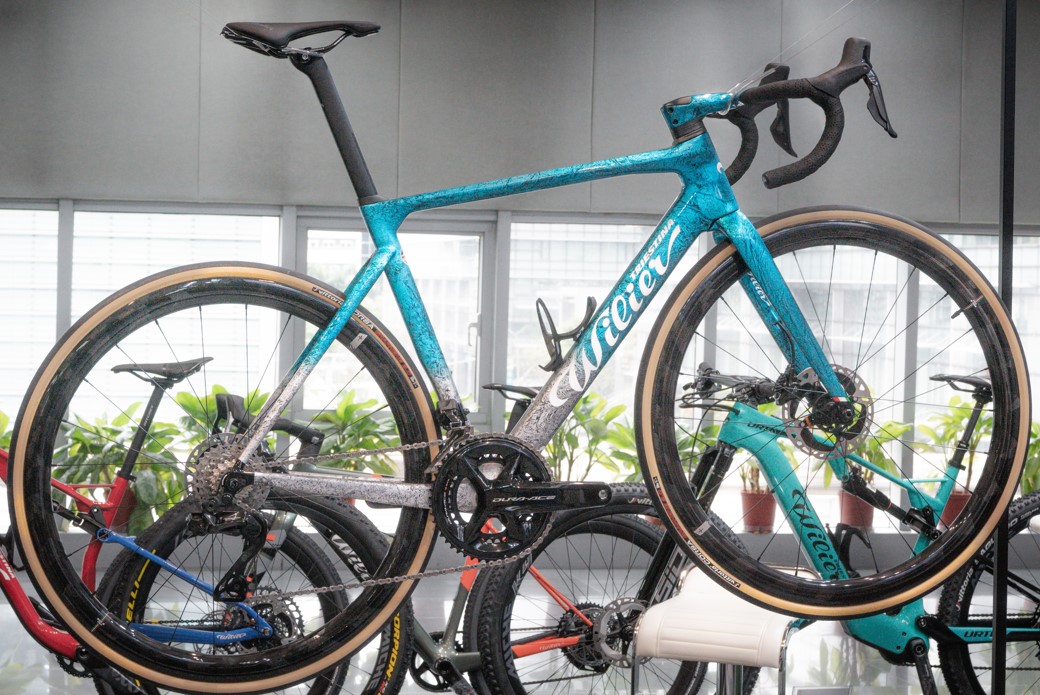 The Filante SLR with the vibrant Astana livery (Photo : Ash Suter)

When asked why there were no models on show at Taipei Cycle this year, Mr.Gastaldello said, "All products here were launched last season, anything new we plan to launch next Summer in Europe. No special announcements here in Taipei.
"We won't be attending Eurobike in Frankfurt, we will host our own private event with exciting announcements.
"Eurobike is generally a show that is not focused on sport high-end bikes like our road bikes. But we do want to grow in the electric market and we will promote more and more."
Mr.Gastaldello draws attention to the Filante Hybrid, a new model which he says is "selling well". "More and more e-bikes are being sold, the market is growing with this type of product and we want to do a good job, in fact, we're doing a very good job. This model is one of the lightest e-road bikes on the market using a Mahle X20 motor, it's so discreet you wouldn't tell it's there, with all internal cabling and routing (through the integrated handlebars), and the battery is on the main tube. It provides 250w with a motor range torque out of 55nm," he continued.
The hybrid model, like all their range, has been designed using all of Wilier Triestina's aerodynamic knowledge. Shimano, SRAM XDR, and Campagnolo compatible bodies will soon be available. It also features the Pulsar One, a compact and easy-to-use onboard computer that displays trip statistics and allows the user to modify pedal assistance. It also features a heart rate monitor and a cadence sensor.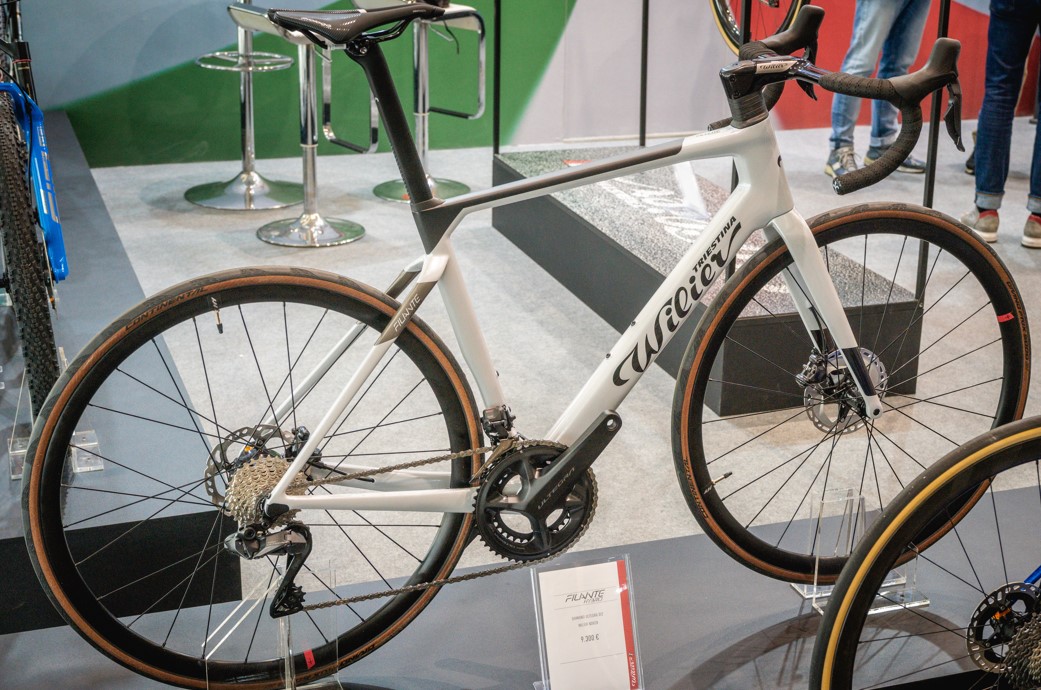 The Filante hybrid e-bike that's hard to differentiate from regular bikes (Photo : Ash Suter)

E-bikes and cycling have definitely become trendier in recent years, with this in mind, Mr.Gastaldello was asked how this influences the designs of their bikes. He said, "Of course, we want to maintain nice designs, our collection of normal bikes and electric bikes has simple and light designs. We want to move in this direction because we are a premium brand and we need to maintain this characteristic for the consumer, and also with gravel bikes we are doing quite well. We are trying to promote a nicer, simple, lighter product with cable integration and excellent performance."
Supply chains have been disrupted considerably in recent years, from metal sourcing to shipping, to war. Mr. Gastaldello said this on the effects on the industry, "All manufacturers have struggled to receive materials, not only for frames but for transmission, from Shimano for example. Now the situation is getting better, we have stock and our delivery times are getting back to normal. We also want to support our dealer and distributor network. It's not been too good the last few years, but by helping each other it's now getting good again."
In regards to overstock, Mr. Gastaldello said, "Overstocking, for us, has not been a problem for high-end bikes. We have mostly overstocked components for our entry and mid-range bikes, but we have no critical issues. All bikes are made to order on demand. This is one of our great strengths; the delivery network knows products can be delivered just in time at any specific location."
Finally, Mr. Gastaldello was asked about the situation here in Asia. "We don't much of a market here in Asia. Our main market is, of course, in Europe, but in Asia, we are going and we have a growing presence here, and in Australia also. I'm confident in completing a good network and being more complete."