SRAM's all-new Eagle Powertrain e-bike motor combines Eagle Transmission's proven on-power shifting performance with AXS wireless technology, greatly increasing its range. Powertrain is wirelessly controlled by SRAM's Pod Controllers; no additional parts are required.
Powertrain is compatible with a RockShox Reverb AXS seatpost, a Flight Attendant fork and shock, and transmission gearing.
When activated, Eagle Powertrain thinks for you, selecting the appropriate gear for your pedaling cadence and bike speed, even when you are freewheeling.
Brose manufactured the motor, which produces 90 Nm of torque and 680 W. There will be several battery capacities available, including 630Wh and 720Wh versions, as well as a 250Wh range extender. The Pod Controller can be used to change gears, or the 'Auto Shift' and 'Coast Shift' functions can do it for you, promising better ride quality.
SRAM already has the well-known Eagle Transmission line, but combining it with their own powertrain is a promising development for all E-MTB riders.
The Eagle Powertrain was created with functionality and the Eagle Transmission in mind, resulting in a system that has excellent on-power shifting. By utilizing the transmission's on-power shifting performance, Powertrain can change gears when necessary with no missed shifts.
Eagle Powertrain Auto Shift is an "engineering marvel" that detects and translates rider input with the Powertrain algorithm to provide an incredibly intuitive experience. Are you planning an attack or simply want to bypass the system? Auto Shift seamlessly accepts rider commands to be ready for your next move.
The front derailleur, wires, derailleur hanger, and barrier have all been taken off by SRAM. They insist that the full system approach will greatly improve ride comfort through "seamless integration." It can also be personalized using AXS technology in a fully integrated E-MTB system.
A wire connects the derailleur to and powers it from the bike's main battery. If the main bike battery dies while riding, SRAM claims there will be enough power for at least two hours of shifting.
SRAM's multi-magnet Speed Ring is unlike almost every other speed magnet design on the market. Because it does not have to wait for a single magnet to pass the sensor once per revolution, the data supplied to the motor is more detailed and instant.
The clean-looking E-MTB cockpit designs provide riders with intuitive features, and the shift functions provide a truly integrated experience. The modes are easily adjustable and customizable.
The AXS Bridge Display, which is integrated into the bike's top tube, adds to the clean aesthetic. It is hidden behind Gorilla Glass and displays only three indicators: assistance mode, Auto Shift mode, and remaining battery percentage.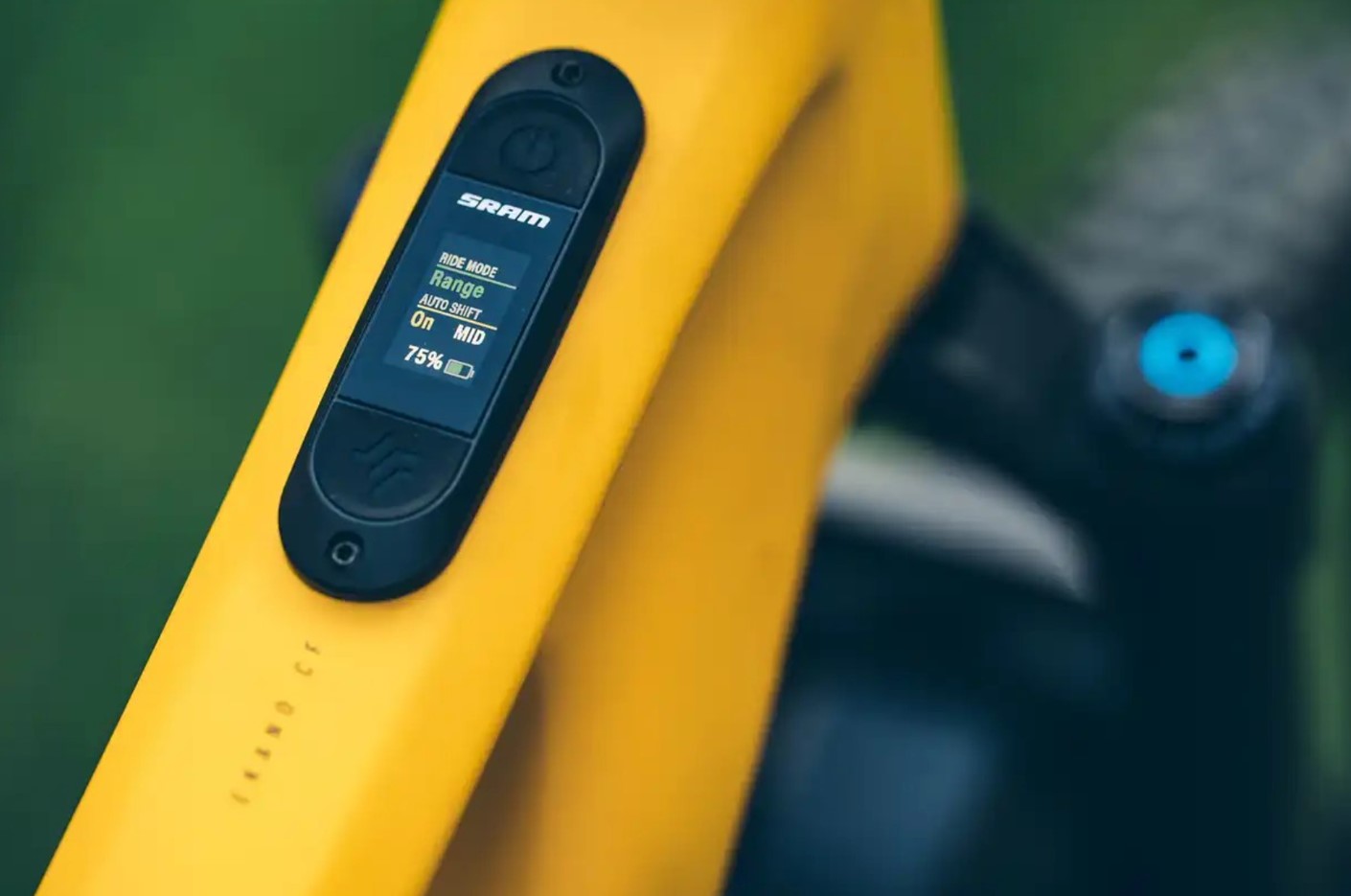 The integrated and clean-looking screen is protected with Gorilla Glass and displays the essential riding information.
The system is not available as an aftermarket upgrade kit, but it will be available in the coming weeks on four bikes from Nukeproof, Propain, Transition, and GasGas.
Shift and Riding Modes
Coast Shift employs a motor to rotate the chainring and cassette independently of the cranks, allowing the system to change gears even when you are not pedaling. It selects the best gear for your current speed using the speed sensor.
Eagle Powertrain Coast Shift allows the chainring to move freely from the cranks, allowing you to shift while coasting and giving you complete control even when the terrain ahead is not conducive to pedaling.
The Auto Shift algorithm, according to SRAM, is "like a bike's sixth sense." The system shifts gears to maintain the rider's cadence. If you pedal faster, it will shift to a higher gear; if you pedal slower, it will shift to a lower gear.
Auto Shift uses speed and cadence sensors to select the appropriate gear for your current pedaling rhythm, changing cogs regardless of how many watts you or the bike's motor are producing.
Powertrain has two riding modes to further simplify the e-bike experience: Range and Rally.
Range provides less motor assistance and is intended for battery conservation or less aggressive riding. Rally is for when battery levels are ignored and boost and fun are desired.
Within the app, you can adjust the assistance levels of the two modes, change the cadence setting of Auto Shift, view battery life and health, as well as the motor odometer, update the firmware, and troubleshoot any issues.
AXS Pod Controller
Because of its impressive nature, Powertrain is only compatible with AXS Pod Controllers - older generation AXS Controllers will not work.
The four buttons on the AXS Pod Controller can be assigned to perform shifting, seatpost adjustments, and other functions in the AXS smartphone app based on your preferences.
The Pod Controllers are used to control the Powertrain, Transmission gears, and the Reverb AXS dropper post.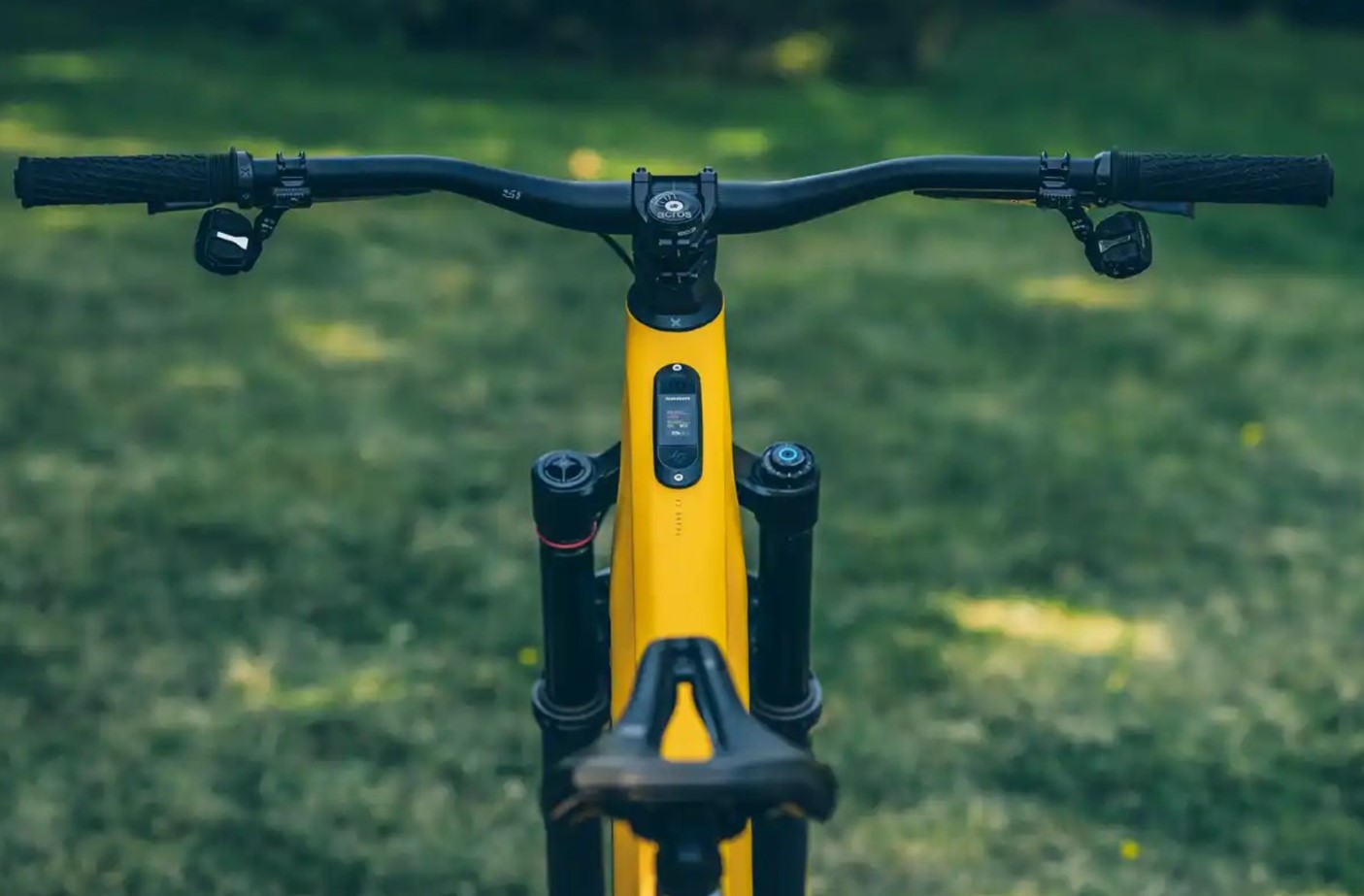 The familiar pod controllers on the handlebars can greatly assist riders and their functions are highly customisable.
AXS App
Powertrain, like many other e-bike systems on the market, can wirelessly connect to GPS head units. The AXS app allows you to customize the Range and Rally mode outputs.
"Everything is under control" with the AXS app. Riders can customize the Eagle Powertrain to fit their riding style using the smartphone app. You can change the pod controllers, range and rally support settings, Auto Shift, view the battery status, install firmware updates, and receive system notifications with the ability to change the power.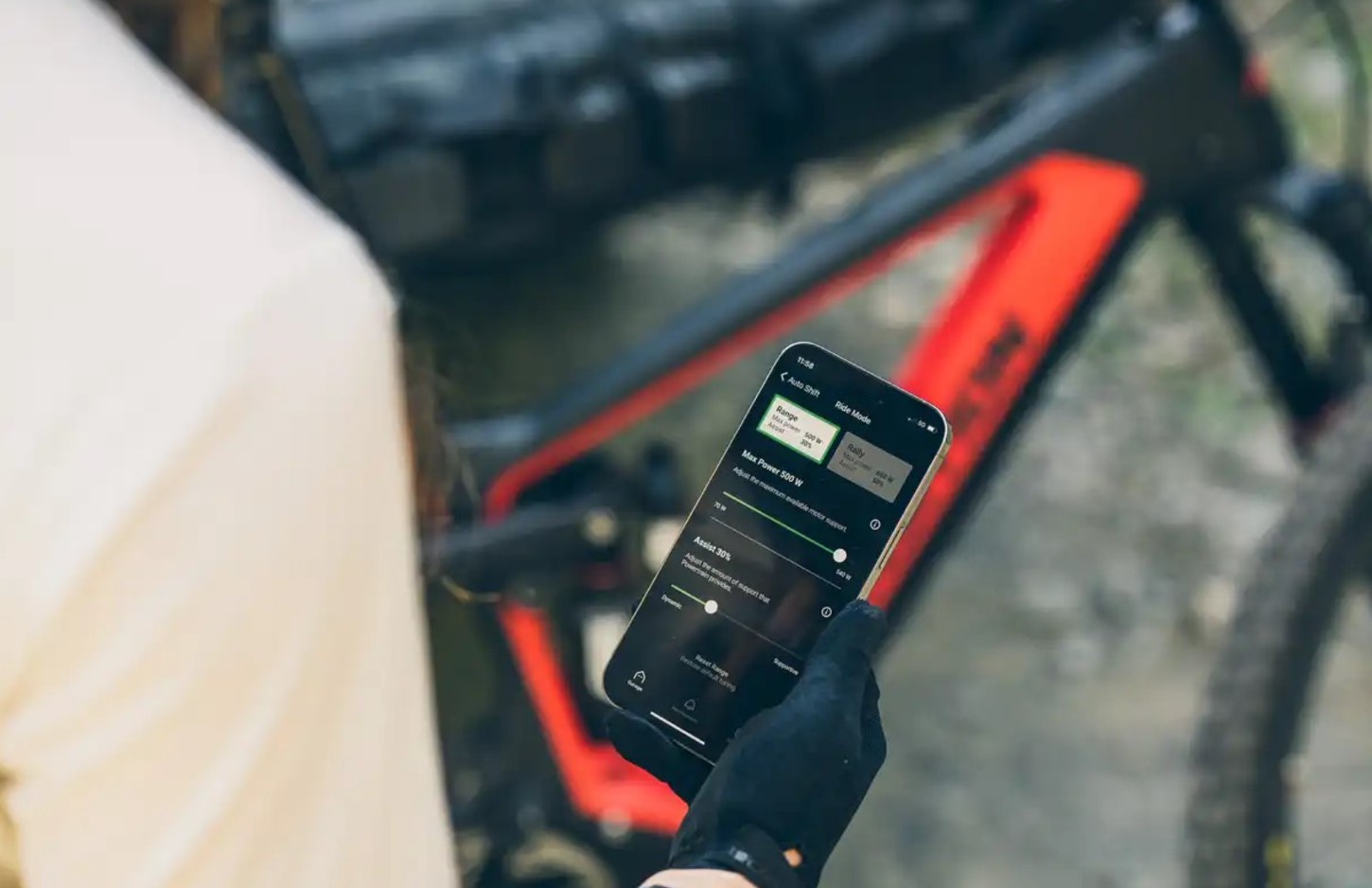 The app can customize many functions as well as regulate a bike.
Batteries
Eagle Powertrain will have two batteries available. A smaller 630Wh unit, weighing 3kg, is designed for 'open' down tubes and clips into place.
The larger 720Wh battery is designed for 'closed' down tubes and slides into the frame.
Both batteries are said to be simple to remove with a single Allen key and to be rechargeable on or off the bike. However, some Eagle Powertrain models have permanently mounted batteries.
A 250Wh range extender that mounts to the bottle holder on the bike is also available. When the extender is installed, the motor drains the main battery in Rally mode and the range extender in Range mode.
Also available in November 2023 will be additional range extenders made specifically for each bike manufacturer.