Friedrichshafen, Germany - Now celebrating the 14th edition of its awards, Eurobike announced the winners of its Gold and Green Awards on the evening after the first day of this year's show. 15 companies can take pleasure in receiving one of the particularly prestigious Eurobike Gold or Green Awards.
A total of 45 new products from the bicycle world gained one of the accolades in this year's edition of the Eurobike Award. Among the award winners are also 13 products and concepts that Eurobike's six-strong panel of experts deemed to represent an especially outstanding innovation and are thus deserving of a Gold Award. Two award winners additionally received a Green Award for special developments in the field of sustainability.
Gold Award winners include Chike, Geonet, Rotor, Troy Lee Designs, Smartfit, Ortema, Sandini, Sqlab, Riese & Müller, by.schultz, Pashley & Beryl and Muli. Green Awards were won by Vaude for an environmentally-friendly clothing range and Finish Line Technologies for its latex-free tubeless tire sealant.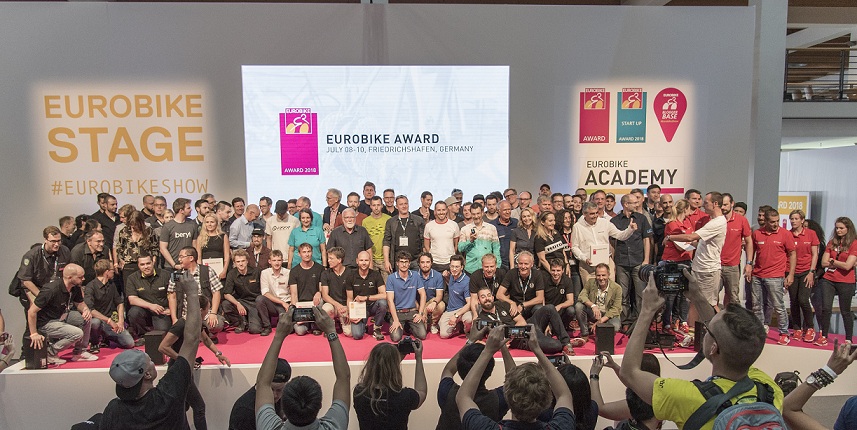 "The spectrum of the 350 Eurobike Award entries that we as the panel of judges were allowed to assess was very broad indeed and also reflects the key trends: transport solutions, electric assistance, children and safety," said panel member Sissi Pärsch after completing her task. Her fellow judge Tarek Rasouli went on to add: "There are some products in the Eurobike Award that promise more safety or more comfort. Others, in turn, adopt new approaches to the subject of sustainability. And this year there are many Award winners that point towards an exciting future as a means of urban transport. One thing all Eurobike Award winners have in common is their potential to make the world just a little bit better."
A full list of Eurobike Gold and Green Award winning products is available on the Eurobike website.