Motinova inaugurated its new plant, which is located in the Protrade International Tech Park in Vietnam's Binh Duong Province, on October 8. At that event, CEO Deniel Liu thanked customers from around the world who had traveled long distances to attend the inauguration. According to Liu, Motinova's R&D center in Wuhan, China has been in existence for 5 years, and its more than 60 outstanding engineers are engaged in development and design work, including spending more than two years verifying Motinova's mid-drive e-bike motor system. Both the EU and US have slapped high tariffs on Chinese e-bikes during the last year, which has meant that Chinese e-bikes face stiff challenges. In order to continue its development and global sales expansion, Motinova established a plant in Vietnam, and chose a site in the Protrade International Tech Park because of its excellent facilities and the fact that it is not vulnerable to flooding during the rainy season.
Liu added that Motinova's employees are all quite young, and relevant company personnel were busy establishing a complete supply chain system in Vietnam while the plant was being built. Motinova's mid-drive system boasts 50% in-house content, which meets Vietnam's original place of production verification standards. Motinova has acquired a full set of production equipment and technologies from China, complies with a quality management system and production management standards at the same level as at its plant in China, and has sent Vietnamese employees to Wuhan to study and receive training. In addition, the company has also sent Chinese technical and management staff to Vietnam to train employees, and strictly requires the purchasing of only high-quality parts. Motinova has two brands: "Ttium", which is used on products produced at the Wuhan plant and chiefly intended for the Chinese market, and "Motinova," which is used on products produced in Vietnam, and emphasizes a high performance-price ratio, compact size, quiet operation, high quality, and high performance.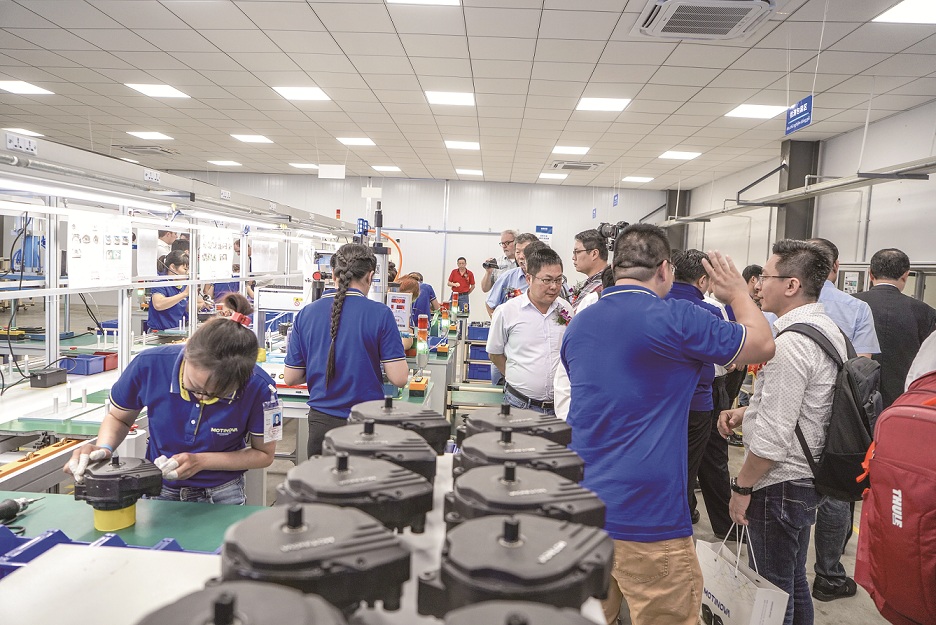 Motinova's Vietnam plant will initially produce four models in two series. It will have a monthly capacity of 3,000 units at the current stage, and expects to increase output to 100,000 units annually during 2020. The Vietnam plant currently occupies 2,000m2, which will be expanded to 10,000m2 during a second phase of development, which is scheduled to go into production in 2021. In order to serve European customers in real-time, Motinova has established a European subsidiary in Belgium tasked with performing sales and after-sales service, and has hired Arno Raaijmakers as its European GM. Numerous prominent brands in Europe have begun cooperating with Motinova. Targeting the American market, Motinova plans to draw on the resources of shareholder HL Corp in establishing sales and after-sales service centers in the US and other areas.
Invited to speak at the inauguration, HL Corp CEO, Liao recalled that when Motinova originally sought investment from HL Corp, he saw that the company's extremely competitive and had great promise, and was favorably impressed by Motinova's technical team, which was why he decided to invest in Motinova. The output of its Vietnamese plant will help Motinova boost will boost its global market share. According to Motinova Europe GM, Arno Raaijmakers, he has over a decade of experience in the e-bike industry, and has very high regard for Motinova's products. Raaijmakers concluded his speech by affirming that he knows deeply in his heart that Motinova has a big future.
In his speech, Belgian partner and Dewo Europe CEO, Jogi Sienaert noted: "Since early this year we have been honored to be Motinova's partner in Europe, where we provide them with warehousing, office space, and logistical services. Because of our location, we can offer Motinova and its clients timely deliveries to most of Europe. Over the last couple of months working together, we at Dewo feel that there is true potential and lots of interest throughout Europe. This is thanks to the combination of Motinova's products as well as their professional and experienced team offering clients the support they need." Sienaert is convinced that Motinova will continue to stay on course and keep on providing customers with the best possible products and service.