We caught up with the group CEO of GIOS, Mr.Luca Gios, and he shared: his vision after celebrating their 75th anniversary; his thoughts on the Asian market; the challenging habitat the industry finds itself in, and more.
Taking over a company is always an exciting prospect, that comes with tests even in the best of times, but to take over during a global pandemic, Mr.Gios has been issued with a unique challenge. He said, "I've been involved with the company for 15 years, always following my father, and since I've taken over as group CEO, we've probably endured the most difficult and challenging 3 years. It's true, there's been lots of opportunity and growth through 2020 and 2021, but the supply chain has been completely disrupted, causing a frustrating situation.
"Overstocking is likely coming, but the problem is not that we don't have enough stock to serve what the customers require, lots of people wanted a bike as they thought it was a safe mode of transportation, and now also in trend, but there were no bikes, our customers and exporters, at least in the beginning, couldn't understand why. Then we started to realize that the problems came from the parts and components producers themselves. I guess an influx of new demand was a shock to the system.
"Lots of factors, including the lockdowns across the world, and the big monopoly by Shimano in the components industry, combined with the market explosion, kind of created a situation that was difficult to manage.
Now the Covid situation is essentially over, we're looking at a 2023 where we can expect things can slowly return to normality, and by 2024 we hope that our operations can restart in a normal way. By normal, I mean we can program and produce in four to five months, deliveries based on what customers want, not just giving them the stock that we have on hand at that moment."
In 2022 GIOS celebrated its 75th anniversary, and Luca is proudly continuing in his grandfather's footsteps. In 1948, Tolmino Gios, a professional racer himself, set up a small bicycle shop after becoming a corporal in the Italian Army's riding club. During the 1970s, Luca's father transformed the company from a local business into an international business sponsoring and supplying top athletes.
Luca Gios said, "Right now after 75 years of uninterrupted presence in the market, we've reached a very important milestone, especially considering the difficult period we're in. The 75th anniversary marks a new restart. The brand has remained the same, but we've been refreshing websites and social media, and we've employed many people in Europe to help us. We were very lucky we could celebrate our 75th anniversary in the first year of normalization after Covid, we've been able to attend shows and worldwide events. We were always people on the move, and for us, the Covid period was sort of like being in jail."
After hitting the 75th-year milestone, we asked about the future moving on to the 100th year of operations and what Mr.Gios would like to see develop and grow.



The beautiful 75th-anniversary edition of the Leggero road bike was on show at Taipei Cycle 2023 (Photo: Ash Suter)

"Our focus in terms of the market nowadays is especially concentrated in the Asia Pacific region. We make a lot of business here. Being an Italian brand, with an Italian design, Italian flavor, and Italian passion, all these things are very important in terms of our marketing and reaching the end customer.
"We've been capable, in Asian markets, to expand our product offerings, for example, our Mini Velo line, sold specifically to the Asian market, specifically for urban use. These bikes are a little more difficult to sell in Europe, however; mini bikes like the Antico, Panto Tiagra, and Mignon have been flying away in Japan, Korea, and Malaysia.
"With governments investing in sustainability, this cycling flavor and lifestyle that's permeating everything means we'll be investing a lot in urban bikes. It's probably the most important segment where growth is concerned."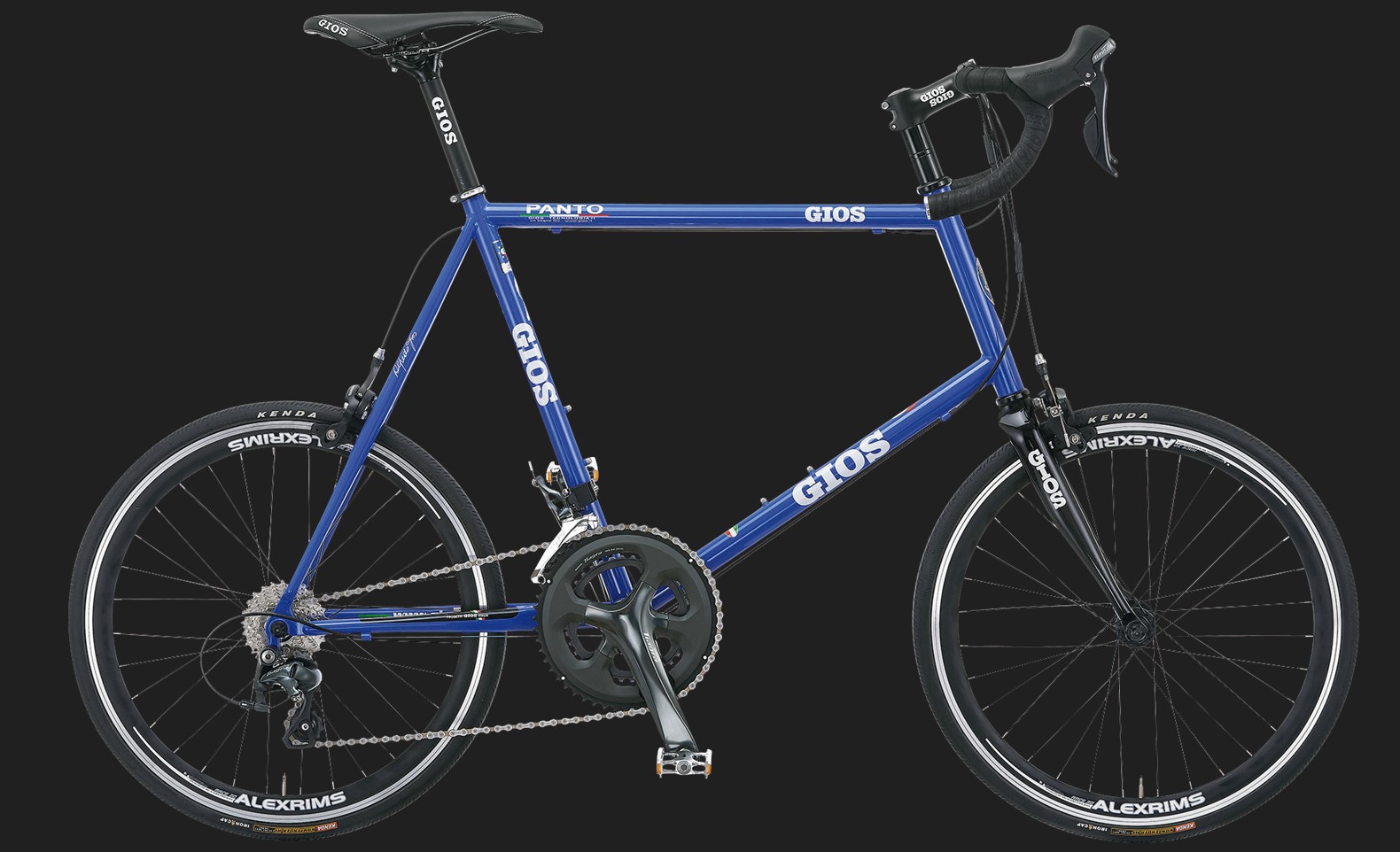 The Panto Tiagra is the flagship of GIOS' Mini Velo line (Photo: GIOS)

Mr. Gios was asked about the struggles to settle into the Asian market, and how trying to sell mini bikes in Europe has been influenced by the recent surge of e-bike sales.
"We've been thinking about e-bikes for 10 years or so, of course, but as we have always come from a road bike heritage, it's something we doubt. We've never heavily entered the MTB market either, we have just a couple of models, but that's mainly just to prove that it's something we can achieve success with too. And now with the urban bike demand, we have the Mini Velos we just mentioned, and now we have the gravel bike market too. It's going to be a good situation for us as gravel bikes are more similar to road bikes, so MTB users are shifting toward this, the gravel bikes are essentially a sub-category of our road bikes.
"Basically, we have our main business, road bikes, with the compact pro classic steel frame for vintage riding, our lightweight carbon bikes, and now the Mini Velos representing the urban bike business. We have some MTBs, but there is so much competition in this sector.
Shifting the focus back to e-bikes, Mr.Gios said, "E-bikes have always been a question for us, we have the capabilities and the suppliers, but like with MTBs, the competition is huge, there are so many small upstarts too. I don't think we'd sell that well considering we're known as a premium road bike manufacturer.
"With 75 years of road biking history, with such a strong and continuous base and business, to enter into a new adventure requires you to be too careful. It would have made more sense 10 years ago when there were fewer players. I remember these conversations with my father, we used to call them 'assisted bikes', for elder people with less strength, or seaside tourists, but we finally discarded this idea. And now here we are, with so many players on the market."
You may be familiar with the GIOS branding, especially emblazoned across jerseys and sportswear at global events, or even used by a Sunday fan hitting the mountain trails, or adorned by fans at the end of a stage. GIOS has been supplying a range of fashionable high-end sportswear and they intend on expanding further in this area.



Mr.Gios stands next to the 75th-anniversary riding jersey (Photo: Ash Suter)

Mr.Gios said, "We will probably develop more in Japan, our strongest market for this worldwide. We're entering lifestyle markets. With the cycling world becoming so fashionable, there's been a complete mindset change across the world. When I was younger, 15 years ago, cycling wasn't cool…now it's cool! You'll see top managers riding to the office wearing a suit and a backpack, whereas before they could have been doing the commute in a Ferrari. It's very important to understand cultural change.
"We've been approached by top players in Japan, and under license, we're starting to develop lifestyle lines that will be hitting the Japanese market in winter 2023. We're not looking to become an apparel company, but we look to find the intersection between sports and lifestyle. When approached by companies who specialize in this, and companies, who see the opportunity to develop something with the Italian flavor from the cycling world, gave us a chance to launch a new range, and it's something I've been working heavily with.
"Hopefully we can spread this over to Korea and then into Europe. We're a cycling brand with a cycling DNA, we aim to channel through certain cycling stores. We're already in the top five brands in Japan, and with our story, being born in Torino in 1948, with Italian heritage we're sure this continues.
The public in Japan has already embraced a vintage style of bikes and bike clothing, in general, along with the rise in vintage clothing stores, and Japan is also at the forefront of being green.
Mr.Gios said, "As far as the lifestyle in Japan, it's been part of their culture for a long time. From our side, we've always been respectable. The bike itself goes with being green.
"In big cities, the green growth will be fueled where people have trouble circulation, and urban bikes will need to be developed, like our Mini Velos.
Luca Gios knows that expanding must be inch-by-inch, and GIOS sees no rush to dive into new projects, he said, "We cannot forget the story-telling from the road bikes, and from when we started in 1972 sponsoring Brooklyn. We want to expand step-by-step, but only with certain specialists, that'll give us a solid basis. It's allowed us to come through a pandemic, a messy situation, relatively unharmed, due to our customers and suppliers. Also, we're not overstocked, we've done things in a wise way, nothing crazy. If anywhere, stock in Asia is higher, but there's absolutely no panic.
"Pre-pandemic we were selling 20-22,000 bikes and framesets, the new good date to analyze will be from 2024 once stabilization has been achieved."
Finally, Mr.Gios had some positive words about the Taipei Cycle 2023 meet-up. "The show here has been quite good, we were not expecting to close out deals for distribution with Malaysia, Thailand, Laos, and Korea as we have. I thought people would still be a little hesitant to travel, but I've been surprised and wrong. It's been quite good for us here from a business perspective point."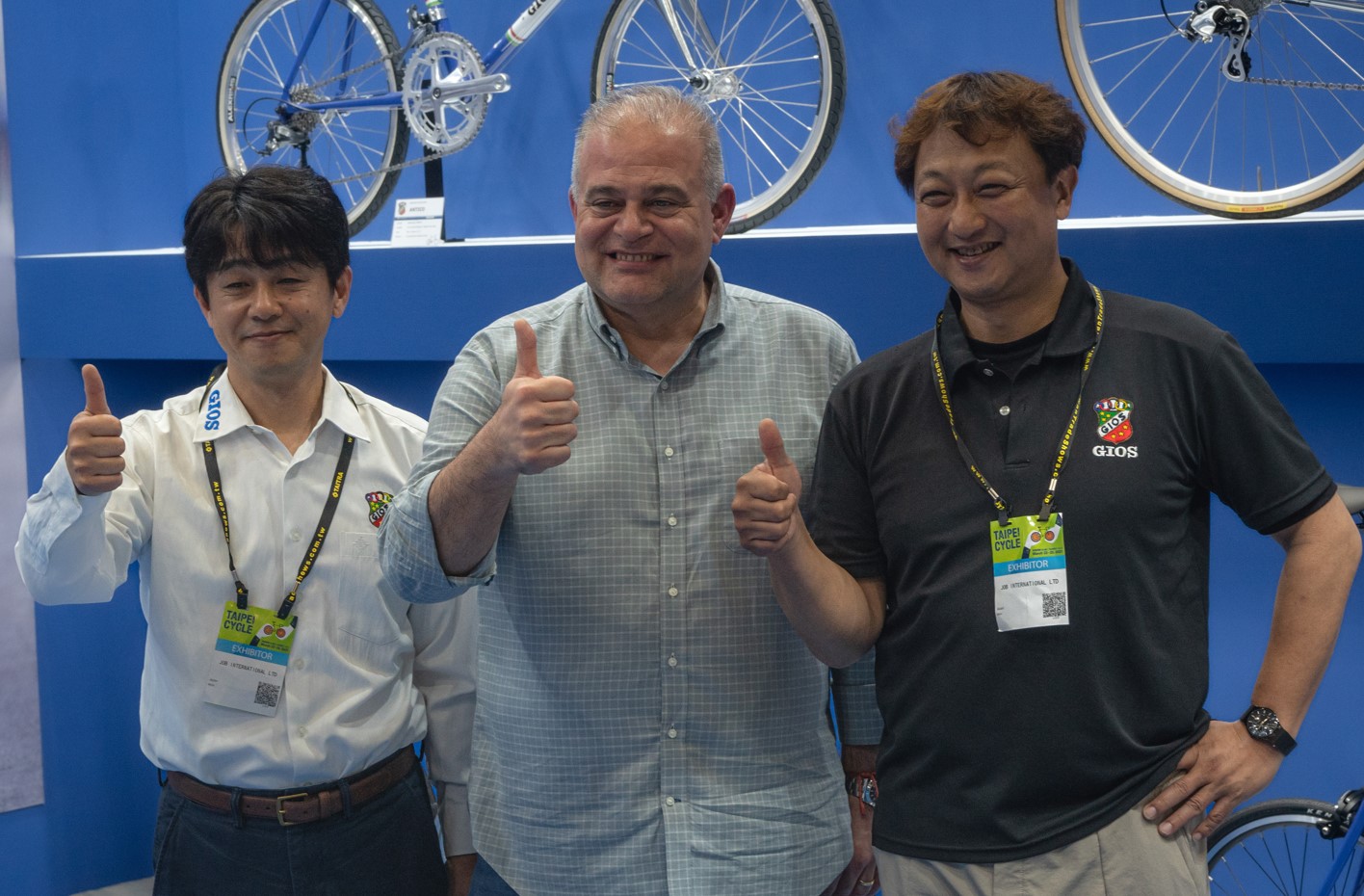 Luca Gios and the GIOS team in Taiwan (Photo : Ash Suter)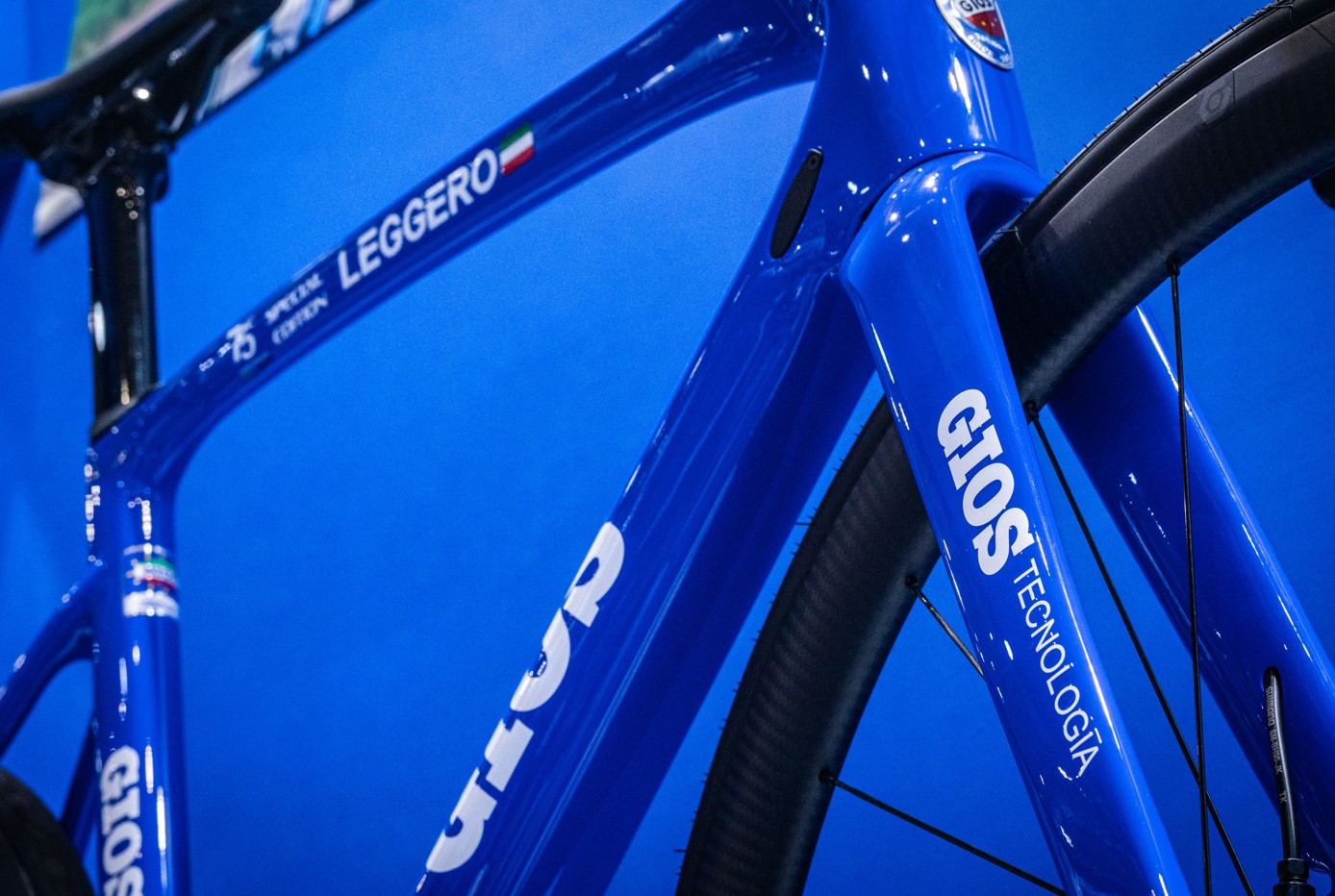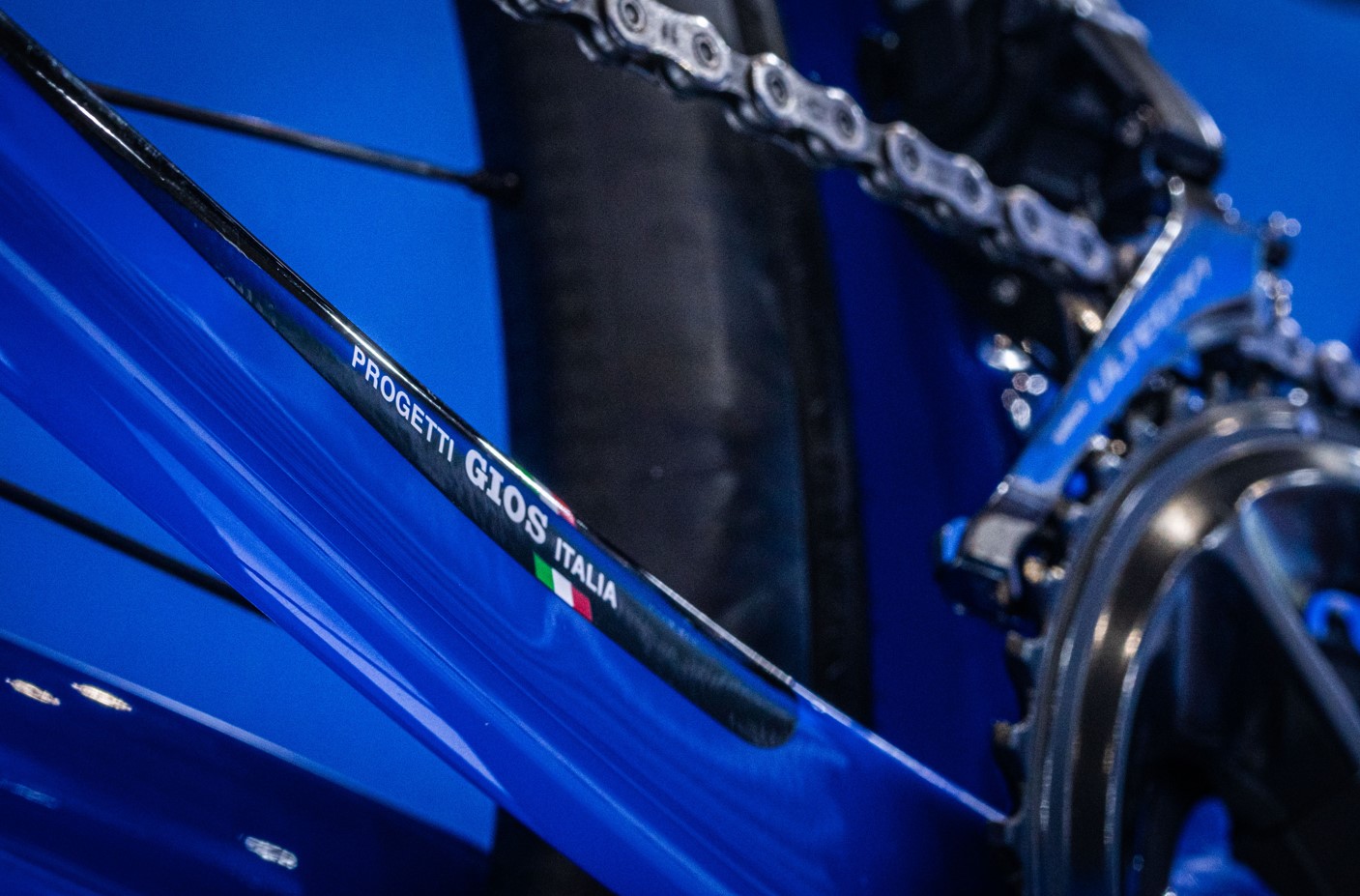 A closer look at the classic Leggero Frame (Photo : Ash Suter)