For years now, Vee Tire has been supplying its tires to top cyclists, sponsoring athletes from the disciplines of enduro, BMX, downhill, pump track, and freeride. Rugged cycling territories that require a rugged tire.
The Gravity Range
In 2023, Vee Tire came out of the "Covid period" with a focus on supplying the rapidly-changing environment by providing the best products it can. In particular, they're focusing on their Gravity range and the "less is more concept - 4,3,2", that is 4 patterns, 3 casings for different disciplines, and 2 compounds.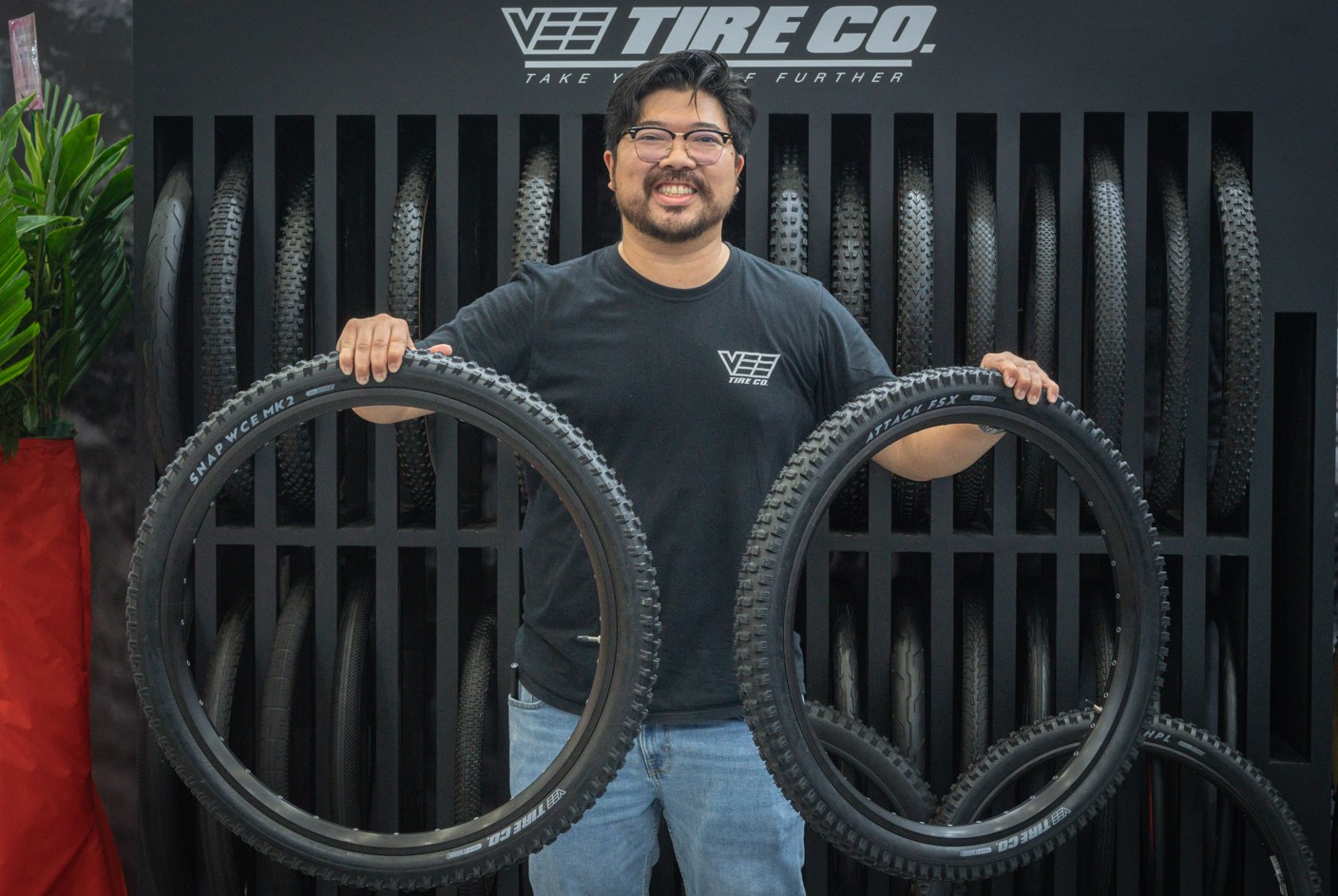 CCO Bike Sukanjanapong proudly holds the Snap WCE MK2 and Attack FSX (Photo : Ash Suter) 


"We're trying to simplify the design, narrowing down the concept. We already provide at least 28 SKUs which is good enough already, we don't want to confuse the customers even more. You can ride 90% of trails with a GXE casing, but we still need to provide something new for customers for excitement," said CCO Bike Sukanjanapong.
The reinforced DH Core casing is for downhill biking, which looks to eliminate pinch flats and protect against cuts; the GXE Core (gravity crossed with enduro) is a tire for trail and downhill, slightly lighter than the DH casing, built to handle the strains of extreme biking, athletes often tend to mix a GXE front tire with the DH on the rear for a balance of grip, speed, and protection; and the Override Core casing designed to withstand high torque which is eMTB ready also.





The gravity range has a variety of construction methods to suit multiple disciplines (Photo : Vee Tire) 


Due to demand from multiple teams, Vee Tire has also launched a semi-spiked mud tire, the Snap WLT, while also providing an update to the 2.50 Snap WCE calling it the MK2 that provides great grip through thick terrain. The height of the side knobs, and the angle has been tweaked for improved performance. Vee Tire says it's "not just a change, but an evolution". The tire has already been proven with riders finishing on podiums and teams getting good results from using it.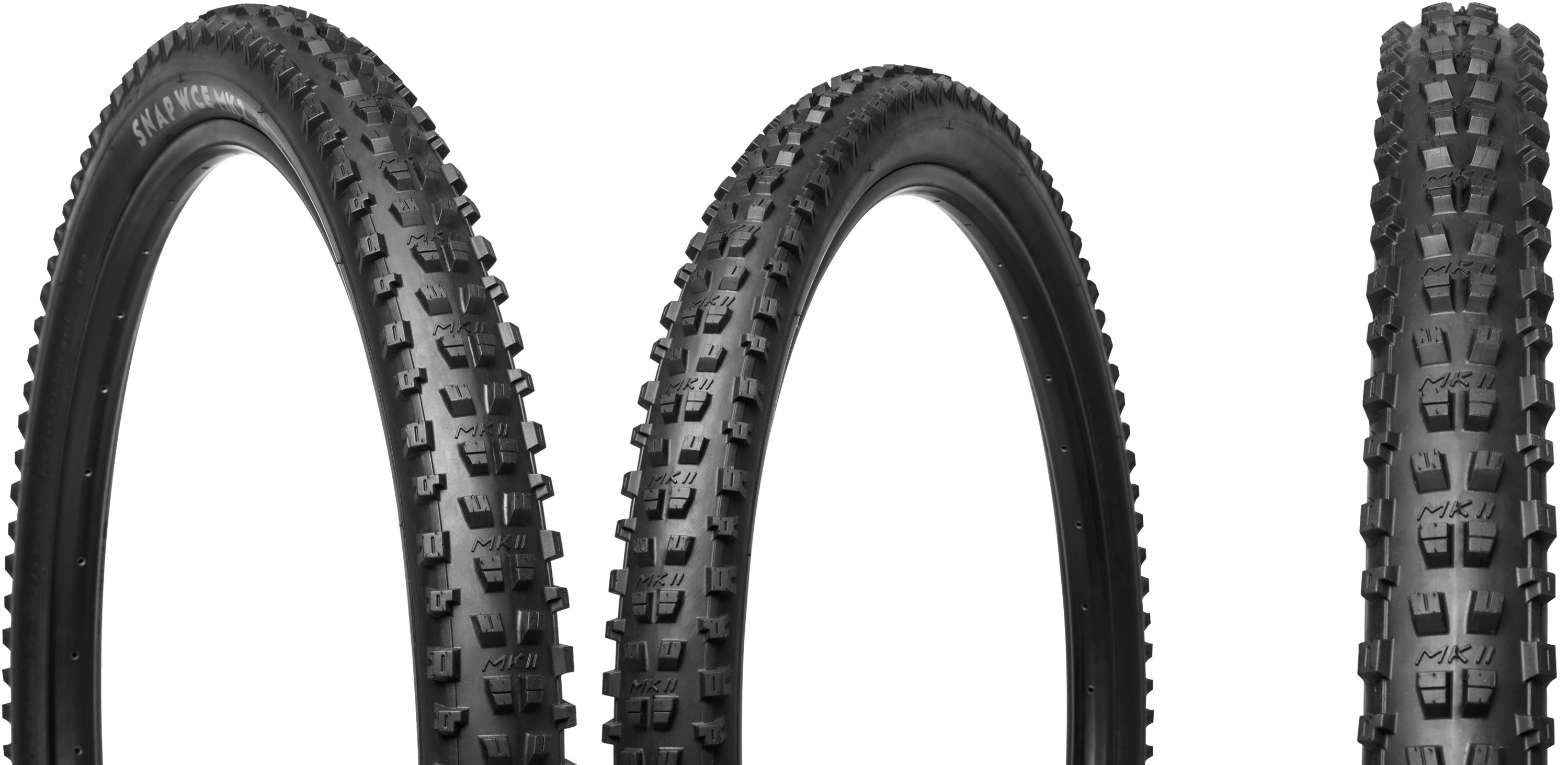 The Snap WCE MK2 with an improved tread pattern (Photo : Vee Tire) 


E-Bike 20x4.0 Tires
Concerning e-bikes, Vee Tire has put a lot of attention on the casing technology which they have adapted from moped technology. Due to naturally bigger torques, bore, and loads that can be associated with e-bikes, Vee Tire has made the casing a little stiff on top with some softness on the side, with the rubber casing compound in the middle a little harder, and on the side a little softer with the aim to improve longevity. A suggested setup for an e-bike could be to use an Override casing on the rear and a Gravity tire on the front, providing great turning and support.
"The 20x4.0 e-bike tire is a big segment for us, and our new tire is the E-Huntsman. All our tires get inspected heavily and we work with many groups to ensure safety. The E-Huntsman takes inspiration from the motorbike world, where they have a touring and scrambling style tire. The E-Huntsman has a 70/30 tread pattern and is one of our most popular tires, it's for the future, and the design also ensures it has great puncture protection."
Also In the 20x4.0 segment, Vee Tire is launching a studded tire, the Snowball, mainly for riders in Scandinavia and North America that can be used in snow and ice.
"It's crazy, we've been selling e-bike tires out like hot cakes, there are so many manufacturers starting to produce 500, 1000, 2000 watt motor e-bikes with many frames in many countries. The Speedster is our number-one seller and it has that vintage look," said Bike.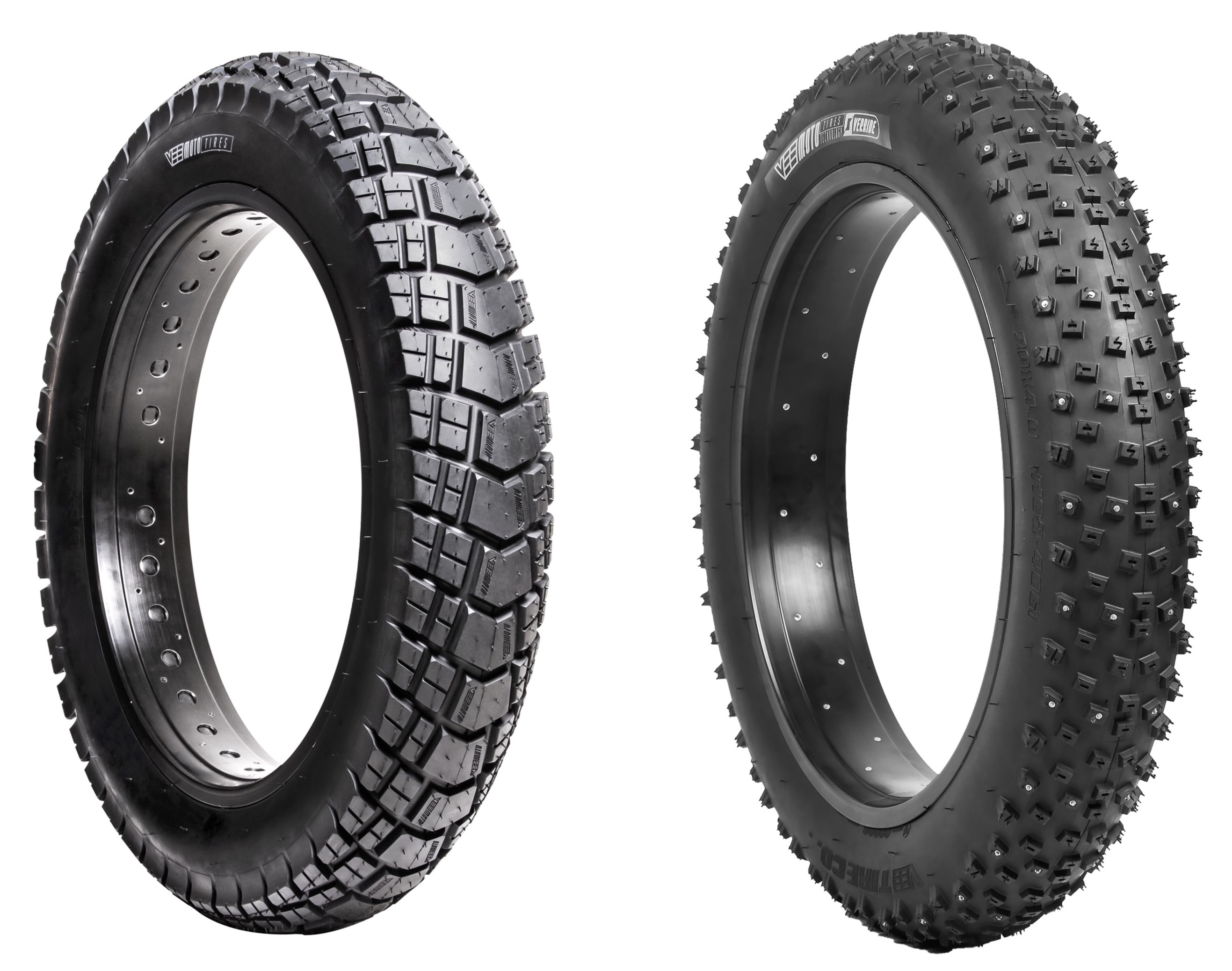 A range of tread patterns in the Vee Tire 20x4.0 e-bike lineup - (left, the E-Huntsman, right, the studded Snowball) (Photo : Vee Tire) 


The 20x4.0 Speedster is available with different colored walls (left to right: White, Skin & Black) (Photo : Vee Tire)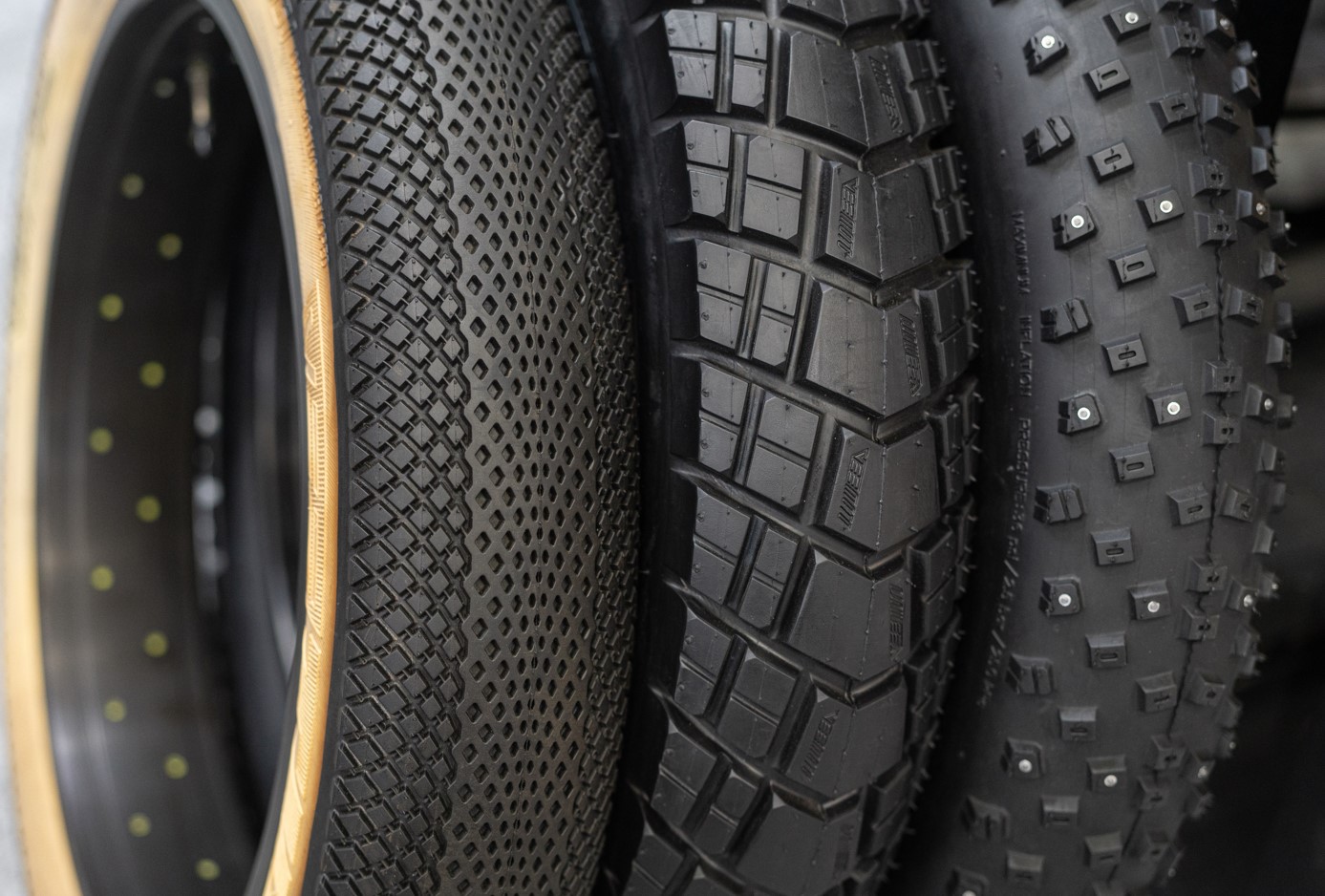 The Speedster, E-Huntsman & Snowball were popular at Taipei Cycle 2023 (Photo : Ash Suter) 

"Back in 2012 we were the first ones making a 20x4.0, and using our motorbike knowledge and experience we made the Speedster, one of the first moped-style e-bike tires we worked on.
"How many times do we encounter a flat e-bike tire? A lot. Scooter tires are stronger, and we don't see as many flats, but putting a scooter tire on a bike would 'kill the feeling'. We're working on expanding the range and working on the capacity of the load due to the arrival of cargo bikes."
Vee Tire is looking to utilize the cargo segment. They plan on launching a 20x3.0, a 16x3.0, and a 22x3.0, so that long-tail cargo bikes can be customized depending on the spread of the load, but comfort and turning radius are to be considered too. They say the 16x3.0 is "perfect for a long-drawn cargo bike."
Sustainability has reinforced the idea for cargo bikes, cars cannot be ridden as much in big cities anymore, so the need for cargo bikes is increasing, especially with the rise in package delivery services. Mr.Bike finds the styles of cargo bikes and the challenges they provide interesting, "Are people using a long-tail bike, front or back? In Germany and Holland, the parking spaces are more convenient for bigger cargo bikes, but in France and the UK, it may be that the long tail style is more suitable due to parking spaces being less user-friendly. So we must consider these factors too."
Overstocking
Vee Tire isn't denying it's also been affected by the bicycle components overstocking problem. "I feel like the bicycle industry and the stock market is like a big toy," Bike said, "In 2018, it wasn't very good, lots of people were adding SKUs because the market was not there, but during Covid, we cleared out our stock, but now we have even more than before!
"So the same is continuing now, but we have to be sure to support each other and learn from each other."