At Taichung Bike Week 2023, Johannes Huseby, Director of Global OEM Sales, was kind enough to share a moment amongst what was probably one of the busiest hotel floors and rooms at the Tempus Hotel this year and share what has been new with WTB recently, as well as give insight into their production process.
There were lots of new products being shown to OEMs for the first time, but for privacy and trust, those will not be shared. However, we can share some thoughts from the company themselves regarding some of their latest products.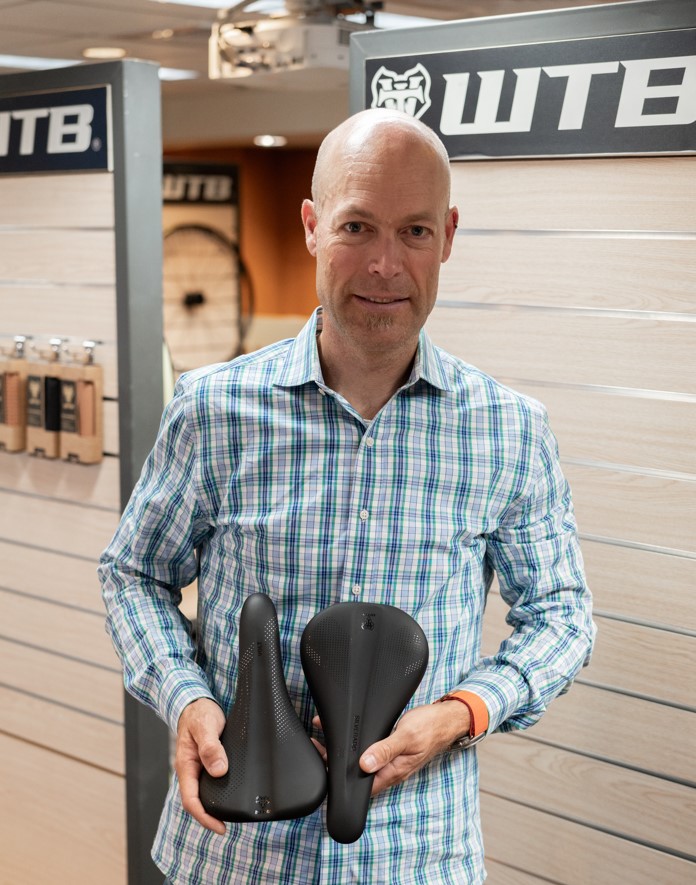 Mr. Huseby with WTB's improved Volt and Silverado saddles.
Saddle Development
Mr. Huseby was quick to bring attention to their latest saddles, the Silverado, Gravelier, and Volt, which all boast slight improvements that make considerable differences. He said, "We have new products we would like to share as well because I believe it is modern technology for us—something much more forward-thinking than some of our previous products.
"So this is our Silverado saddle," he said, quickly lifting up the saddle. "It has been popular for many years, but now it is "Fusion" constructed, so it is a process like a sandwich construction; some are made by gluing the cover onto the base on the edge, or it is stapled. With the new Silverado, you do not see any of the edges of the cover material; it is all hidden underneath the base.
"The cover, foam material, and base are all pressed together simultaneously, resulting in a much cleaner, heat-pressed finish. The Silverado is one of our classic saddles, which many bike brands use today, but it has a more modern look with no square edge on the back, making it more svelte and clean.
"We offer them in all rail types, and they have been very well received; we debuted them at Eurobike this year, and a lot of the media that has ridden them so far has been very pleased. As a result, it is popular, and it is also available aftermarket."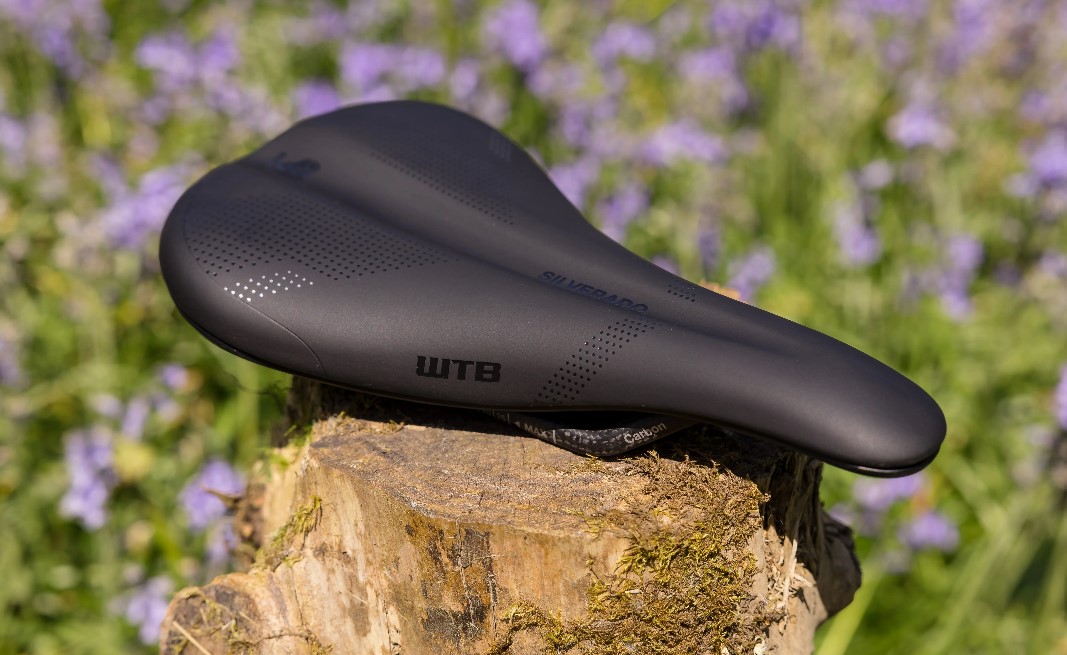 The Microfiber Cover closely replicates the look and feel of a leather cover.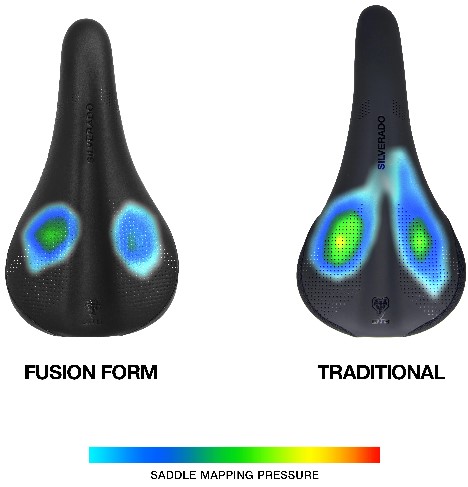 The new Fusion Form construction improves pressure distribution.
The Silverado is aimed at riders of adventure road, gravel, cross country, trail, and enduro.
For gravel, cross country, trail, enduro, and even bikepacking, WTB's Volt saddle promises to be a good alternative. Mr.Huseby said, "The Volt is another tried and true model; what I will mention is that we really tried to maintain the shape and profile we had in the standard traditionally made version, which we still offer today, because some people do not want to pay as much, and the new construction is a little more expensive, but again, from the back end of the saddle, it is much cleaner looking, design-wise, it is way better than what we had 15 years ago, so it is suitable for all rail types.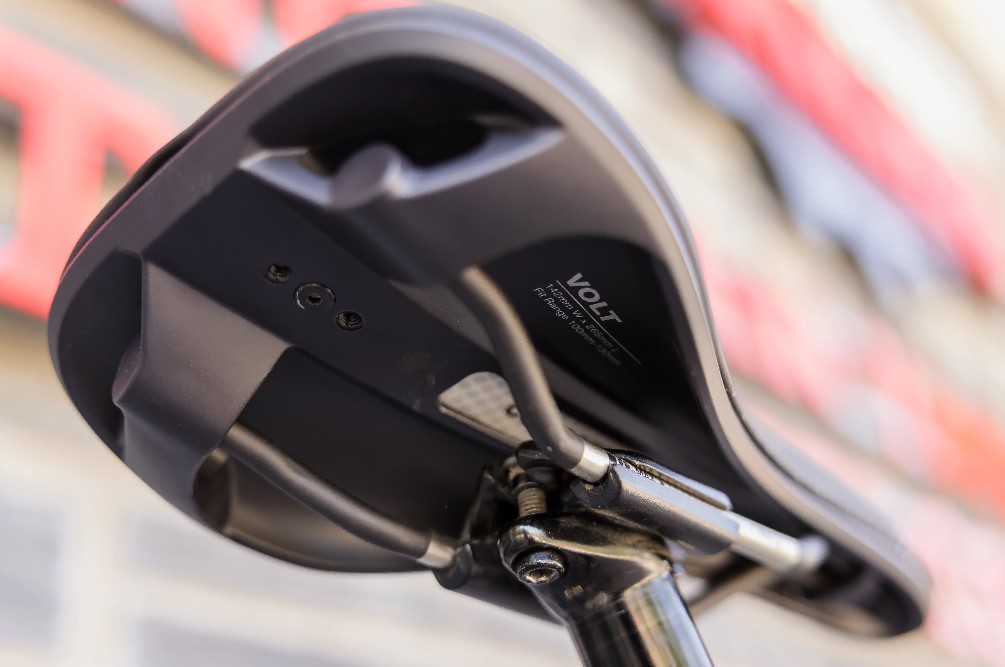 The Volt base has increased flex and improved comfort for MTB riders who tend to pedal in a more upright position.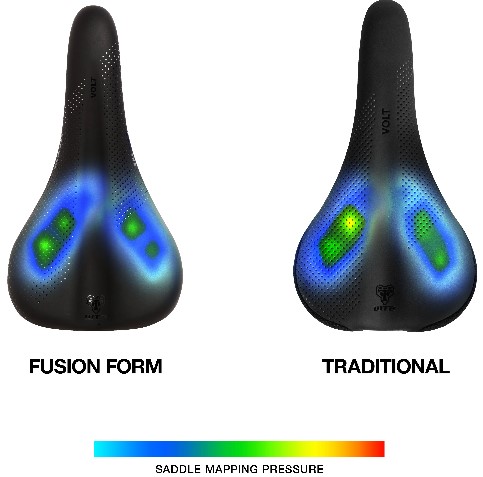 The new design improves comfort greatly.
"Another new one for us is the Gravelier, which is primarily aimed at the gravel market but can be used for anything. It has the same construction, which is very clean, and you can see the similarities. But it also has a slight dip; we say with our saddles that there are some with a flatter profile and some with a deeper dip, which is for a more fixed position.
WTB has been designing saddles to be less glary, thinking back to the 80s and 90s when flash colors would appear on saddles or anywhere across the bicycle. "These new saddles have also received a lot of positive feedback from a design standpoint," Mr. Huseby said. "We have moved into a more modern era, and a few years ago we introduced this graphic approach, with much more subtle graphics that can fit more universally on any bike, without loud colors. We listened to people's critiques, comments, and suggestions and created a graphic that we believe will be much more appreciated."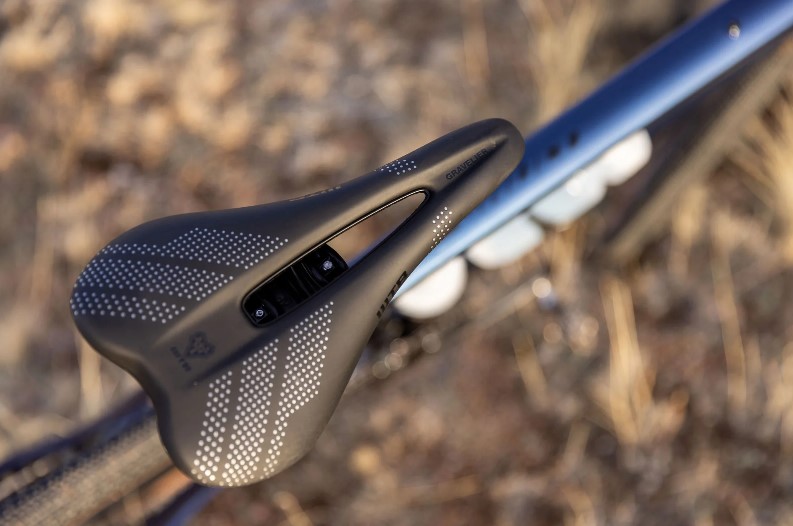 The Gravelier saddle Improves blood flow and reduces numbness in sensitive areas.
The Vulpine & CZRi23 Wheelset
Moving away from saddles, Mr.Huseby drew attention to WTB's Vulpine gravel tire. He said, "This is a tire that we released at Sea Otter in the spring. The Vulpine gravel tire is a fast-rolling, race-oriented gravel tire. This is a really good all-around tire; it is 40mm, which is the current standard in gravel. There are a lot of bikes out there, but 40 mm is what most people are settling on.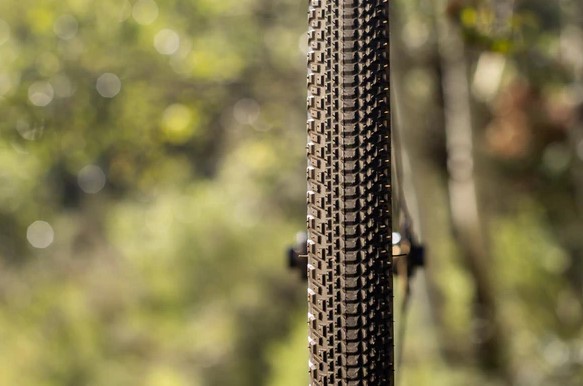 The increased volume of the Vulpine 40 improves comfort and reduces fatigue during the most challenging races.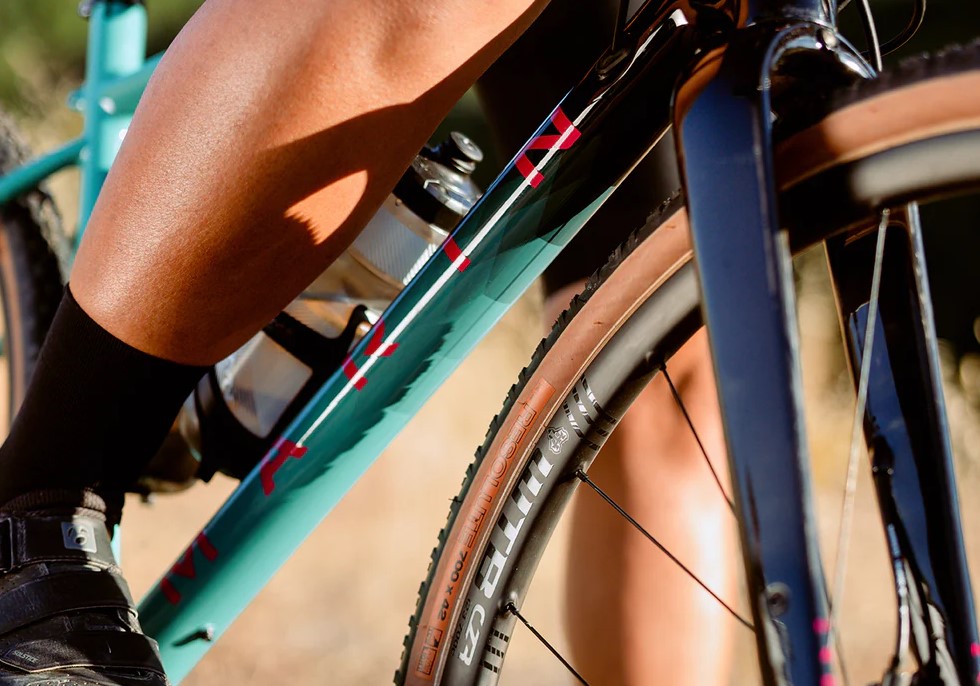 The latest CZR i23 gravel wheels were designed to minimize weight and maximize compliance on rough gravel roads.
"It is part of the range; we have 36mm and 40mm, and some additional sizes will be added later. We also offer a complimentary wheelset called the CZRi23, which is a carbon gravel wheelset that is lightweight and compliant.
"For gravel riding, you want something that's going to absorb more shock and be more comfortable. We did not want something with deep sections that could blow you around in a crosswind because you have been out there for a long time. It will also dampen vibrations as you ride. On a long trip, having something with a shallowed section makes it more comfortable."
WTB's Business and Adjustments
It's hard to avoid talking about the state of supply and demand within the bicycle industry, but Mr.Huseby candidly and openly discussed the "question".
First, on WTB's recent ambitions, he said, "Gravel and MTBs have been a major focus for us. We are involved in every category, in my opinion; there is no category in which we do not participate. We provide a wide range of products, including tires, rims, wheels, valves, sealants, and everything else related to wheels. Then there are saddles, grips, and a variety of other accessories." This is a true statement considering WTB's position in the market.
Moving onto overstocking, he said, "We did not have as many overstocking issues as you might think because we do a lot of OEM work. All of that equipment is made to order, so we are not stockpiling it in the hopes that someone will come and buy it; instead, we are going to build it for someone who has a production schedule.
"Do we have extra inventory in certain areas on the aftermarket? Absolutely. But, in general, I believe we plan reasonably well. But we are not immune to excess inventory; we have some, but not to the extent that others do.
"Because we are in OEM, we sell in the aftermarket through various channels, and because of our diversity, we are used on bicycles day-to-day. I do not feel like we are as volatile as others; we do not have a product like apparel or a helmet. That kind of thing I feel like we are in a slightly better position; it is not great, however, and I do not want to paint a rosy picture.
Mr. Huseby was asked about how 2023 has fared so far and what we can expect moving forward. He said, "The first half of 2023 has been challenging as we try to predict what the future holds. Many of the brands we work with are hesitant and are telling us they cannot purchase bikes for 2024 because they have inventory and will not be producing anything new until they clear some of it.
"It is very much a wait-and-see situation. Because lead times are more manageable now, they say they will wait until they really need something, rather than planning for 6, 8, or 12 months in advance, and they will work through some of it before making those plans."
Production, Future, and TBW
Mr. Huseby went into WTB's production facilities. He said, "We have a number of factories in Taiwan, probably more than in any other one country. We manufacture saddles, tires, grips, and rims in Taiwan. Taiwan has really been our backbone for manufacturing from the beginning. While we have branched out and manufacture in a number of other places, Taiwan remains at the heart of our business.
"We have our own factory in China for rims, and we have one in the Czech Republic for rims. Those are the only two factories that we own. We employ about 12 people in Taiwan, but in factories, we may have up to 15 people working on all the parts, spokes, rims, saddles, and valves."
Asked about what coming to Taichung Bike Week annually means to WTB, Mr.Huseby said, "The main thing we would like to see is a bigger picture from our partners in terms of a brand thinking for the future, so we can plan a little better internally," alluding to how supply and demand are it's own ecosystem.
He continued, "Nobody can predict the future right now; it is difficult to tell, but gathering more information will educate us and allow us to see what it will look like. Being in front of a large number of customers and discussing what everyone is working on gives us a fairly accurate picture.
Concluding with the relationship WTB and TBW have, apart from the abbreviation similarity, he said, "WTB has been a part of Taichung Bike Week since the beginning, and we were one of the first brands to be involved. We have been in the same room the entire time, and it is like a home away from home. We see TBW as a critical part of our OEM business, as many future decisions are made during appointments at this show.